All the stats from the beginning of the 2009 season to the present 2022 season. What are the differences between the teams, their performances and just how close is the racing on the 44Cup Circuit?
The first graph below shows a summary of who has won the most races in 2022 so far. Charisma have won a total of 14 races, five of which were in Cascais in May and another five were at the World Championship in Slovenia in October. Charisma went on to win both the Cascais event and the Slovenia event by a comfortable margin. Team Aqua have taken eight wins so far this season, followed closely by Team Nika and Aleph Racing who have each had seven wins this season.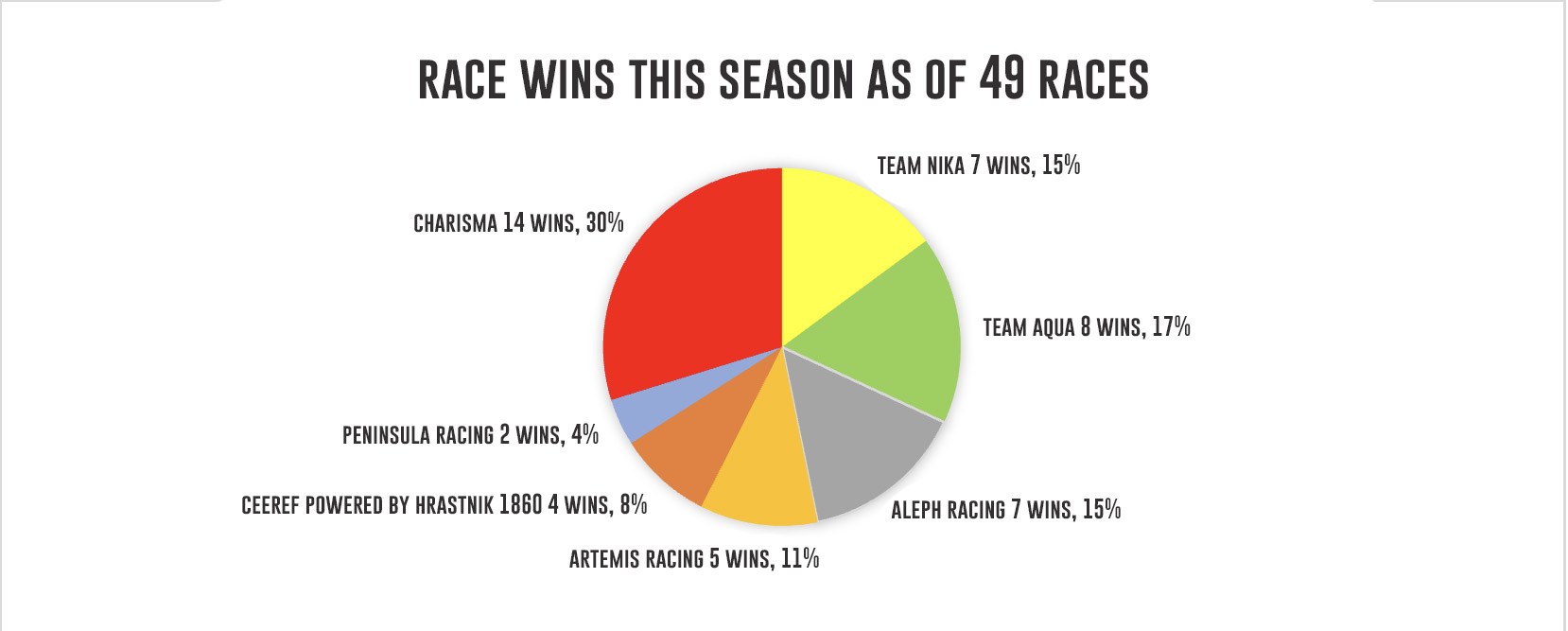 The second graph below shows the average score of each team at an event based on the four events prior to Oman. Ceeref powered by Hrastnik 1860 and Charisma have an accumulation of 154 points heading into the final event of 2022, both averaging out a 39 point event score. Even though, Charisma have had ten more race wins this season, Ceeref have been far more consistent to enable them to be on joint points with Charisma. Team Aqua are on 189 points and Team Nika are on 191 putting them both on an average 48 point score. Aleph racing has scored 198 points so far, closely followed by Artemis Racing who are on 199 points. They both create an average of 50 points. This shows how close the racing is.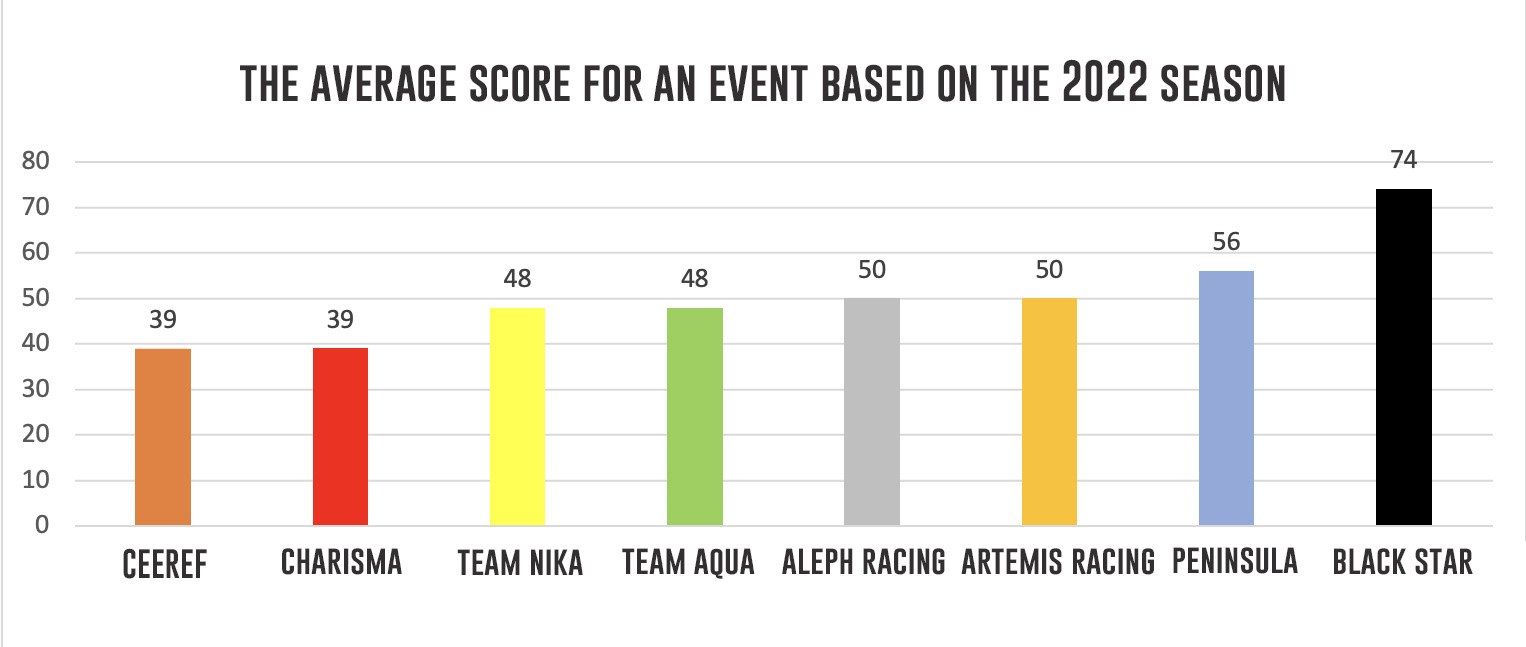 Interestingly, the lowest net score this season was Charisma who scored 26 points in Cascais having sailed 11 races. They also had the second lowest overall score of the season in Slovenia where they scored 28 points having sailed ten races.

Below, shows the number of events each team has won since 2009. Team Charisma won three of the five events in a 2022 and 2018. This is the most amount of event wins in a year by any team except Team Aqua, who also won three of the events in 2011. Team Aqua have been the most consistent and have won a minimum of one event each year. However, so far in 2022, they haven't been able to win an event. Could 2022 be the year where they break their 12 year winning streak?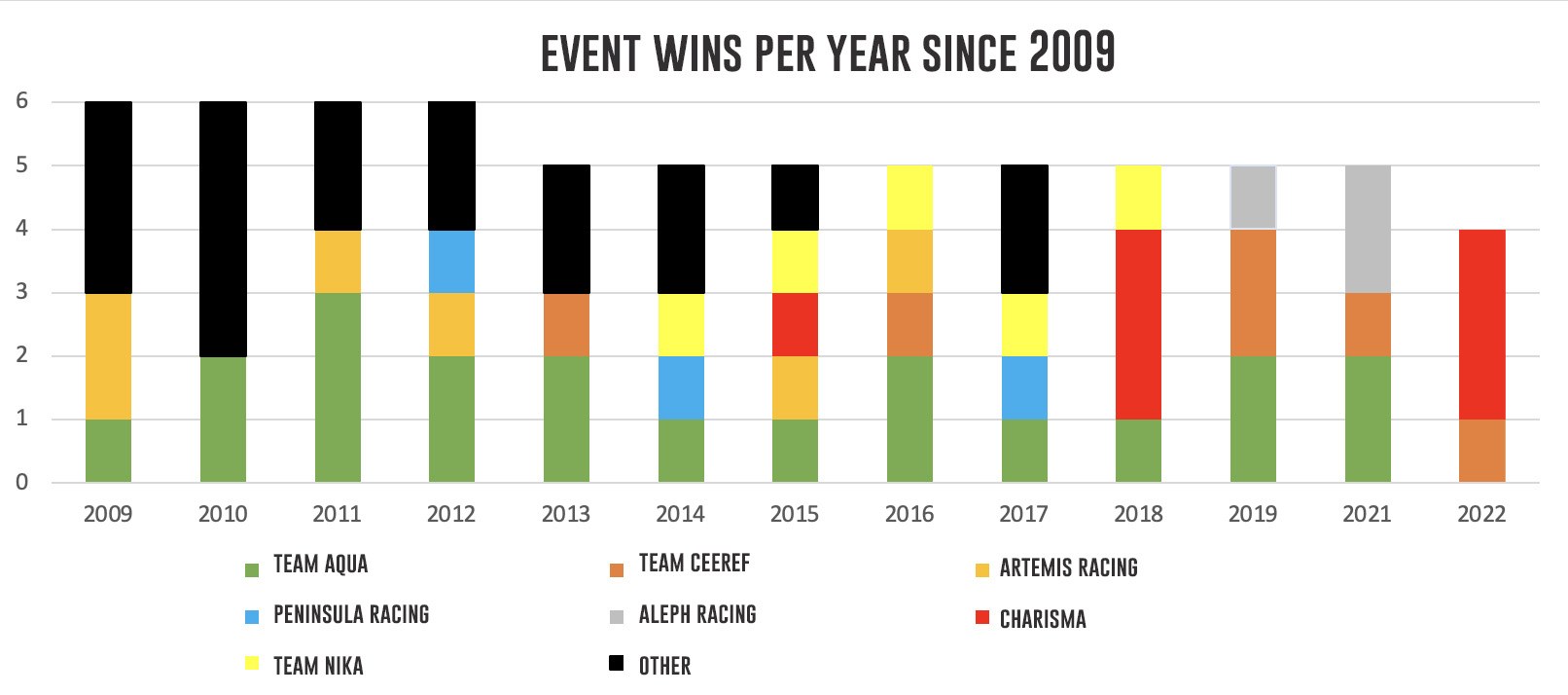 Below shows who has been the World Champion each year since 2011. Artemis have won one World Championship in 2011 similarly to Charisma who won the 2022 World Championship and Team Peninsula who won the 2012 Worlds. Ceeref powered by Hrastnik 1860 have won two World Titles, Team Nika have also won two. Team Aqua have been the only team to secure back-to-back Titles in 2019 and 2021.