Since its launch in 2007, the RC44 Championship Tour has established itself as a key series to compete on in the international yacht racing scene. Fast forward 12 years and as the class goes from strength to strength, with new venues introduced the calendar and new teams joining the fleet, it was also time for a fresh new look as the class introduces the itself as the 44Cup for 2019.
The defining spirit of the 44Cup brings together the worlds of sailing and business, allowing amateur owner drivers to race high performance one-design yachts against some of the world's best sailors, competing in some of the most beautiful and diverse sailing venues around the world.
Reading like a who's who of sailing's greatest achievers, from America's Cup legends to Olympic champions, the top names to have embraced the 44 in its first 12 years include:
• Two times British Olympic gold medallist and Artemis Racing's America's Cup Team Manager, Iain Percy
• 2000 America's Cup winner and winner of the 2011, 2012, 2013 and 2014 RC44 Championship Tour, Cameron Appleton
• Italian sailing legend with two MedCup, 20 World, 11 European and 23 Italian titles under his belt, Vasco Vascotto
• Helm of 2007 winning America's Cup team, Ed Baird
• 2000 America's Cup winner and winner of the 2007 and 2013 Louis Vuitton Cup, Dean Barker
• 2010 and 2013 America's Cup winning skipper, James Spithill
• Seven-time sailing World Champion, a seven-time America's Cup veteran and two-time Olympian, Paul Cayard
• Australian Olympic gold medallist and tactician for Oracle Team USA's winning America's Cup team, Tom Slingsby
• US SAILING's 2008 Rolex Yachtsman of the Year and TP52 World Champion, Terry Hutchinson
• Emirates Team New Zealand tactician Ray Davies
And that's before we mention Class co–designer, five times America's Cup winner Russell Coutts.
Logistics couldn't be made easier, with the boats fitting into their own 40 foot container to be shipped around the world. Anyone interested in becoming involved should contact bertrand.favre@44cup.org
THE RESULT?
A tour in which no-one is prepared to concede an inch, with skippers pushing the boats and their crews to the boundaries of their extensive capabilities and events that are often not decided until supercharged final days of racing.
It is breath-taking to be a part of and a spectacle to witness. As Russell Coutts says, "It has developed into a high-level racing circuit and the standard of competition has grown year-on-year. Each regatta just gets more and more competitive. It is probably fair to say it's exceeded my expectations and the potential is there to even improve things further."
Winner of the 2018 tour Nico Poons explains: "The competition in the 44 is so tough and the level is so high, that, when you win, it fills you with more pride than the other classes I've tried before."
Chris Bake, owner of Team Aqua and winner of the past four consecutive 44Cup tours, added: "We can race it well in 5 knots or 25 knots. It has all the tweaky things like the trim tab that we can thank Russell for. For owner-drivers it is thrilling to sail and a delight and - at times - a challenge, to steer. But best of all you get to experience grand prix racing at its highest level, sailing with some of the world's top crew, but with costs controlled: It is a strict one design, numbers of pro sailors and new sails are limited, plus the boat was designed to fit into a standard 40ft container for easy shipping."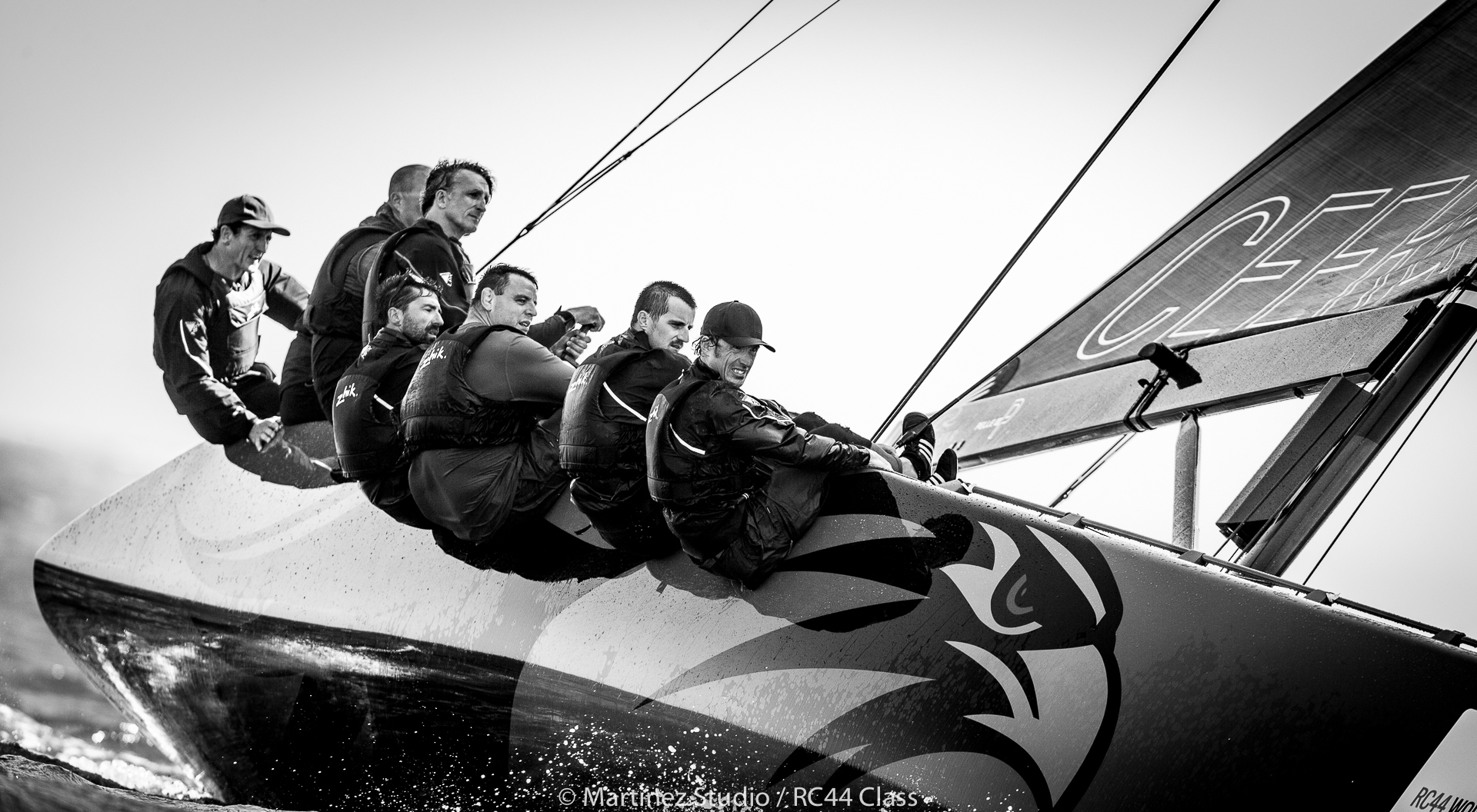 MY HOW YOU'VE GROWN!
Such has been the success of the 44Cup, that the championship circuit has expanded from Europe to include stops in the Middle East, America's West Coast and the Caribbean.
With world class racing conditions the number one priority, the 44Cup visits some of the most glamorous and diverse sailing venues around the world.
GETTING EVEN CLOSER TO THE ACTION
It is one thing experiencing the thrill of 44Cup racing from the shore; it is entirely another being onboard experiencing the drama and the glory first-hand. These formidable sensations can be a reality for media, sponsors and VIPs who are invited to ride onboard with one of the teams during the regatta as the ninth man.
Not everyone will get the chance to join the crew, but with spectator boats ensuring people can get to the heart of the show on the water, spectator vantage points from the shore and a media team that includes professional photographers and TV production recording every second of racing, the public can get heart-stoppingly close to the action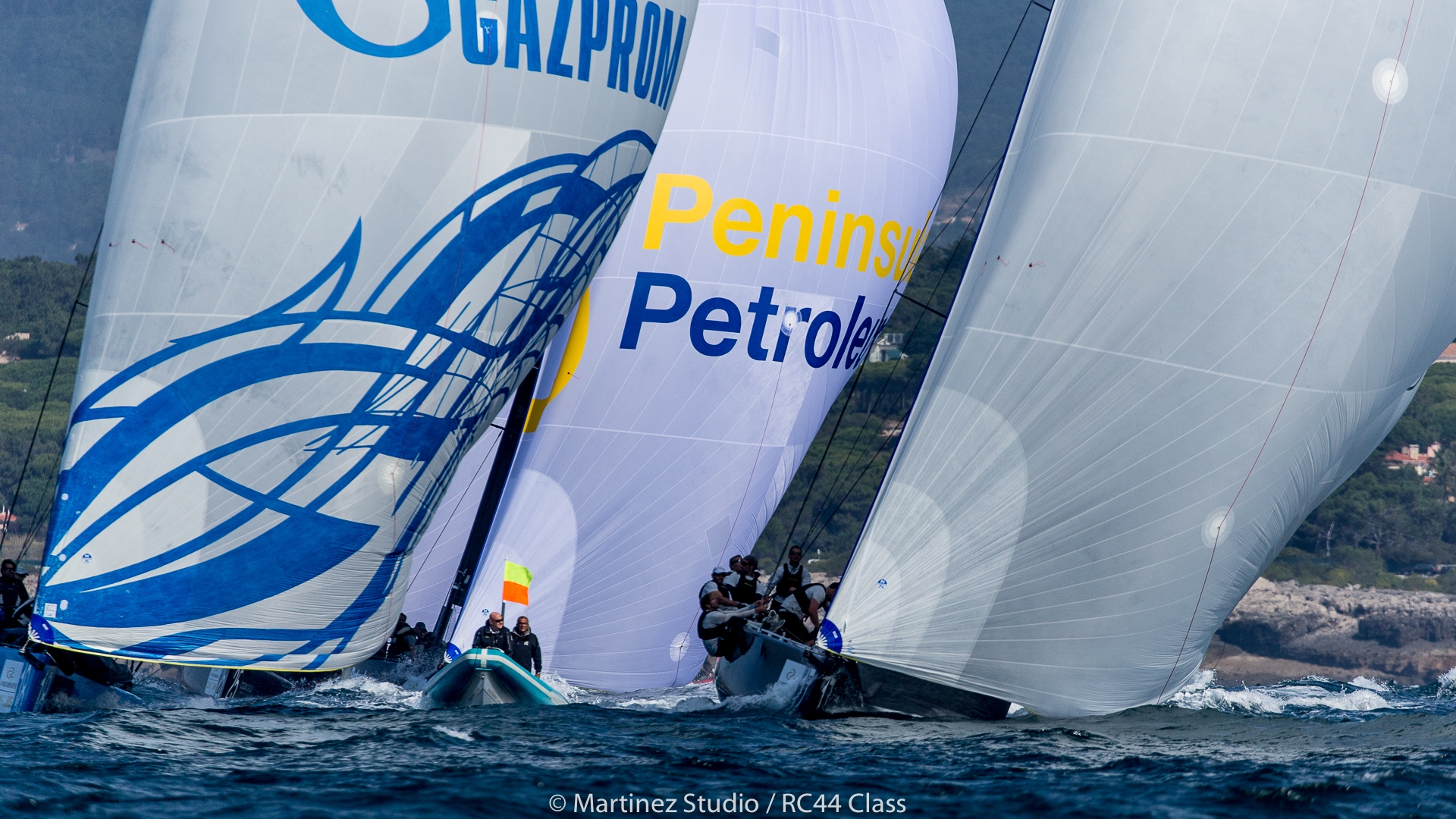 THE 44CUP ROLL OF HONOUR
2007 – Team Aqua
Owner: Chris Bake (GBR)
Professional Skipper: Cameron Appleton (NZL)

2008 - Team Banco Espirito Santo
Owner: Patrick de Barros (POR)
Professional Skipper: Russell Coutts (NZL)

2009 – No Way Back
Owner: Pieter Heerema (NED)
Professional Skipper: Ray Davies (NZL)

2010 – BMW ORACLE Racing
Owner: Larry Ellison (USA)
Professional Skipper: Russell Coutts (NZL)
2011 - Team Aqua
Owner: Chris Bake (GBR)
Professional Skipper: Cameron Appleton (NZL)
2012 - Team Aqua
Owner: Chris Bake (GBR)
Professional Skipper: Cameron Appleton (NZL)
2013 - Team Aqua
Owner: Chris Bake (GBR)
Professional Skipper: Cameron Appleton (NZL)
2014 - Team Aqua
Owner: Chris Bake (GBR)
Professional Skipper: Cameron Appleton (NZL)
2015 - Team Nika
Owner: Vladimir Prosikhin (RUS)
Professional Skipper: Terry Hutchinson (USA)

2016 - Team CEEREF
Owner: Igor Lah (SLO)
Professional Skipper: Adrian Stead (GBR)

2017 - Team CEEREF
Owner: Igor Lah (SLO)
Professional Skipper: Adrian Stead (GBR)

2018 - Charisma
Owner: Nico Poons (NED)
Professional Skipper: Ray Davies (NZL)