The RC44 is a light displacement, high performance one-design racing yacht competing in the 44Cup, a five-stop international racing tour.
Co-designed by five-time America's Cup winner Russell Coutts with naval architect Andrej Justin, the RC44 boats are strictly identical in terms of construction, shape of hull, appendages and weight/weight distribution, as well as a 50-50 split between amateurs and professionals in each eight-person crew.
With everything, from the keel to the tip of the mast, made entirely from carbon, and with a powerful sail plan, the RC44 is rapid downwind, commanding upwind and performs exceptionally in both light winds and heavier breezes.
The RC44's innovative and technical design present an exciting new hybrid sailing challenge, with the crews expected to hike like a sports boat and grind as you would on a keelboat.
"We wanted to include a degree of complexity so an owner can experience what a top-end race boat is like to sail, and it delivers on that," explains Coutts. "I wanted to create a boat that would be exciting to sail downwind and powerful in light winds."
"I also wanted a boat that could be sailed short-handed with a deck layout incorporating many non-standard adjustments. The trim tab on the keel is an example of that, to reduce keel area yet still achieve good upwind performance and maneuverability. It adds to the boat's complexity but the racing enthusiast will enjoy trialing the different tab angles and the resulting performance benefits."
LOGISTICALLY SPEAKING.....
As well as the strict one-design class rules, it was important the RC44 was a non-complicated boat to own and could be raced in the summer and put away relatively easily in the winter.
The RC44 Class has constantly strived to help owners by developing innovative solutions to facilitate the logistics and minimise costs.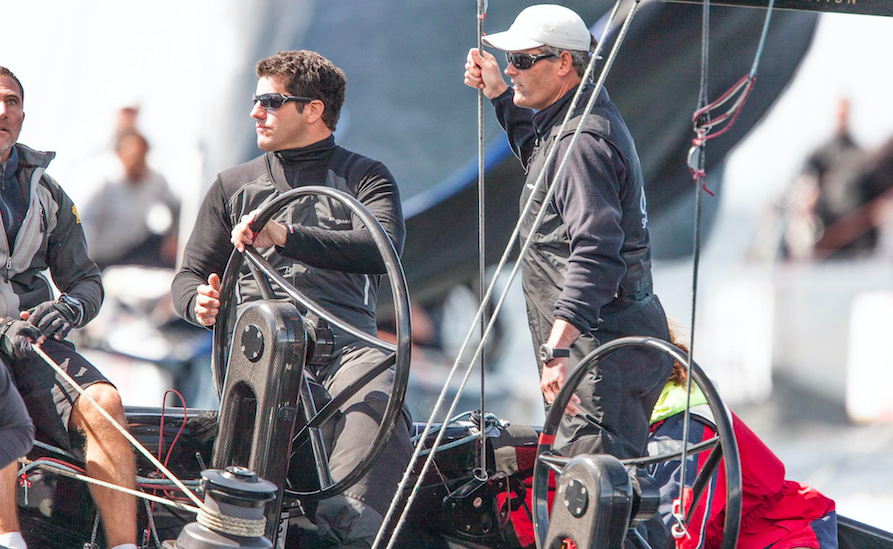 As John Bassadone, owner of Peninsula Petroleum, enthused, "Definitely the logistics makes everything a lot easier; the whole way the boat is set-up is very clean and very easy," while Artemis Racing head Torbjorn Tornqvist added, "The boat is exciting, there is nothing out there that can compare and the concept of moving it around means that the budget is reasonable."

So how do they do it?
The stern of the boat is removable to allow the transportation length to be less than 40 feet. The keel fin attachment is also easily detachable and the mast is assembled in two parts, enabling all equipment to be stored and transported on a flat deck container to anywhere in the world.

To complement this, the RC44 class fits into a custom made container that not only carries the boat but serves as a cradle once the boat arrives at a regatta venue. All equipment including sails, rudder, keel fin, boom, mast and spares are stored in compartments within the container. The bulb is transported in position under the hull.
An RC44 takes just one day to reassemble when it arrives at its next port of call.
Then there is the 44Cup's expert technical support team, who work to ensure every boat is in prime racing condition every time it ventures onto the start line and can even get a boat back on the water just an hour after a major collision.
THE MEN BEHIND THE CLASS
Name: Russell Coutts
Nationality: New Zealand
Born: 1 March 1962 in Wellington, New Zealand

Academic background: The University of Auckland, Bachelor of Engineering
Career highlights: Russell Coutts has won the America's Cup as a skipper four times and once as CEO of ORACLE Racing at the 34th America's Cup in 2013. His sailing record includes winning the ISAF Youth World Championships, Finn class gold at the 1984 Olympics, three World Match Racing Championships, numerous international match race wins and IOR, IMS and One Design World Championship victories. In New Zealand he has been honoured with a Commander of the British Empire and the Distinguished Companion of New Zealand Order of Merit and has twice been the ISAF World Sailor of the Year.
Name: Andrej Justin
Nationality: Slovenian
Born: 1959 in Koper on the Adriatic coast

Academic background: Studied electronics and civil engineering in Ljubljana, Slovenia and architecture in Graz, Austria before graduating in Yacht Design from the Westlawn Institute of Marine Technology in 1993.
Career Highlights: Andrej has lived with yachts and the sea all through his life. He designed his first boats for the biggest Slovenian boat builder ELAN in the late 1980s, and has designed several racing boats from 33-foot match race one design to 80-foot carbon, canting keel Maxi Jena. He has also designed cruisers from 37 foot to the Palmer Johnson 90' in aluminium.