On the 44Cup highly accomplished yachtsmen not only populate the race boats but the coach boats too. Take Chris Bake's Team Aqua: Since the fleet last visited Bermuda in 2016, furiously writing notes and shooting video on their RIB has been towering Australian Andrew Palfrey, better known simply as 'Dog'. A past Olympian, Palfrey is a small keelboat specialist having claimed three World Championship titles, once in the 5.5mR and twice in the Etchells.
The sea has been in Palfrey blood for generations. His great grandfather, who emigrated from England to Australia in the early 19th century was a shipwright as was Palfrey's grandfather. His own father was a merchant seaman, who subsequently earned a living running fishing trips as his eight children (including seven boys) were packed off to the nearby Royal Melbourne Yacht Squadron. Of his siblings, Palfrey admits he is only one still in the marine industry.
A career with a metal working company was going well until a young Palfrey was recruited by a friend to compete in the J/24 Worlds in Kingston, Ontario in 1989. Here the field included budding stars such as Ken Read, Ed Baird, John Kostecki and fellow RC44 coach and Olympian Morgan Reeser. "I met a lot of people, people who I know well today. But that was when something switched on in my brain 'this is what I want to do.'"
Palfrey returned for that year's J/24 North Americans, which, significantly, was won by an Australia, Ian Bashford for whom Palfrey subsequently worked for until Bashford's untimely death in 1996, aged just 37. Meanwhile recognising that corporate life was not for him, Palfrey became, if not a professional racing sailor, then someone who spent his life racing while earned a living in the marine trade. While frequently away from Australia sailing in the USA or Europe, returning home he would work in a chandlers or boat building.
In the late 1990s, Sydney 2000 was on every Australian sailor's radar. For this Palfrey teamed up with Cameron Miles and James Mayo in the Soling keelboat. "Again Olympic sailing was one of those 'someone switched the lights on' moments - sailing with nice people, not having to sell boats, etc. It was great." For that Games they lost the Aussie Soling spot to Neville Whitty's team but as a consolation won the highly competitive Etchells World Championship when it was held in Pittwater in 1999. Post Sydney 2000, Palfrey was about to start another Soling campaign with a young James Spithill, when the keelboat was suddenly dropped from the Olympic roster.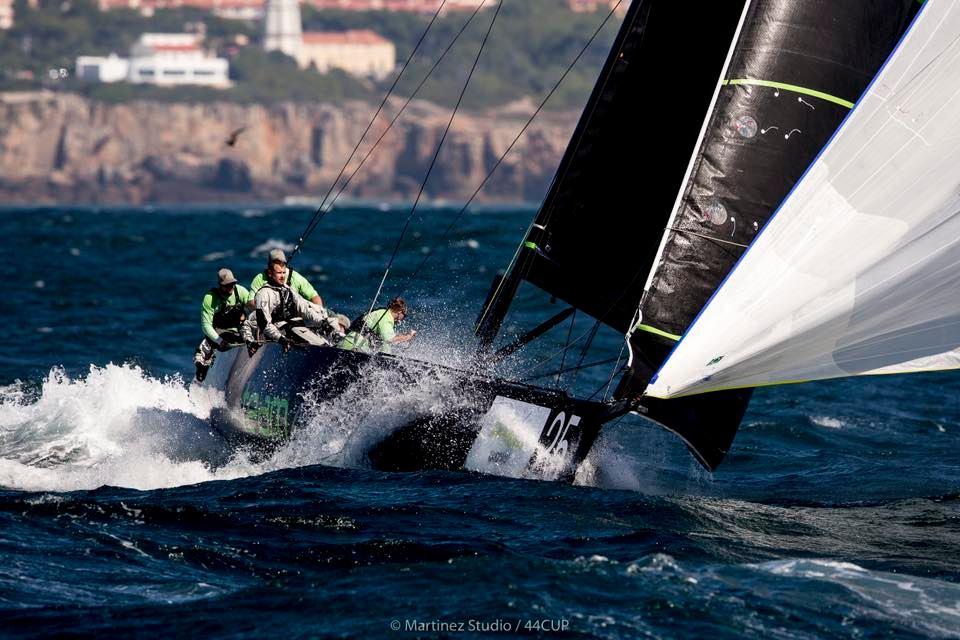 Palfrey's sailing, he admits, went through a small hiatus until he hooked up with Iain Murray. The former Kookaburra America's Cup helmsman (now AC Race Director) was keen to mount an Olympic campaign in the Star keelboat. Palfrey already knew him having worked for Murray at Bashford Boats. "I'd never thought about the Star because in the late 1990s crews were massive, 130-140kg," he recalls, but by Athens 2004 crew weight was restricted. Sadly Murray/Palfrey were again beaten from getting the Aussie Star berth by Atlanta 1996 bronze medallist, Colin Beashel. Nonetheless they became training partners and finally their hard work paid off when they got the ticket to Beijing 2008. By this time Murray was 50 and Palfrey was 41. They finished 14th.
While Palfrey was Olympic sailing, the profession of 'racing sailor' was developing as was that of coach. Palfrey had made an impression running the Star campaign (while Murray was occupied with his numerous businesses) and soon found himself coaching top teams in the popular Farr 40 and Mumm 30. "I knew what I liked from a coach and I started doing that more and more," he says. In particular he worked with Richard Perini's teams that won the Mumm 30 Worlds in 2004 and the Farr 40 Worlds in Sydney the following year.
Palfrey's own sailing also took a turn. Post-Beijing he was recruited by an even bigger legend of Australian sailing, John Bertrand for his Etchells keelboat campaign. With the former Australia II America's Cup winning skipper, Palfrey sailed with some interesting individuals. First there was Ben Ainslie with whom they finished third at the 2009 Etchells Worlds in Melbourne. 2010 proved to be Palfrey's most successful year claiming the Etchells World title, this time with future Laser gold medallist Tom Slingsby. Directly from that regatta Slingsby breezed into winning a Laser World Championship, while Palfrey claimed the 5.5mR Worlds with Swiss Star sailor Flavio Marazzi.
Certainly Palfrey's most emotive sailing experience was when he and Bertrand were joined by former Australia II navigator Grant Simmer for the 2014 Etchells Worlds in Newport, RI. "I am a sailing fan, a groupie and that was such as big thing for all Aussies when they won the America's Cup in 1983. So 31 years later to be driving around Newport with those two guys..."
Palfrey's involvement with the 44Cup began when he was brought in by Terry Hutchinson to run some match race training between Artemis and Katusha in 2010. The session went well and Palfrey was recruited for the season in which Artemis Racing ending the separate match racing championship that year just two points behind Chris Bake's dominant Team Aqua. This led Palfrey to be appointed Artemis Racing's head coach for the America's Cup in San Francisco in 2013.
It was only at the opening event of the 2016 season in Bermuda that Palfrey returned to the RC44 after being called-up by Team Aqua. He has worked for Chris Bake's team ever since. "Out of the blocks Team Aqua was the team to beat in the RC44 but then there were a couple of years when they were struggling to get on the podium." During the 2016 season Team Aqua won two events, finishing second overall.
For coaches, the RC44 presents a challenge since the opportunity to practice is limited. Thus the regatta itself forms a crucial part of the coaching. Teams typically hold nightly debriefs during events but this comes with caveats, Palfrey advises. "The challenge is to get the most you can from the debriefs, knowing that the guys have been through a big day, are fatigued and, super-importantly, the owners are there to have fun - do they really want to be sitting around talking about sailing every night? Trying to balance this is part of the art of coaching - the owner wants to have a good time, but people generally have a good time when they win! We are there to do a good job but also to foster an enjoyable atmosphere."
A significant development has been the latest software coaches use that has brought a more Hollywood feel to debriefs, allowing video feeds and boat performance data to be synced. Gone is the bouncy video, lengthy written reports and spreadsheets compiled overnight. As Palfrey puts it: "Now within 30 minutes of hitting the dock, we are watching something from the GoPro, the drone or from the coach boat with a stablised camera, with onboard voices - all with data overlays. It is amazing. It is good theatre now and everyone is keen to see it."
Team Aqua is also part of a data sharing group with Teams Aleph and Nika. While they remain in competition and all have their own coaches, post-racing they pool their data and video.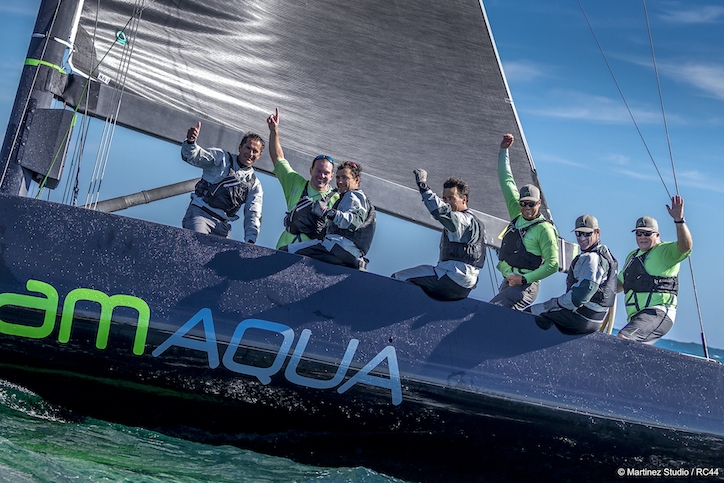 Most pleasing is that definitive answers are now quickly available: "In this sport we have no lack of opinion, but now we can separate opinion from fact. So if one day we are looking underpowered or we weren't pointing that well and no one can really put their finger on why, you can start looking through photos and doing comparative work on sail depth, ie how are the boats generating more power. The answer may still not be there, so then I can look at rudder angle and we might have been at 1.5° average, but Aleph, who burned us off the line a couple of times, had 5°. Then you go back and examine the sail set-up and the trim tab angle and 'boom', you have found the answers! With the level of sailors I am blessed to work with you need to bring answers or you need to direct them to the right answer.

"Really what you are doing is developing the right instincts in the sailors. Yacht racing is a decision making game for everyone at every moment. If your boat is performing in a certain way – 'what am I going to do about it?' The bowman – 'am I going to go downstairs to pack the chute now?' The coach's role is to develop the sailors' instincts so that they make the right decisions all of the time. If they do that they'll be a player and have a shot at doing well."
Palfrey has benefitted from time spent with ubercoach Victor Kovalenko, nicknamed the 'Medal Maker' following his success with Aussie Olympic sailors. From the Australian naturalised Ukrainian, Palfrey picked up many techniques including on psychology and how to pick up signals from people. "He knows what he says will be listened to, so he thinks really carefully about what he is going to say. He taught me a lot about coaching and dealing with people and measuring what you're going to say and when you are going to say it, which is all part of it."
With Chris Bake being one of the longest serving owners in the RC44 class, Team Aqua has perhaps set in the class for how a 44 team should be run. Bake has spent the last 13 years sailing with many of his original crew, who have become his extended family. As Palfrey observes: "The team is tight knit. During the 13 years, most of the crew have met partners, got married and had families - the wider and growing Team Aqua family concept is really embraced. Chris Bake wants it to have a family atmosphere, where everyone looks after each other: We go out and do the absolute best we can and we try and get better each time. This is a yacht race, but important for Chris is the team and everything that comes with that."
Keeping that dedicated team together over the years has been largely down to tactician Cameron Appleton: "Cam is a massive part of what makes Team Aqua what it is" Palfrey explains. "Not only from a technical and sailing standpoint. But also largely in the spiritual sense. Chris, like all the helms in the class gets totally immersed in all of the other areas of his life when away from the boat and the events. Cam keeps him thinking about the sport, the enjoyment and our camaraderie. I am also hugely impressed with the commitment to passing the baton down to the younger generation. We always included an Intern at events. Usually a young up-and-coming sailor, who gets full immersion into the life of professional sailing, coaching and boat prep.. It's wonderful to see and for me to be a small part of. The intern program encapsulates helps the Team Aqua ethos of giving more than you take and growth. Growth individually, growth as a team and helping top grow our wonderful sport".
Palfrey compares the 44Cup to the cartoon Roadrunner where the Roadrunner and Wile E. Coyote punch in for the day as though going to work, then spend the day trying to kill each other and then punch out. "In the 44 class they have dinners at each event and the social side is really encouraged, so everyone knows each other. But then you get on the water and the racing is at such a high level. Even with 8 or 10 boats there is not a lot of real estate at the top mark. It is intense, tight and super enjoyable."

As to the RC44 boat itself, Palfrey is a fan. As a sailor he is known for his success in smaller keelboats and the RC44 is a bigger iteration, conceived by a sailor, Russell Coutts, for sailors and owner-drivers. "I like technical boats where the racing is tight and where good sailors make a difference - the RC44 really fits that category. To me, they are really cool boats. There is the technical aspect with the trim tab, overlapping genoa, etc – which are throw-backs in some ways, but cutting edge too. They are hard boats to sail well from a boat handling point of view but they are rewarding too because they are so efficient. Their performance is incredible, especially in light airs and they get up and go downwind, but it takes technique..."
Mastering the skill of steering an RC44 also represents a challenge for owner-drivers: "It is team work - the trimmers being in sync with the driver over the power level, heel angle, rudder angle, etc. They all must be in harmony, with the owner communicating with the sailors."
As to the 44Cup, Palfrey enjoys going to new places and really enjoyed Montenegro and Portoroz, where the 2021 44Cup is scheduled to start in May. Ideally he would like to see the 44s take part in some multiclass regattas, to show-off the quality of the racing to a broader audience.
As with everyone in the yacht racing world during the pandemic, life has been relatively quiet, but confined to his home base in Cowes, Palfrey has been keeping himself busy. He is a hardcore cyclist and is deeply involved with the build of two 5.5mRs, while coaching and running racing for the vibrant Cowes Etchells fleet. He also has been developing new custom kit for the Etchells fleet, a cottage industry he runs out of his 'man cave' at home.
Palfrey like everyone is keeping his fingers and toes crossed that the pandemic recedes and foreign travel opens up again in time for the 44Cup Portoroz over 19-23 May.