Among the RC44 class' formidable roster of tacticians, one of the most accomplished is Ray Davies. There are few major keelboat championships the mild-mannered Kiwi has not won and this includes back-to-back TP52 season wins in the Audi MedCup and the Volvo Ocean Race, but he is best known as tactician for Emirates Team New Zealand during their 2007 and 2013 America's Cup challenges.
Naturally someone with his credentials is certain to have passed through the RC44 fleet and Davies did so in typical style, joining Pieter Heerema's No Way Back in 2009 and coaxing them on to win that season, despite only coming on board for their second event.
Davies returned to the RC44 in 2015 as tactician on board Charisma for Nico Poons' second season in the class. This year, Charisma was holding on to the circuit leader's 'golden wheels' going into September's World Championship only to lose them to Team Nika.
So why is it coming together now? "The team has been together for a long time and we just seem to have a good thing going, good comraderie and it gels really well. We really enjoy sailing together," says Davies. "But it is a very fine line because it is incredibly competitive out there – we just keep chipping away and trying not to make too many big mistakes."
Strangely Charisma and Team Nika seem to have some direct rivalry on the water and this may be because calling tactics on Team Nika is Davies' old Emirates Team New Zealand skipper Dean Barker. "It been like that we started sailing! We always have some good battles on the water and are great friends on shore. I reckon that will last as long as we do."
So how has RC44 racing changed since his first stint nine years ago? "Then we did match racing in the lead-up to the events. The racing was as good as ever - we had had some good battles and some amazing racing with a lot of the regular people. It is great that the class is still so strong. I am looking forward to its future."
Davies observes that one of the strengths of the class is its great comraderie both between the RC44 owners and crews. "That is a bit unique. On the water, I wouldn't call it friendly, but it is not as 'nasty' as some of the other classes… We are very competitive on the water, but we all enjoy these boats. The owners all get on really well whether they go off and do go-karting together - like they did with all of the crews in Lanzarote. They seem very happy and keen to socialise with each other as do the crews."
In addition to the pinnacle events he's known for, Davies has sailed almost in all of the leading keelboat and sports boat classes. Despite being a 12-year-old design, the Russell Coutts-conceived RC44 was ahead of its time. As an owner-driver boat that is easy to transport (as of all the boats of this size it is the one that fits best into a standard 40ft container), there are still no boats close to rivalling it.
While it doesn't follow the present trend for the fat, powerful hull shapes of present day race boats, its narrower shape make the RC44 the stand-out performer when it's light. As Davies notes: "The special thing about the RC44 is that they power up incredibly well in light conditions, which we often see around Europe. We can be racing properly in five knots of wind when a lot of classes really struggle. That is because it is a skinny boat with a lot of sail area, so it leans over under headsail or gennaker."
More modern boats can outpace the boat in bigger conditions, but thanks to its lightweight, the RC44 will readily plane and surf down waves when the breeze builds. "They are a lot of fun and they get up and go, so you have to be on our toes because they can broach and wipe out very easily," says Davies. "That makes it challenging too. It really rewards good boat handling."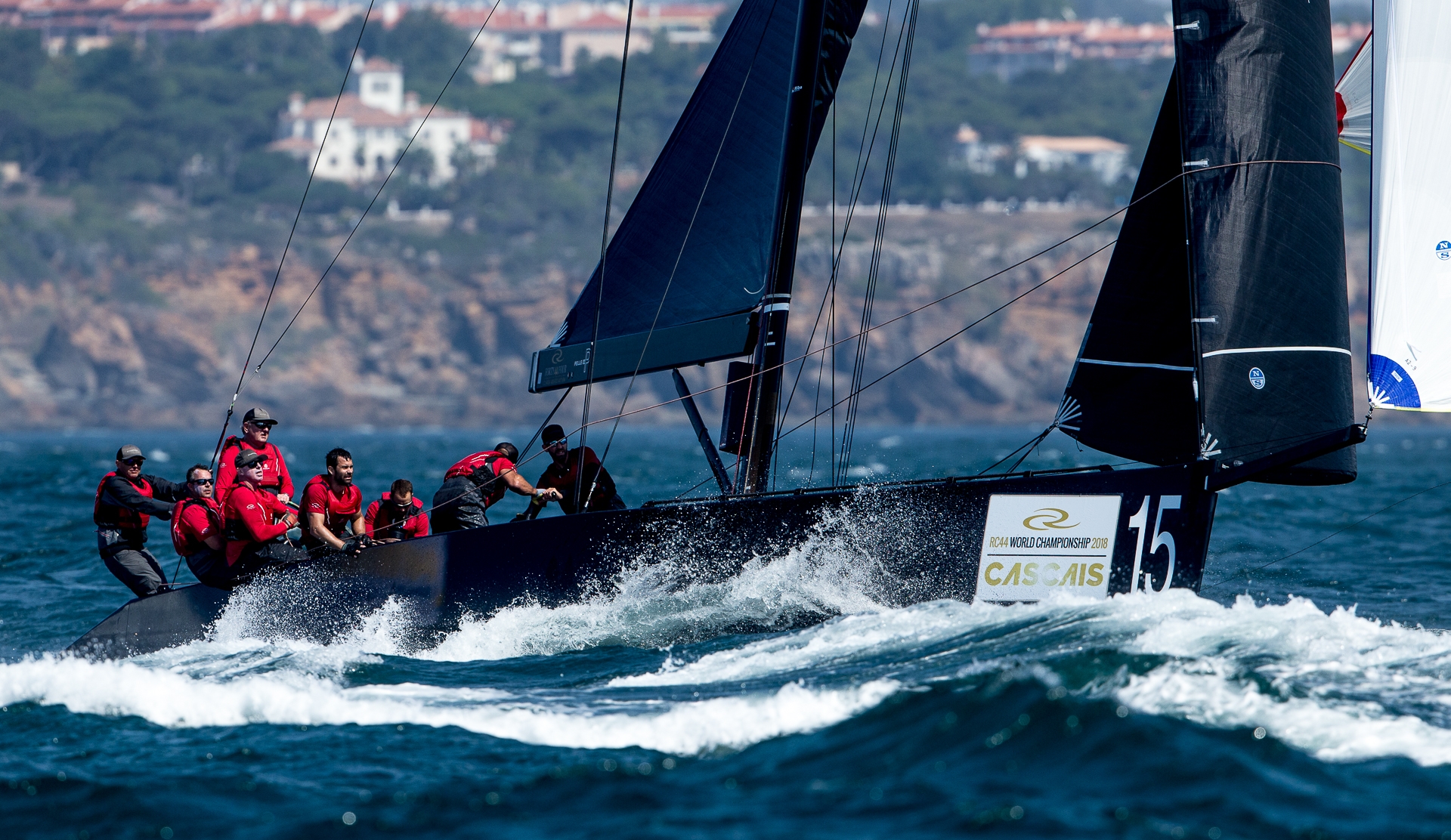 According to Davies in the big conditions at the RC44 Malta Cup in 2015, when he first joined the campaign they hit a top speed of 28 knots at one point.
While there are some high profile owners in the class, Davies says it is a good boat for owner-drivers. Charisma's owner Nico Poons is a very experienced sailor having come from the Farr 40 class. "It is very easy for him to sail. A couple of steps and you are on the other side of the boat. You are always holding on to something and sitting down, so it is a pretty comfortable boat to sail." It also has a big rudder. "It has plenty of grip on the water. You have to be careful when it is windy that you don't broach, but if you are careful you can keep it upright. It is a fantastic owner-driver boat."
The RC44 is also a boat enjoyed by its crew. It is very tweaky with high performance features borrowed directly from the America's Cup, such as trim tabs that improve the efficiency of the keel, preventing the boat from making leeway. "They are quite a technical boat and that is what all the sailors like."
Davies is optimistic about the future of the RC44, mainly because it offers unbeatable 'bang for buck'. While several RC44 owners are among the world's successful businessmen, perhaps even a bit intimidating, Davies points out that that is "a real misconception that is out there, because it is very affordable racing." Capital costs of acquiring a boat are tiny compared to for example a TP52 campaign. Secondhand boats are available from 150k€ "Then you are limited to having four pros on board and a pretty tight sail budget. It is very good value. Compared to other similar-sized boats, it is the cheapest by about half."
While there are still plenty of tweaks that could be made to the boat, Davies says the boat is already highly developed and this leads to "good, close racing." The future of the class, he maintains lies in the hands of the owners, who have all confirmed their commitment to the RC44 for the foreseeable future. "That is critical - having owners motivated to see it go forward. It does take time and effort to grow these classes and events, but we have a committed group of owners."
Meanwhile Charisma returns to the final event of the 2018 season in Cascais starting on 14 November, where they will be attempting to knock Team Nika from the top spot. At present they are lying third overall, with their arch-rivals just two points ahead and with Igor Lah's defending series winners on Team CEEREF in between, they have plenty of work left to do.