Day two of the 44Cup Oman started off sedate as forecast, but finished with the wind gusting to 20 knots, providing further 'yeehaa' moments for the nine crews as they clung on, blasting off on the downwinds into the building sea state.
After six races and at the half way stage of the 44Cup Oman, there is a new leader.
For a second day the forecast suggested moderate ENEerly winds but unlike yesterday these actually materialised. In the first race in 10-12 knots. Torbjörn Törnqvist's Artemis Racing ducked the fleet on port to claim the right team and the lead at the top mark, albeit with Igor Lah's Team Ceeref powered by Hrastnik 1860 inside her. By the leeward gate Ceeref and Team Nika had overtaken, but they split, with Ceeref going left, a move from which they went on to claim, impressively, their third bullet in four races.
On board Artemis Racing, new tactician, 49er gold medallist and Moth World Champion Dylan Fletcher admitted: "At times I didn't make all the right decisions and got a bit annoyed with myself, getting caught out of phase and being bouncing around like a pinball. Hopefully I'll iron out these schoolboy errors."
He added: "It is a fantastic fleet - the RC44 is great, everyone is really nice. The thing that really stands out is just how good it is in light winds and how much fun it is too when it is big breeze and windy. It is a jack of all trades: Close racing and intense."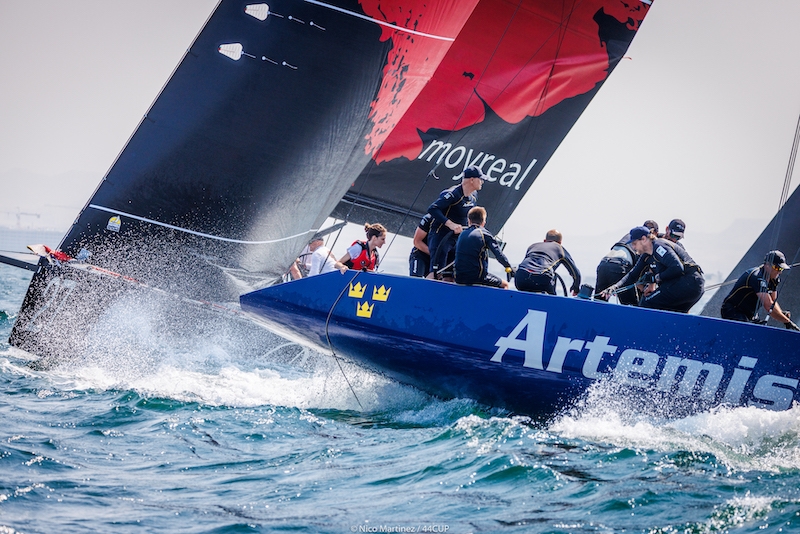 There were several incidents too: Peninsula Racing was OCS and, as she started bearing away to restart, her transom swung into Aleph Racing's port topside. However as windward boat, Aleph had failed to keep clear and so she received a penalty. She also received a penalty point for 'hard contact' plus an extra one as there was damage. For Aleph things went from bad to worse when, just before the finish, she was penalised again when her spinnaker touched Charisma. Chris Bake's Team Aqua was also in trouble when coming in on port to the starboard layline she was involved in a port-starboard incident with Oman Sail and subsequently collided with them while failing to keep clear. For this she had to complete two sets of turns and received two penalty points.
With the breeze up to 15 knots, the second race saw John Bassadone's Peninsula Racing punch out furthest to the right and lead into the top mark. By the leeward gate Peninsula Racing was still ahead, but rounded the port gate while Nico Poons' Charisma took the favoured starboard mark. Charisma went on to finally get their first bullet of the regatta.
The last race, in which the wind was gusting to 20 knots, saw a change of fortune for Hugues Lepic's Aleph Racing. While Charisma again looked strong initially, the French team found a nice lift at the top of the first upwind enabling them to reach the top mark, comfortably ahead of Team Aqua. This she increased down the run and from there was unassailable, finishing ahead of Charisma and Team Nika.
"It was a nice birthday present for Hugues," said Aleph's Michele Ivaldi. "Finally we put all the pieces together: We had a good start and we went almost all of the way left. I was happy to stay on one tack. When you have a small lead at the top mark you can just stretch. It was good fun on the downwinds." Aleph Racing was on her J2 jib while just two boats Team Nika and Artemis Racing had gambled on the wind increasing and hoisted J3s.
A solid 3-1-2 has caused Charisma to take the lead overall from CEEREF now three points astern, with Peninsula Racing another three behind.
"We made many mistakes, but the results were fine," commented Nico Poons. "We had good speed and we made mistakes and did things wrong, but we did that less than everyone else. Doing the small things less badly!"
Kiwi tactician Hamish Pepper added: "It was a good day results-wise. We are slowly getting back into the swing of things. It is our first couple of days of breezy sailing." Traditionally Charisma has always been strong when the wind is up: "Nico likes the breeze and the guys sail the boat really well in a breeze. Typically our boat handling is pretty good and it gives me good opportunities to put the boat in the right place. The 44 is such great racing, so close and it was our day today."
Second best scorer today was Team Nika with 2-3-3 - surprising given they pulled out of racing yesterday when they almost broke their mast at deck level. "I have no idea how it didn't come down," admitted the team's tactician Nic Asher. Overnight the bottom section of the two piece carbon fibre spar was replaced with a spare. "We put the rig back in at 0700 this morning, put our numbers in and went out early to check it. Then we just tried to go racing and see where we were at."And clearly where they were at was somewhere good.
Tomorrow conditions are forecast to be similar to today. Racing will again start at 1200 local time.