While to race an RC44 successfully requires a team effort, the most vital position on any owner-driver yacht is the tactician. In the RC44 fleet, this is usually an individual who comes with a glowing CV from the Olympics, Americas' Cup or at the top end of one design sailing or, often, all three.
Yet the tactician's role typically extends way beyond just guiding the owner around the race course. Often they are also skipper in all but name. In some cases they are also the team manager, picking the crew and running team logistics (mercifully straightforward in the RC44 as the class takes care of most things and the boat fits into a container for easy transportation).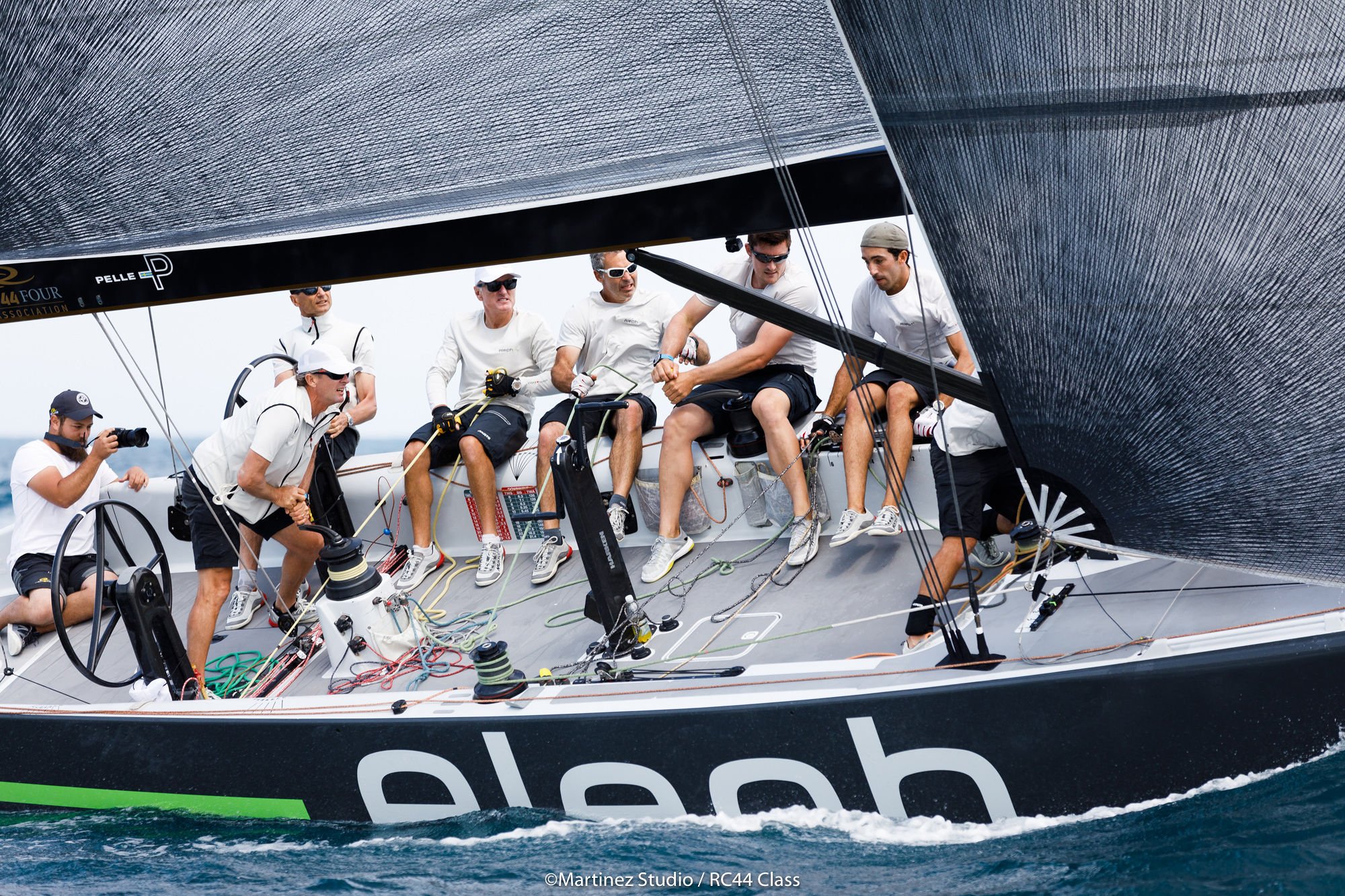 However there is an additional, less obvious talent in which an Olympic or America's Cup background fail to train aspirant tacticians for owner-driver boats: People skills.
Italian Michele Ivaldi is one of the world's go-to tacticians with some two decades worth of experience behind him. He was a Youth World Champion in the 470 and twice runner-up at the seniors' 470 Worlds en route to Atlanta 1996 in the Olympic doublehander. He won the Match Racing World Championship with Jimmy Spithill in 2005, has been part of Luna Rossa and Oracle America's Cup campaigns and scored RC44 World Championship victories in 2013 and 2014, with Team CEEREF and Bronenosec Sailing Team respectively.  
During his career he has sailed with owner-drivers of all different nationalities. This year alone he has put together the crew on Aleph Racing for London-based Frenchman Hugues Lepic, is sailing with two Russians – Synergy's Valentin Zavadnikov in the Melges 40 and Team Nika's Vladimir Prosikhin in the Melges 20. He is the reigning Rolex Maxi 72 World Champion having been part of the afterguard on Momo with a German owner. "Then for the first time in a long time I have an Italian guy," Ivaldi says, referring to Giangiacomo Serena di Lapigio on who's G-SPOT he won last weekend's Melges 32 event in Scarlino. "It is tricky because I have been sailing in English for the last 20 years of my life and at key moments of the race, everything in your brain comes straight across in English. So I now have to translate it back again…"
But for Ivaldi one of the most interesting parts is 'the relationship', getting to know the owners, each remarkable in their own way. "That is one of the nice things about this sport: These guys want to take time off and enjoy it. Out on the water they say 'okay - I am the weakest link of the team here. Help me out.' And they are open. They are all very successful businessmen in their own worlds, so you have to respect their attitude. They are all super smart and in their job they are at the very top and no one would dare to talk to them the way we do! The trick for me is to recognise what type of person you are dealing with first."
Ivaldi says he enjoys seeing this transformation in the owners as they relax, unwind and leave their daily lives behind in order to focus 100% on the racing. The sea is a great equaliser and not even titans of industry are excluded. "I love the fact that a lot of owners come to the boat and they are just 'one of the boys' and they get wet sandwiches and they get their backside wet. It is a big step for some of them. When I see my owners, they are wet and salty and tired at the end of the day. Then I see a photo of them in their businesses, in their jacket and tie, and it's like 'wow – that can't be the same person!'"
But whether it is this transformation, how the owner feels on board, the emotional rollercoaster accompanying all ultra-competitive sport, at the end of the day the most important thing is to ensure the owner has a good time. "You need to try to understand what they want, but basically they want to enjoy their time out on the water," continues Ivaldi. "They want to have fun and spend their time off in a good environment, with good people around them that enjoy going sailing together. That is goal number 1."
Goal number 2 is a good result: "A lot of times more enjoyment comes with better results. The trick there is to talk about expectations and what they want to achieve, how much they want to invest and where, and how much of their own time they can invest. And then you go: 'Okay, this what we can achieve. Anything above that is a bonus.'"
But while this might seem straightforward and for example the owners might agree several months out that, logically, the best they can hope for is a podium finish, this all changes in the heat of battle when all they want is to win. "But that's good, because I am a very competitive person and I am perfectionist and I try to get better and better in every single detail of the regatta, from the mast tune to the little details within the crew work," says Ivaldi. "Most of the time these successful businessmen are the same in their jobs. They understand the big picture, but the difference is in the detail."
Obviously a vital part of this equation is the crew selected that sail on board. They need not only to be skilled, but must understand the objectives of the team, fit in well both on board the boat and as part of the 'family' into which longstanding RC44 crews inevitably develop.
For the tactician, it also makes a difference how experienced the owner is, for the range can be great. On the one hand Ivaldi cites Vladimir Prosikhin, who between his various campaigns in the RC44, Melges 20, SB20 and his cruising yacht, spends as much time afloat as he does. "Then you have a very busy man like Hugues [Lepic] who hasn't been sailing for a year and a half on any sailing boat because he has no time. In that case in two days you need to get in as much training as you can."
Problems can arise when, inevitably, owners acquire knowledge and wish to apply it. "It is always a tricky situation when you have a very experienced and good driver, like Vladimir, and you are telling him what to do and he is reacting and thinking that he should go one way or another. We have 'lively discussions' on the Melges 20! But training and spending time together makes it better. You have to be able to get the best out of the owner whether they are the most trained or the least."
Equally, as owners have different characters and come from different cultures, so can tacticians. This season John Bassadone's Peninsula Petroleum crew is seeing the extremes between Italian Vasco Vascotto, one of the more 'emotional' hot blooded tacticians, and American Ed Baird, who brings a calm and wisdom befitting a former America's Cup and TP52-winning helmsman.
"All of the tacticians have different personalities," observes Ivaldi. "Vasco has an incredible talent on the boat and can be both incredibly frustrating and frustrated. Then you go for dinner and you laugh all night long. I think the owners enjoy meeting different tacticians and experiencing different personalities."
The name of the game is surviving the hard times, while enjoying the good and this comes from trust between owner, tactician and the crew. As Ivaldi says: "In the middle of a race when you make a bad tack or you lose a couple of positions, it is hard to remember that 'we're here for fun – we must enjoy this moment'."