The 44Cup has always been popular with Russian teams, the high performance owner-driver one design class attracting their nation's top sailors. However Evgeny Neugodnikov and Tavatuy Sailing Team's owner Pavel Kuznetsov are exceptional as they both live far from the ocean in Yekaterinburg. Just east of the Urals, this is some 1000km from the Caspian Sea to the southwest and even further from the Barents Sea to the northwest.
Nonetheless water has been always been Yekaterinburg's lifeblood, since it was established in the early 18th century by the Czar, as one of Russia's main centres of heavy industry. The Verkh-Isetskiy lake on the River Iset was created to supply the Verkh-Isetskiy Metal Works, then producing steel, canons and canon balls. More recently the Yacht Club Komatec was established here by Neugodnikov's grandfather and his three brothers and used by subsequent generations. For 30 years the Yacht Club has hosted international sailing event, including the annual Yava Trophy, Russia's leading match racing event, and the 2004 ISAF Match Racing World Championship, was won by Peninsula Petroleum's tactician Ed Baird. More recently the club hosted the 2018 Women's Match Racing World Championship.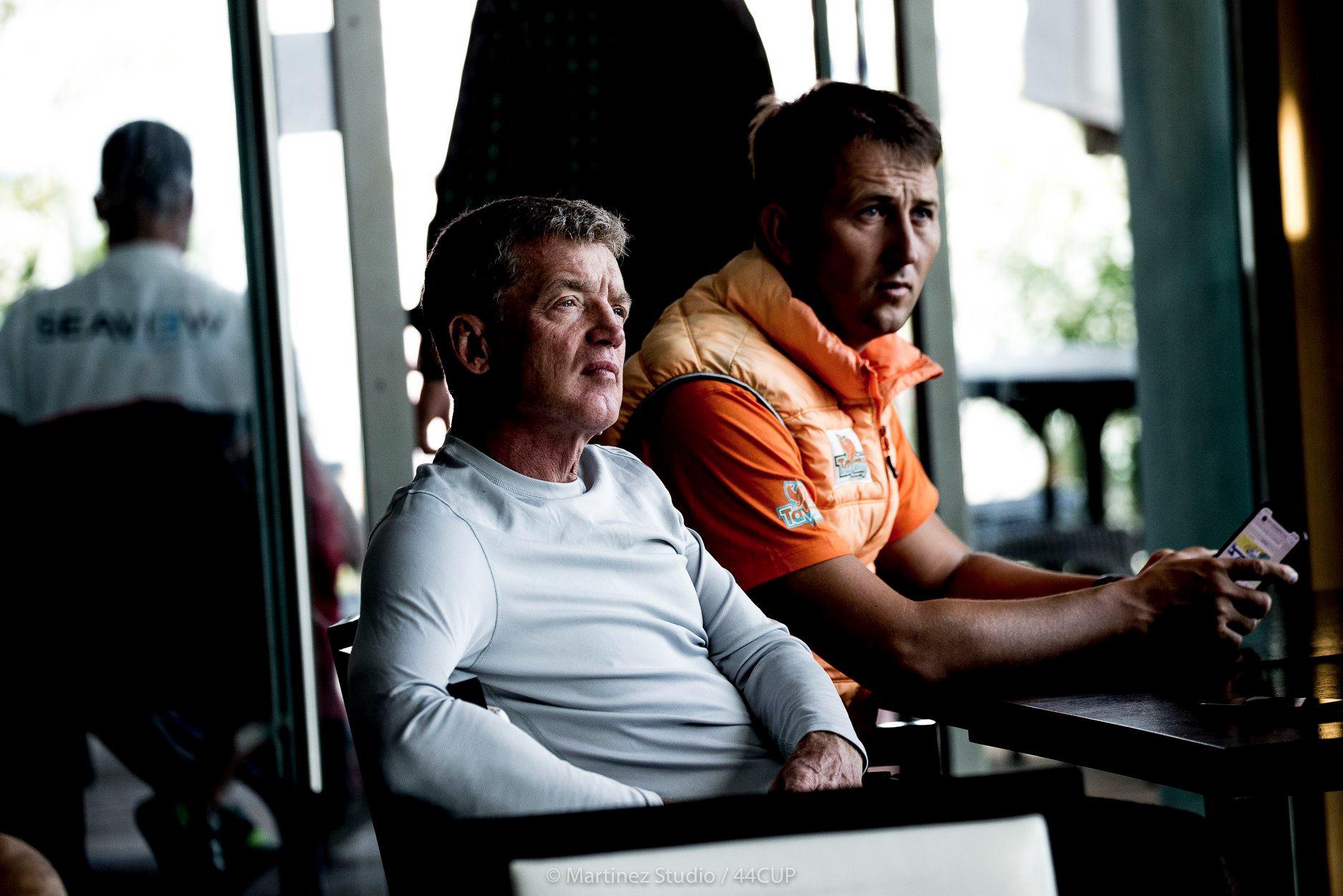 Neugodnikov remembers 44Cup tactician Hamish Pepper turning up to race there having packed just shorts and T-shirts, unaware that the climate is like Sweden - while summer temperatures can reach 38°C, they are typically 17-19°C and in winter can plummet to -40°C.
Having taken it up when he was 10, sailing was in Neugodnikov's blood. Talented, he represented Russia in the Optimist in Palma in 1996 and the following year at the Europeans in Slovenia. Later he subsequently graduated up to the Laser. However thanks to his club's Yava Trophy, the lure of its 50,000 Euros prize money and his exposure to sailing titans like Baird and Jimmy Spithill, plus the Soviet Union's performance match racing in the Soling, Neugodnikov's focus lay in match racing and ultimately the America's Cup. This he took up in the late 1990s, turning pro in 2002. He recalls: "We thought that if we went match racing, we'd get better and better and could come to the America's Cup - but we were very young! However it did give us the motivation to get better, to find the money and the time to practice. It gave us a platform."
During this time there were several grade 3 and 4 match racing events across Russia. Having won several, in 2002 Neugodnikov's ventured abroad, driving three days non-stop to France, where they won both the Antibes Cup Championship and the Match Race di Roma before finishing runner-up at the University Match Racing World Championship in France (Neugodnikov was studying to be a metallurgical engineer).
With these results Neugodnikov started receiving invitations to higher grade international match racing events. However it was in Yekaterinburg that he really made his mark, finishing fourth at the 2004 ISAF World Championship, behind Baird, Karol Jablonski and Philippe Presti (all subsequent RC44 sailors) and ahead of many heavyweight match racers.
Neugodnikov went on to win the Yava Trophy, by now a designated Grade 1 match racing event, three times, including 2008 when the event moved briefly to Moscow and doubled as the EUROSAF European Match Race Championship. By this time the Russian team was a regular feature on the World Match Racing Tour, the sailing world's premier league for match racing, achieving their best ranking of no5 in the world in 2008.
He stopped match racing in 2012 when the Tour's focus shifted to catamarans. "Before that it was easy - you could go to any yacht club and find two equal boats. Then it became too expensive. Now match racing is far away from the America's Cup I think."
Throughout this time the Russian skipper was also nurturing his crew, all of whom have gone to do great things - Nikolay Kornev is pitman on Team Nika, Alexandr Ekimov is main trimmer on Bronenosec Sailing Team, while bowman Oleg Krivovnow still sails with him.
Professionally Neugodnikov has enjoyed being in the right place at the right time, with several Russian owners now racing at a high level from sportsboats and Dragons up to the RC44 and TP52. Neugodnikov joined the Synergy team in 2010 to race on both latter classes, finishing third at the TP52 World Championship. In the RC44s, he remembers being beaten match racing by Terry Hutchinson. "He was lucky that we didn't have a second race!" However on the match racing circuit he had already beaten big names like Barker and Spithill. Sadly his relationship with Synergy was shortlived and the Russian skipper readily admits "after that I came to understand that in big teams – whether it is sailing or football - it is all about politics."
Fortunately with Pavel Kuznetsov, a businessman in Yekaterinburg, Neugodnikov has enjoyed a longer, more fruitful relationship. At the time Kunitzov was searching for 'his' sport and Neugodnikov was able to nurture him, starting him off as crew then on the helm, on board the X-35 Symfony, competing in IRC and ORC events in the Mediterranean. On their third attempt, in 2013, Symfony won the Giraglia Rolex Cup offshore race.
From there they graduated up to the Melges 32 fleet and finally in 2017, their fourth year, they started seeing consistent results, winning the hotly contested World Championship in Argentario, Italy. During this period, they also competed on the SB20 sportsboat, winning the 2014 World Championship when it was held in St Petersburg, with Neugodnikov helming and Kunitzov as crew.
From here the two time World Champions were looking for a fresh challenge. They wanted a bigger yacht, which they could buy new or used and with the right atmosphere in the class. The 44Cup ticked all the boxes, plus long Russian involvement meant there were many experienced crew and the possibility of setting up a competitive all-Russian team. "The RC44 had a lot of pluses plus the boat was cheap, although running the team was less so," says Neugodnikov. "For owner-drivers it is one of the best boats because it has a good hull shape and is easy to steer. Plus I knew the boat from before - it is very fast and it is extremely close racing. We like that – that you can't be sure to finish in the same place you were at the first mark. Looking around it was the best choice."
Tavatuy Sailing Team was eager to compete on the 44Cup this year with a new suit of sails to give them a competitive edge. Sadly they will have to wait. "We still haven't had a lot of time on the water to get better," says Neugodnikov. "We expected to do that this year, but it will be next year now."
Even if a 44Cup event had successfully gone ahead this year, it would have been hard for the Russian team to have competed with Russians still not permitted to enter Europe. In the meantime Neugodnikov has been busy racing a five event local series, "like a Urals Lakes Cup". "This is the first time in 20 years I have spent all summer at home!"
As to his ambitions going forwards, there is obviously Tavatuy Sailing Team winning the 44Cup, but he has come to terms with not getting his name on to the America's Cup.