Team Aqua's owner Chris Bake has been a driving force in the RC44 since its inception in 2007, as one of the first owners of the all-carbon racing monohull. Aside from enjoying the pace of high-intensity one-design racing, Chris uses his boat to promote important campaigns that he believes in.
The first is 2041, a charity headed up by Arctic Explorer Robert Swan whose mission is to raise awareness of the threat to the Arctic and the Antarctic as a result of global warming.
Team Aqua has been carbon-neutral since joining the class and five years ago ceased using single-use plastics in an effort to do their bit towards combating rising global temperatures and increasingly polluted seas.
The second campaign is Team Aqua's commitment to supporting young sailors and boat builders using the RC44 as a stepping stone for a hands-on work experience programme with a professional racing team.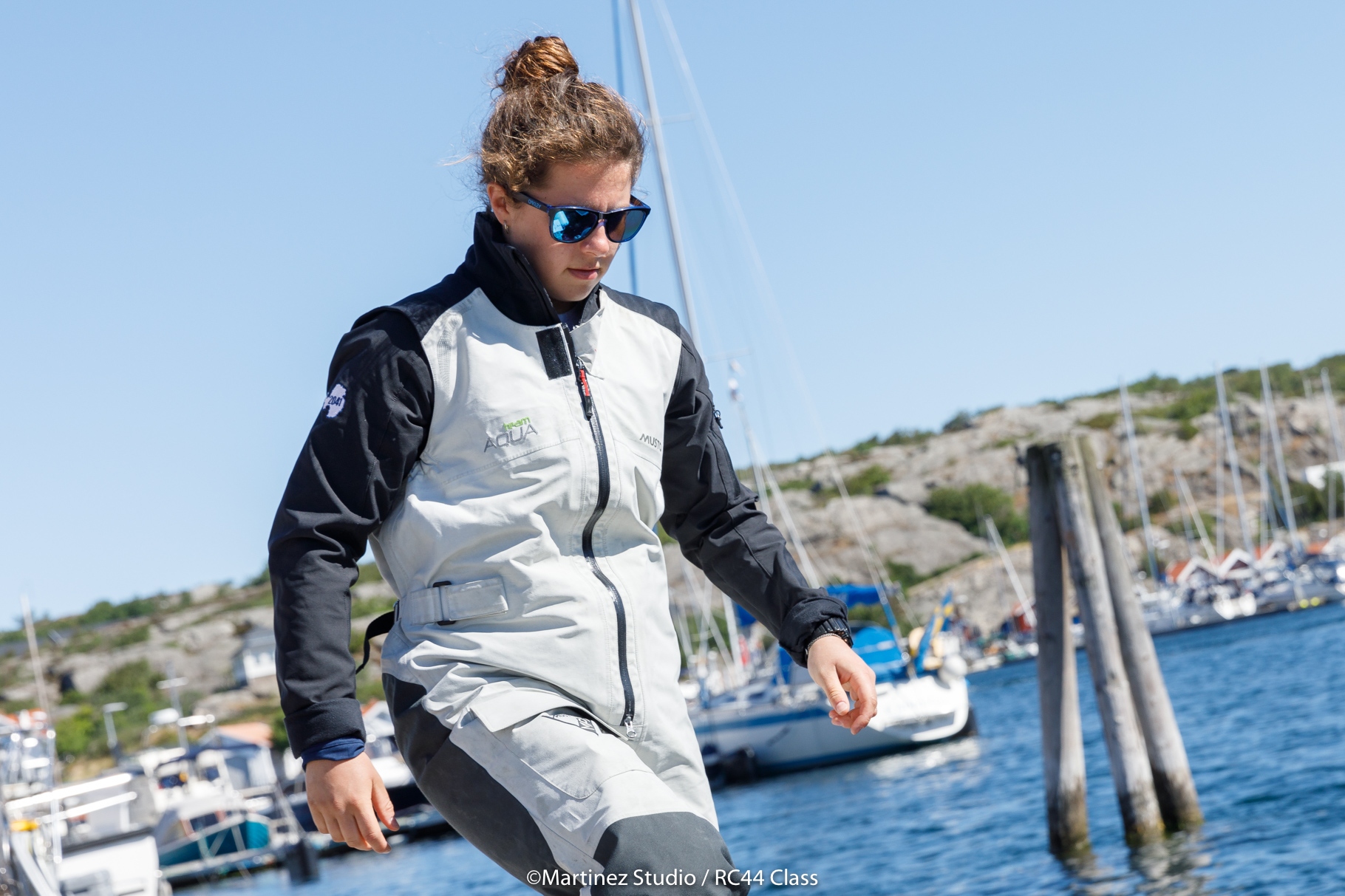 Uniquely Bake has raced with the most of his crew consistently for the past 12 years and, as a result, has won five RC44 Championship Tours. He thus appreciates how important it is to have a well-supported and happy crew on board when the pressures are high and the racing is tense - a philosophy he is keen to pass on. 

For the RC44 Marstrand Cup, the Team Aqua crew is joined by Sophie Heritage, a 19-year-old Laser Radial sailor from the Isle of Wight, who has spent the last two weeks in Marstrand on Sweden's west coast working with the shore crew to prepare the RC44 for racing.  
Having taken on aspiring professionals through the British Keelboat Association and as a result of recommendations within the industry, Team Aqua has seen 23 young people over five years come through their programme, but Sophie is the first woman to take on the role. 
Having been put forward for the apprenticeship by British Olympic sailor Hannah Diamond, who has just completed the Volvo Ocean Race on board Vestas 11th Hour Racing, Sophie was thrilled to have the opportunity: "When Hannah told me about the project and said that it was something that she would have jumped at the chance of doing when she was first getting into the sport, I thought to myself 'OK, this is something I have to do,'" she explained. "Hannah has been my coach in the past but she is also as a bit of a mentor for me because of her career in professional yacht racing outside the Olympics."
Like most sports, the step-up from amateur to professional is not easy – especially if you don't easily fall into a national or Olympic training programme. "I would defiantly love to work in the sailing industry, whether it is as a sailor or as a boat builder, I don't know," Sophie explains.  
"I work with my dad (David Heritage Racing Yachts) when I'm at home building the International Etchells keelboat, but it's not quite the same as this; the professionalism and atmosphere here is next level. It is a little scary but once you show that you are capable, and the guys can trust you, there is no difference between you and them except experience. I think for anyone interested in working on the technical side of things it can seem really intimidating to begin with, but as long as you show you are keen and interested they are more than happy to teach you."
As for being the first women to take on the role: "In my eyes, there is no difference between what women and men can do. But as a girl, when you look at the fleet and you see there is only one woman racing full time, it's hard to see your future path and where to go next. I just plan to get involved as much as I can, to listen and to learn and see where it takes me."