44CUP VIRTUAL REGATTA SERIES 1
01.04.20 - 3 races sailed
Whilst in lockdown tonight we raced the first in a four-part 44Cup Virtual Regatta series.
A private series that will take place over the next four weeks of April, the opening round saw a runaway victory for ARTTUBE RUS1 sailor Sergey Avdonin who claimed all three first-place finishes.
44Cup umpire Miguel Allen is a comfortable second overall after posting a consistent 2 4 2 scoreline with Charisma's bowman Ivan Peute five points behind in third.
Tonights most spectacular moment came in the second race from Charisma's coach Morgan Reeser who, after an excellent start and leading the first beat, suffered a devastating technical glitch halfway through the first mark rounding and plummeted through the fleet to last - We saw a lot of this 👹👹👹 - nevertheless he was back for more in race three!
Good racing all. Same again next week. Keep safe.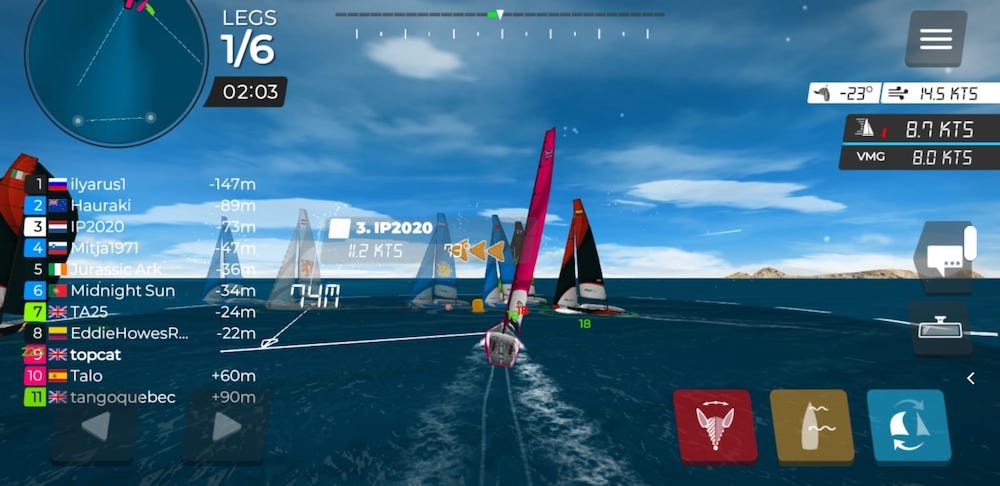 44CUP VIRTUAL REGATTA SERIES 2
08.04.20 - 3 races sailed
18 boats lined-up for the second round of the four-part 44Cup Virtual Regatta Series happening this April while Europe is in lockdown.
Still holding the top spot is ARTTUBE RUS1 sailor Sergey Avdonin. However, a blemish on his otherwise perfect scoreline of firsts came in race two tonight when, after misjudging his position on the start and gaining a costly penalty on the second beat, Avdonin finished 11th.
Despite his string of first, Avdonin only holds a narrow five-point lead over the ever consistent 44Cup umpire Miguel Allen in second place overall.
Of the new entries to join the fleet tonight, two sailors stood out.
Team CEEREF's headsail trimmer Javi De La Plaza warmed up well with a fourth and followed it up with a win in race two. A 10th in the final race puts Plaza in seventh overall.
The next to shine was Team Aqua's shore crew Gary Stones who sailed a great race three. Leading until the final downwind when hunted by Avdonin, Stones was rolled just before the finish line to take second place.
So good to see so many boats on the start line. Keep safe.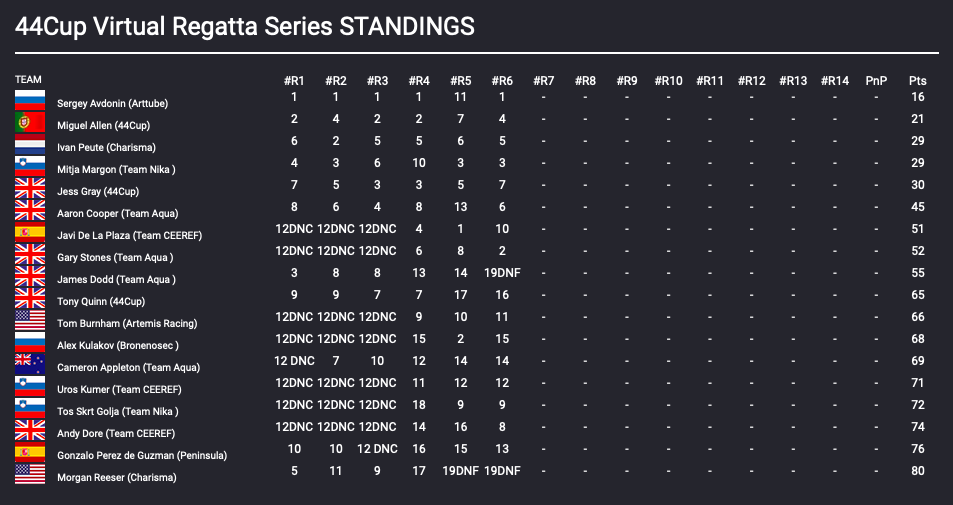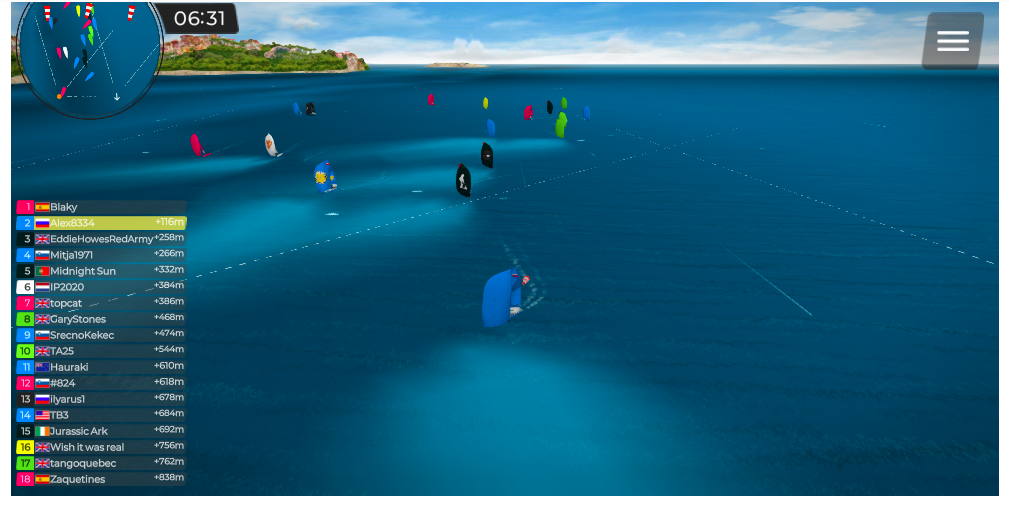 44CUP VIRTUAL REGATTA SERIES 3
15.04.20 - 3 races sailed
Sergey Avdonin racing for Arttube, Ivan Peute bowman on Charisma and Miguel Allen 44Cup umpire, were the breakaway trio that led the way around the race track on the penultimate evening of the 44Cup Virtual Regatta Series.
Round three of the four-part 44Cup Virtual Regatta Series happening this April while Europe is in lockdown was kicked off by a win for Charisma's Ivan Peute with closest rival Miguel Allen in second and Team Nika's Offside Trimmer Mitja Margon in third. Unusually with current series leader Sergey Avdonin finishing the race in seventh.
Race two and the tables turned for Avdonin who bounced back to his standard form to take the win. Peute held his place in second, and this time it was Allen who dropped through the ranks to finish sixth allowing Team Nika's boat captain Tos Skrt Golja to come home in third. An excellent race for Skrt Golja allowing him to break out of the bottom half of the fleet and into the top 10 overall.
Race three, it was the win again for Avdonin, Allen took second place as Peute got caught up in the fleet to finish a disappointing seventh. New to the series for round three Bronenosec Sailing Team's owner Kirill Frolov sailed a perfect final race to take a well deserved the third.
In the overall standings, Sergey Avdonin holds a six-point lead over Miguel Allen who is, in turn, eight points ahead of Ivan Peute.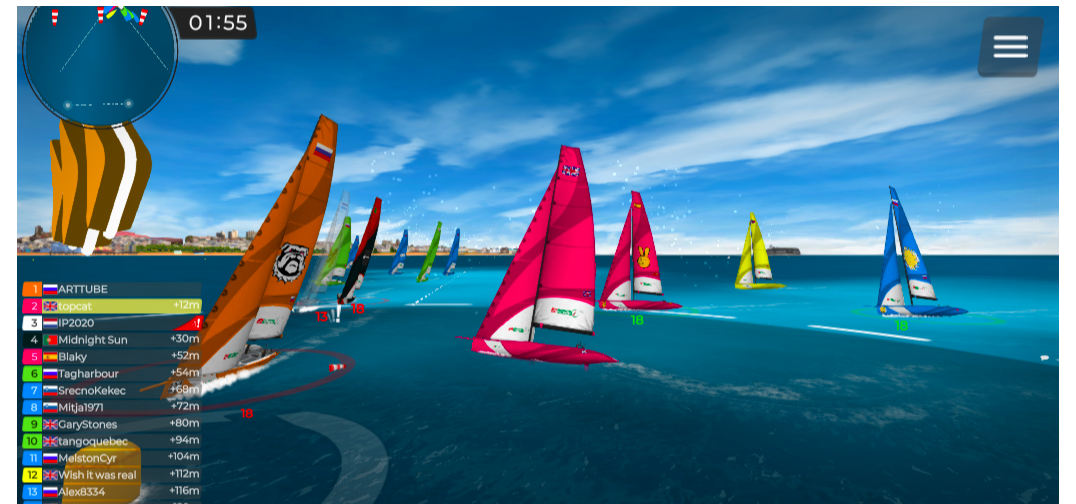 44CUP VIRTUAL REGATTA SERIES 4
22.04.20 - 3 races sailed
Taking place over every Wednesday in April the 44Cup Virtual Regatta Series saw 20 sailors, staff and race officials from the 44Cup compete over 12 races online while Europe is in the Coronavirus lockdown.

Dominant throughout the four-part series Russian sailor Sergey Avdonin, racing for Arttube, went into the final round last night with a six-point advantage over Miguel Allen, 44Cup Umpire. A perfectly consistent last regatta, with a 1 3 1 scoreline, saw Avdonin take the series win with a massive 23 point lead.
The battle was then on for the remaining podium positions between Charisma's bowman Ivan Peute and 44Cup umpire Miguel Allen. Race one, a fourth for Peute and an eighth for Allen saw Peute close the gap from eight points to four. Race two and a disastrous 11th for Allen put the rivals on equal points.
In true 44Cup style, it was then all to play for in the final race of the series in which Allen, a couple of boat lengths ahead of Peute, covered to the finish line to secure the second place overall by just one point, Peute in third.
Other standout performances saw 44Cup comms manager Jess Gray break out from the mid-fleet to finish the series on a high with a 1 2 scoreline in the final two races. Similarly, Bronenosec owner Kirill Frolov continued his excellent form from the previous week to post a 3 2 7 scoreline to end the series.
Congratulations and thank you to all the competitors who took part. Keep safe and fingers crossed we are back to real sailing soon.