The 2023 44Cup set sail today with the opening races of the 44Cup Oman Cup, hosted by Oman Sail from its base in Muscat's Al Mouj marina in 20+ knot winds. This made for spectacular downwind legs, the RC44s frequently speeding down waves then submarining, occasionally broaching, all the while providing a thorough work-out for the owner-drivers and their crews.
The 17-22 knots was in stark contrast to the conclusion of the 2022 44Cup here in December, held in four days of ultra-light conditions, in which most other keelboat classes would not have been able to race. While 17-22 knots is nothing exception for the high-performance, owner-driver one designs, today the onshore easterly wind had been blowing for some time, kicking up an evil short chop with frequent breaking waves.
"What a great season opener – fantastic sailing," declared Adrian Stead, tactician on Igor Lah's Team Ceeref powered by Hrastnik 1860. "Three cracking races - it was the first time we have sailed in such breeze since Marstrand last July. I think it was a question of who remembered 'how to do it right', the quickest."
However a bigger issue was that no forecasts suggested there would be any more than 15 knots. As Stead observed: "We all left the dock with genoas and J2s – but no J3s. But it was okay - we knew there was going to be a seaway because the breeze had been blowing from the east overnight."
Considering the boats were overpowered, there were relatively few incidents, but it was still a high scoring day.
After losing the 2022 season at the final event here, Team Ceeref powered by Hrastnik 1860 today came out top, winning the first and third races.
In the first Team Nika led around the top mark but was rolled by Ceeref on the run, compounded when Team Nika severely broached. With good tactics and meticulous handling, the Slovenian team hung on to get the first bullet of the 2023 season ahead of Nico Poons' 2022 champions on Charisma and Torbjörn Törnqvist's Artemis Racing.
In the second race Hugues Lepic's Aleph Racing trailed Charisma into the top mark. The French and Dutch teams remained close for the next lap, despite splitting at the leeward gate with Charisma going left. At the top mark, the two rounded overlapped. As Aleph Racing came upright, one of her crewmen was flicked into the water, dragging another with him. Aleph expertly spun into the wind to collect her swimmers. Meanwhile, in tandem, Charisma was carrying a penalty turn for failing to keep clear. This handed John Bassadone's Peninsula Racing the lead only for them to lose it after gybing prematurely handing the win to Team Aqua, with Peninsula Racing second and Charisma third, her second podium of the day.
For race three, the course was overshadowed by a giant cumulonimbus cloud over the mainland, its mushroom top extending over the race track. This caused the wind to build to 22 knots, the seastate still lumpy. However the outcome was simpler with Ceeref winning the left side, lead at the top mark and then hanging on for the remainder of the race. With two bullets, but a deep result in between, Ceeref leads by just two points from the three-way tied Peninsula Racing, Aleph Racing and Charisma.
"It is nice to be here," said Igor Lah. "Today we finally got some nice breeze. We have been waiting for this for almost a year. The waves were quite short and I don't remember when we got as wet as today! But it was warm, so okay."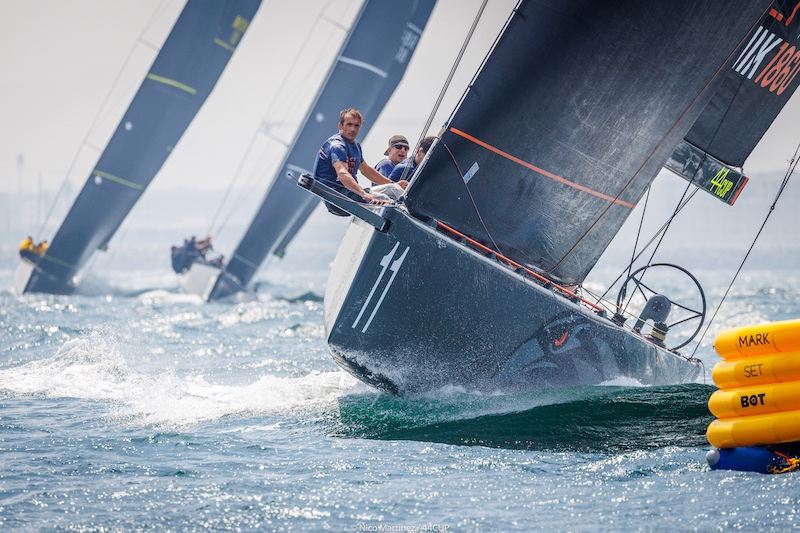 Today was the first time RC44s have raced with women on board each boat. On Ceeref was Slovenian two time Olympic 470 sailor Tina Mrak. "Tina did a fantastic job today. She is a key part of the team," said Stead. "She is always looking at the breeze and helping trim, to keep our mainsheet trimmer hiking out. It's great for the other amateurs on board as she is there pushing them. I am really pleased with her addition to the team."
Getting off to a good start today was John Bassadone's Peninsula Racing, which is tied in second. The Gibraltar-based team hasn't managed a podium finish at an event since 2017. In his own unique way, tactician Vasco Vascotto explained: "We decided not to take the J3 because we thought it was going to be lighter. So now we are wet and a little upset because we could have had the correct sails on board. Apart from that we did a good job. And, the most important thing was that we feel that we learned."
Racing continues tomorrow with the forecast suggesting similarly brisk conditions to today.