Sailing is a wonderfully international sport and, over the years, the 44Cup has provided some fine examples of global détente notably when American tacticians have sailed alongside Russian helmsmen.

Another is Bronenosec Sailing of St Petersburg Yacht Club Commodore Vladimir Liubomirov, where over the years Russian crew have regularly sailed alongside Italians, Aussies and Kiwis. Witnessing how this Russian team in their unique royal blue 44 has developed over the years has been New Zealand America's Cup veteran and match racer Cameron Dunn.
While other Kiwi tacticians on the 44Cup such as Dean Barker, Cameron Appleton, Ray Davies and many of the sailors went through Team New Zealand school, Dunn took a similar but alternate path sailing with Aloha Racing in the 2000 America's Cup and subsequently in 2003 was mainsheet trimmer during Peter Holmberg-era Oracle Racing, having won the World Match Racing Tour with the US Virgin Islander the year before.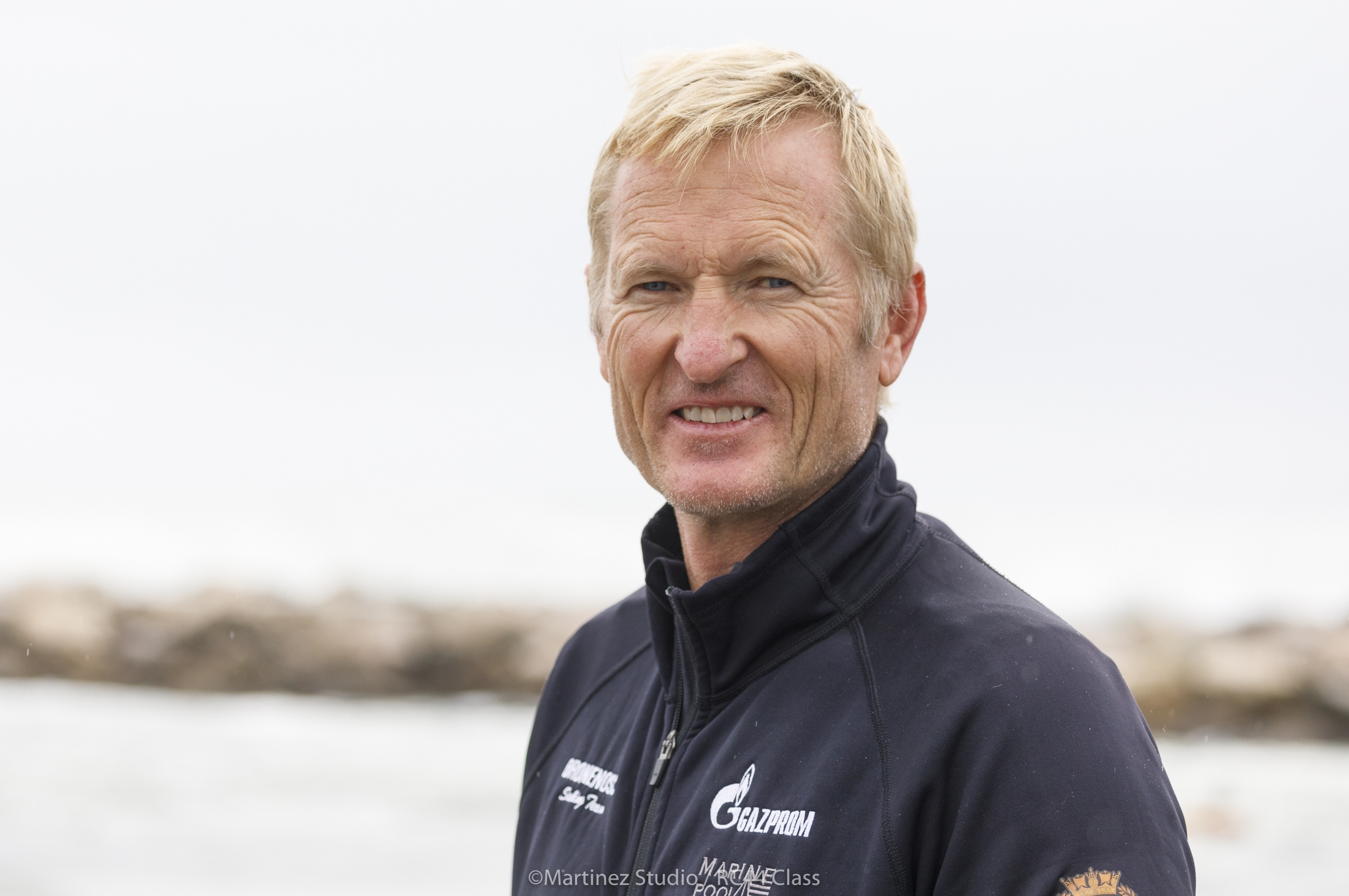 Today he is a stalwart of the professional sailing circuit and when he is not competing on the 44Cup is racing Hasso Plattner's TP52 Phoenix.
Dunn joined Bronenosec Sailing from its outset on the 44Cup in 2013, when the Russian campaign fielded two teams – Bronenosec and Gazprom Youth Sailing Challenge, the latter an initiative to develop young Russian sailors. Initially he was coach for both.
As an indication of how a team can step up in the 44Cup, Bronenosec spent its first season bumbling along in the bottom half of the leaderboard but during year two, they won the RC44 World Championship. They followed this up in 2015 with second-placed finishes at both the Worlds and the overall season's fleet racing. The latter could not have been closer, tied on points with Team Nika, it all coming down to the final run of the final race in Virgin Gorda. However they were stand-out winners in the match racing, this of course being a Dunn speciality.
Much of Bronenosec's success at this point came down to having the 'supreme' team at the core of their crew - tactician Michele Ivaldi, main trimmer Paul Westlake, headsail trimmer Maciel Cichetti and bowman Alberto Barovier - sailing alongside the Russians.
For the 2017 season, the team entered a new era, with Liubomirov largely handing over the helm to his friend and fellow St Petersburg Yacht Club member Kirill Frolov and a fresh influx of Russian crew.
"Kirill is passionate about the sailing, but also building a team of young guys," says Dunn, who took over as tactician. "The goal has always been to get more of the young Russian guys on board and give them a shot at being professional sailors."
Aside from Dunn there is Italian Pietro Mantovani in the pit but the rest - Alexandr Ekimov, Viktor Serezhkin, Pavel Karachov, Egor Terpigorev and Alex Kulakov – are Russian and have been on board since the change in 2017. Most came with experience such as Serezhkin, who sailed on Gazprom Youth and has since skippered a boat on the World Match Racing Tour, or bowman Kulakov who sailed with top Russian match racer Evgeniy Neugodnikov. Two also raced on the Russian Extreme Sailing Series team. Dunn explains: "They have come from slightly different backgrounds. They were picked not just for their ability, but also their team culture."
Obviously the international mix can present its challenges, but Dunn says his sailing experience has stood him in good stead. "I have spent most of my career sailing with foreign teams. I did my first two Cups with American teams and then with the Italians [Mascalzone Latino]. Then I spent a lot of time sailing with various European nations. I have a reasonably good handle on how to communicate and how to fit in with a team with a different culture. It is a challenge, but a cool challenge. They appreciate my style and I enjoy the different ways of thinking about things and doing things."
There are also the language difficulties. "They have learned some Kiwi slang for sure!" he says of his Bronenosec colleagues. "When we first started, I recorded myself during racing to understand exactly what I say. Then I did a translation for them of those terms - of exactly what I am meaning - because what I think I say is not necessarily the same as what I actually say in the heat of battle. I have definitely learned some Russian, because I've been working with them for six years." (Previously Dunn called tactics on the Synergy TP52.)
To progress the team, he prefers an open approach: "I don't sit there as a coach. I run the debriefs, but it more a case of chatting as a group and mutually working out how we can improve."
In 2018, Bronenosec Sailing missed the first two events but came back fighting, even though on their return in Marstrand, Liubomirov and Froliv shared helming duties. The highlight of their season was finishing third at the Cascais World Championship despite at one point receiving an almighty four point penalty in one of the most memorable moments in 44Cup history: They were attempting to shoot the weather mark in light breeze when they got washed down on to it by the current, causing boats astern get caught in irons as they tried to avoid. A slow-motion pile-up ensued.
Dunn was pleased by their performance in 2018 all things considered. "This fleet is tough. If you are a little bit off your game, you get punished."
Regarding the RC44 itself, Dunn remains impressed: "I really enjoy the boat. They are tweaky and they are a challenge in terms of crew work. A lot of newer boats, like the 52s, have a lot of systems that make them relatively easy to sail. For a top level crew there are very few mistakes they can make because these systems are so good. With the 44 it takes more management, so coming into the bottom mark, you have to manage your laylines more carefully, and as a tactician you have to ensure the owner is aware of all the situations. The boats are physical too - the way the crew hikes makes for a hard day's yachting. But the racing is as good as it gets in any class and downwind they are great fun."
The RC44's high performance downwind is perhaps surprising compared to that of wider, fatter newer designs, which can plane, but not squeeze into a 40ft container, like the RC44 can. "Not many 40 footers can do 22 knots in 22 knots," says Dunn. "And in light air you can race decently thanks to the big main and the big jib. And the racing is fun because you have to sail the boats tipped over and they are quite easy to wipe out."
The RC44 also represents great value for new teams looking for a highly competitive class of sailing boat for outstanding value. "You have to buy sails, but buying and running the boat is cheap - it is not in the same league cost-wise as the TP52 thanks to easy logistics, a smaller shore team and because the class is well organised and moves everything around together."
Also for owner-drivers, Dunn says the boat is ideal. "They teach them how to sail well, and because they are narrow, with the two wheels, they are easy to get around. Plus they are exhilarating and the racing is great. If an owner came to me and wanted to get into one design racing, it would be top of my list to recommend."