Holding an eight point advantage going into the final day, and then doing enough to hang on, enabled Chris Bake's Team Aqua to be crowned the 44Cup Marstrand World Champions for 2019. The team claimed this year's title ahead of Vladimir Prosikhin's Team Nika and Torbjörn Törnqvist's local heroes aboard Artemis Racing.
"I feel really good about it," said Bake, still dripping from his victor's plunge once Team Aqua was back at her berth on the Marstrand quayside. "Yesterday was a good day and the boat was going really well. Today was tough – shifty and really patchy."
Today the teams had a long wait out on the water as the breeze faded, subsequently materialising just long enough to allow two races to be sailed before the 1500 cut-off.
In the first race Artemis Racing had a lengthy battle for the lead, including repeated place swapping with Igor Lah's Team CEEREF. The Slovenian team was ahead going into the final run, but gybed early ultimately allowing Artemis Racing through to take the bullet.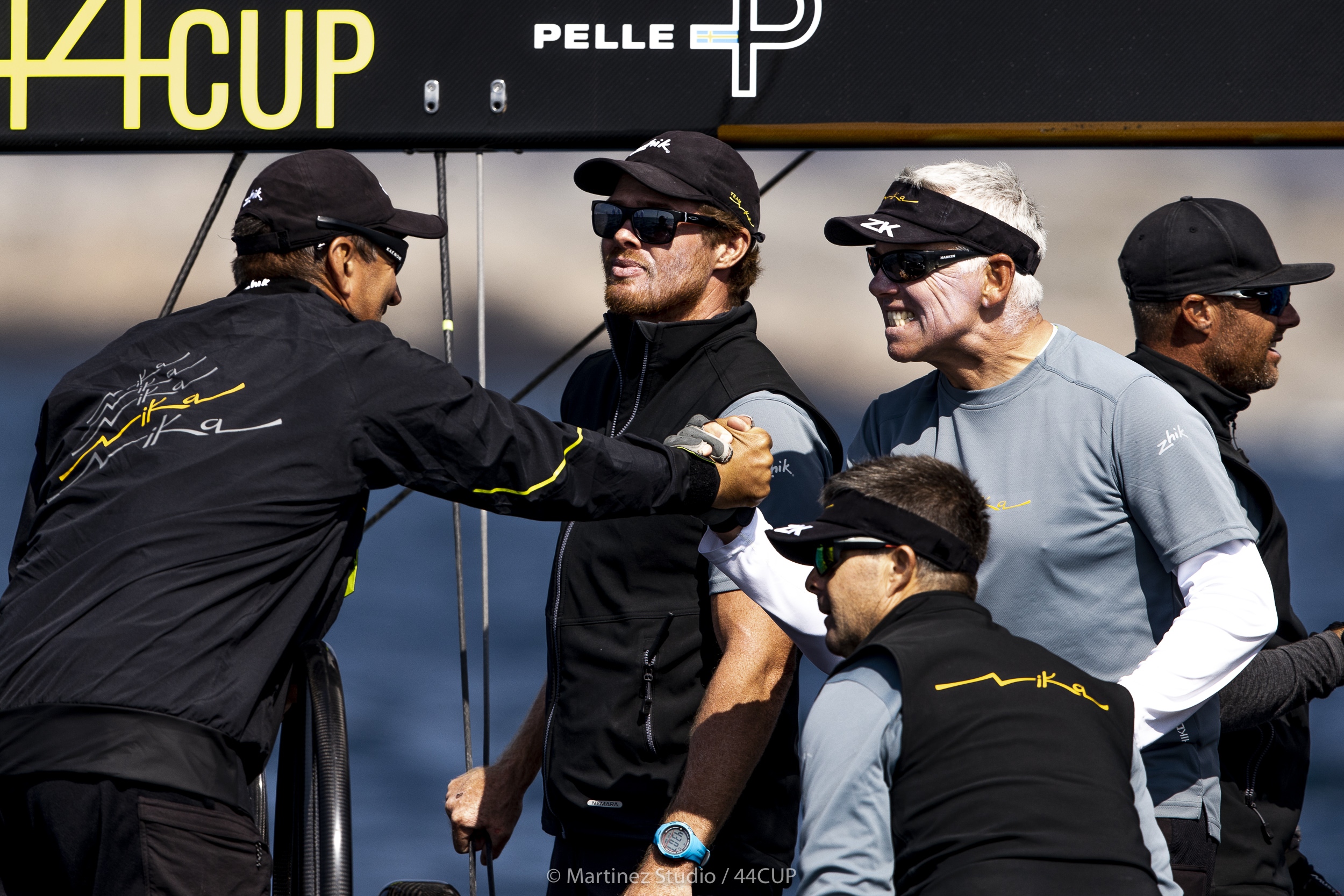 "We had a clean start at the pin - that is very powerful here and if you won it you could basically make your own race all the way through," described Artemis Racing's Torbjörn Törnqvist. "It was great that we had that tacking duel with Team CEEREF at the top mark and we got closer and closer. Then they decided to gybe early and we carried on and were lucky and got ahead."
Behind, Team Aqua managed to salvage a sixth place having at one point been last. As the team's tactician Cameron Appleton put it: "We were in good shape, but we got into a situation where we were the 'meat in the sandwich' - at the top mark, we lost boats that came round under us and boats that came over the top of us. After that it boiled down to just being really steady and good with all of the manoeuvres."
This left the overall leaders just four points ahead of second placed Team CEEREF going into the final race.
In race two some pre-start match racing enabled Team Aqua to get their bow beneath Team CEEREF and shovel her over the line early, thereby taking her out of contention. "We were underneath them and pushed them hard," described Appleton. "They put themselves in that position, so we took the opportunity to give them a helping hand!"
Again Bake's team struggled mid-fleet, but hanging on to fifth place was enough for them to win this World Championship by four points from Team Nika, with Artemis Racing a further fourth points astern. Both Team CEEREF and John Bassadone's Peninsula Petroleum finished one point off the podium, with Team CEEREF claiming fourth overall on countback.
Further illustrating just how inconsistent some of the team's scorelines have been in this event, Hugues Lepic's Aleph Racing crossed the finish line mid-fleet in today's first race but picked up a finish line penalty forcing them to carry out a turn before re-finishing, thereby dropping them to last. However they fought back and were leading for most of the final race before ultimately losing out to Team Nika.
While Artemis Racing scored a 1-3 today, Team Nika, the defending 44Cup World Champion had an equally good day scoring a 3-1. "We needed one more race! We were in a good rhythm. If we could have kept doing the same…" bemoaned Team Nika Vladimir Prosikhin. A minute later he had encouraged his old friend Chris Bake for a victor's swim.
It was appropriate that Team Aqua and Chris Bake, one of the founders of the RC44 Class and who remains one of its chief supporters, should win this the tenth anniversary World Championship for the high performance one design monohulls.
"After the first race I was a little disappointed because it was really an unenforced error that had us in that spot - it was frustrating," continued Bake. "We just knew that we still had some margin and if could keep it clean and just stay ahead of Ceeref… then they made it a little easier for us. I am really glad we were able to sail today – it felt really good that the breeze kicked in."
Cameron Appleton added: "We have been in the situation before where we've been so close and haven't made it, so this finally feels good. It felt like it was our time the last couple of days, that we were getting a groove on and the guys were doing a phenomenal job and we stayed patient. I think Chris was pretty nervous today, so it was great to finally nail it."
Torbjörn Törnqvist was pleased with his third place but even more with the event, which he helped to put on. "I love this event and we'll come back next year. It is so different from everywhere else we go to. It has been unusual this year with the light wind - normally we have too much wind. But then the wind came back today and we had two great races in."
The 2019 44Cup now moves on to Cascais, Portugal over 2-6 October.