They say that a true sailing champion is one who can master all weather conditions. It's going to take an all-rounder to win the 2017 RC44 World Championship in Marstrand, Sweden. For tomorrow's opening day of competition, the nine international teams are looking at light airs of about 8 knots from the south-west. By the weekend the breeze will have grown to about 15 knots and the final day is forecast to conclude with a crescendo of 25 knots. In high-performance boats as challenging as the RC44, it could be quite a showdown.
This morning, as the fleet set out for a session of practice races organised by principal race officer Peter 'Luigi' Reggio, the rain was tipping down, although the sun looks set to shine for the rest of the week. At least the damp weather made one sailor feel at home. "In St Petersburg it rains 360 days a year," laughed Russian skipper Vladimir Liubomirov, co-owner of Bronenosec Sailing Team. He has fond memories of this venue. "Marstrand was the place I first raced the RC44. Of course we didn't win that year because we were new and we were learning, but we have won here twice."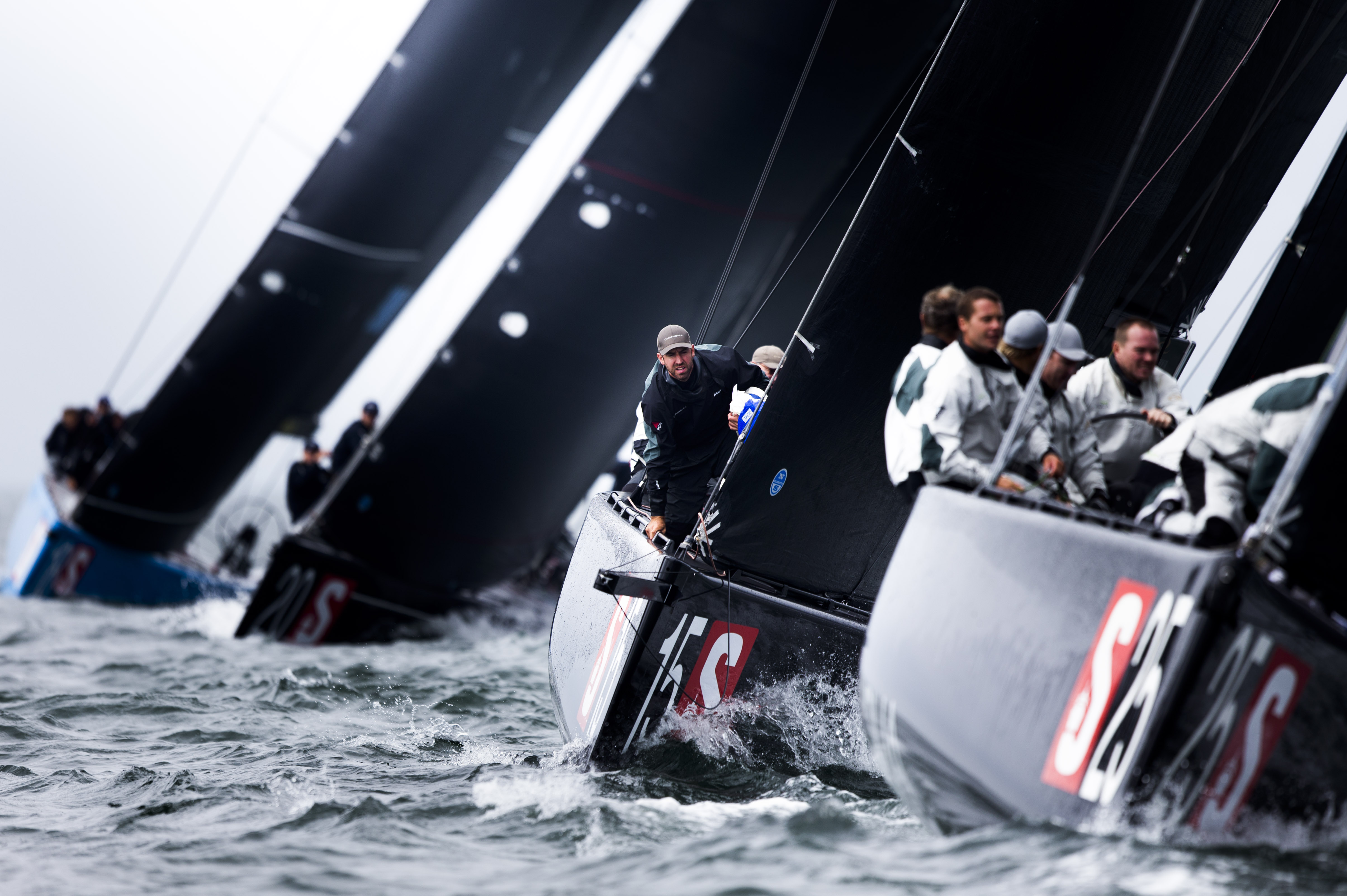 Liubomirov, also commodore of St Petersburg Yacht Club, puts his success down to the team. The challenge for this experienced skipper is: "I have an absolutely new team, apart from maybe one guy on the boat. But they are all good sailors so we have a chance to do well." For the first two regattas in 2017, Liubomirov's co-owner Kirill Frolov was at the wheel and proving very successful as he steered Bronenosec to third place at the season opener in Sotogrande and fourth in Porto Cervo. Now it is up to Liubomirov to continue the good work begun by his colleague.

Swedish interest will focus on the two sisterships of Artemis Racing, skippered by team owner Torbjorn Tornqvist, and Artemis Racing Youth steered by Gustaf Lidvall with Freddie Lööf calling tactics on the black boat. "The big factor here is the current," says Lööf, the 2012 Olympic Champion in the Star. "If you play it right, that can give you a lot of advantage on the race course." For Artemis Racing the main focus of the year up to recently has been the America's Cup in Bermuda, but now the team can turn its attention back on to the RC44 circuit. "I've missed a few regattas," says Lööf, "and I hope we can step up our performance here. If we can end up somewhere in the middle that would be a good result, and I think the blue boat [Artemis Racing] has a real chance of winning."
Tactician on the blue boat, Francesco Bruni, responded: "Winning! That's a big word, but we will try our best. We have all the good cards to do well. Our goal is to be on the podium and be one of the top boats. In such a strong fleet, that's all we can ask."
Aside from Bronenosec Sailing Team, the only other crew to have tasted RC44 victory in Marstrand is Team Aqua, with Chris Bake winning a hat trick of regattas from 2011 to 2013. However, the form boat for 2017 thus far has been John Bassadone's, Peninsula Petroleum with Italian sailor Vasco Vascotto calling tactics. Winner of the last event in Porto Cervo is Alexander Novoselov's Katusha, while runner-up in Sardinia was the reigning World Champion, Igor Lah and Team Ceeref.
On the eve of defending his world title, Lah claimed he wasn't nervous. "I'm always pretty relaxed before racing," said the Slovenian owner who has been racing RC44s for a decade now. "We will try to do the same as we always do, be consistent, try to do the basic things well. The important thing is to focus on racing our own race well, we won't be keeping an eye on anyone in particular because all nine crews are strong."
Lah's tactician Adrian Stead says the Ceeref crew are desperate to repeat the success of 2016. "Doing the double, winning the World Championships and the whole season, was a great achievement and we'd love to do that again. This event is obviously a big moment in the season." For all his many years on the professional racing scene, Stead says he knows very little about Marstrand. "I've been here twice, once for a friend's wedding, and the other time was about 20 years ago when I did trial for the Swedish team in the Whitbread Race. 
"It's going to be a learning curve for us here," said Stead, who doesn't necessarily see his lack of experience in Marstrand as a disadvantage. "Sometimes when you come to a new venue you look at it with a very open mind and figure out what the driving factors are of which way to go and what's creating it. We feel like we've got speed, we've got a good team, the same guys from last year. I think we've got a good chance and we're looking forward to seeing what we can do this week."
Racing starts at 1130am on Thursday 10 August.