While Team CEEREF of Igor Lah has won the last two RC44 seasons, it is not the Slovenian team but Charisma of Monaco-based Dutchman Nico Poons that, back in March, claimed 2018's opening event, the RC44 Calero Marinas Cup.
Going into tomorrow's RC44 Portorož Cup in Slovenia, the Charisma crew, including uber-tactician Ray Davies of Emirates Team New Zealand fame, will have their work cut for them. Not only will Igor Lah's local team be gunning for silverware on its home waters, so too will Vladimir Prosikhin's Team Nika on which Davies' former America's Cup team skipper Dean Barker is calling the shots. Prosikhin's crew includes three Slovenians: Main trimmer Tomaz Copi, grinder Iztok Knafelc and offside trimmer, Mitja Margon, who is also the local RC44 Portorož Cup organiser.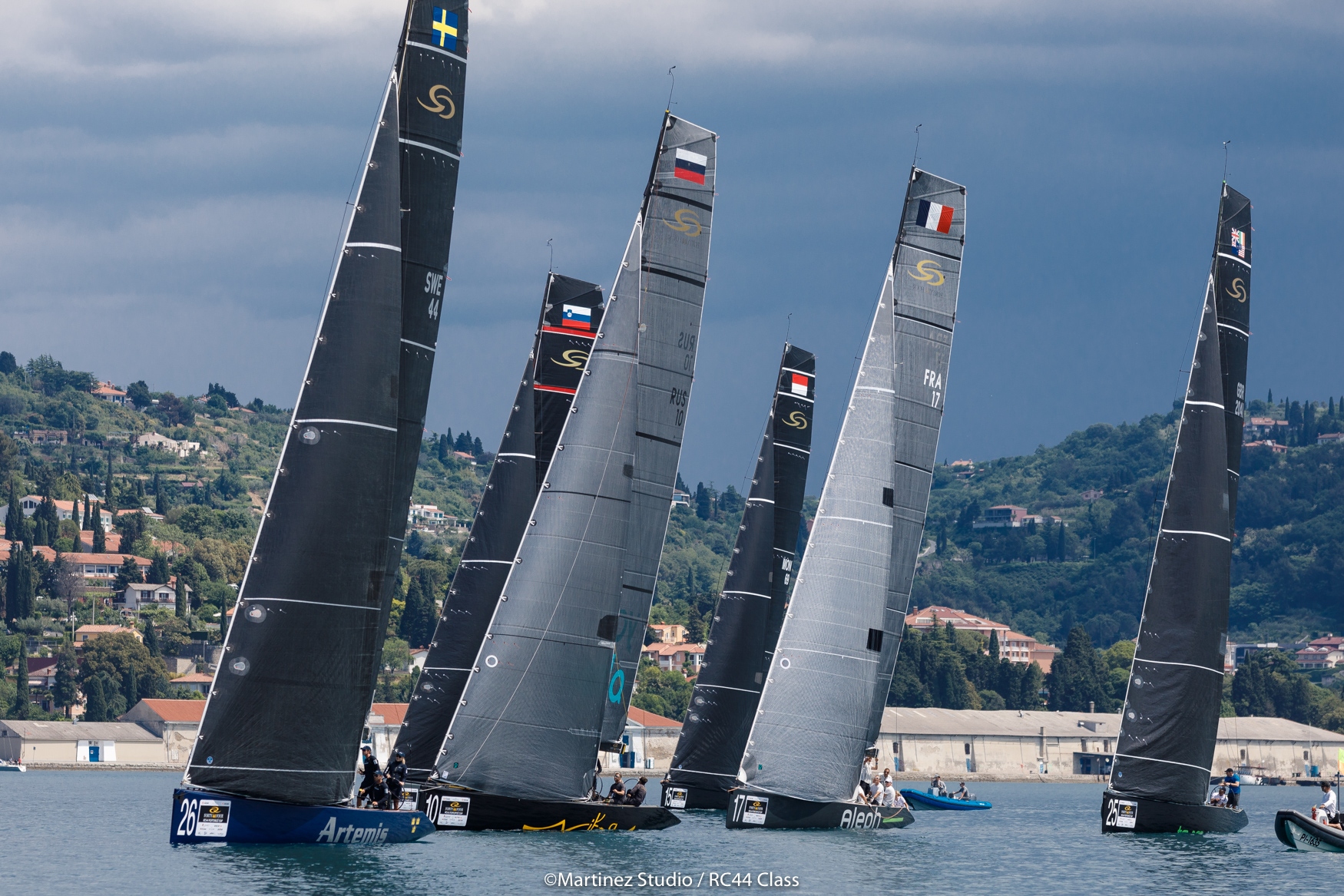 The RC44 has strong roots in this former Yugoslav state that neighbours Italy. Russell Coutts may have conceived the boat that bears his initials, but it was Slovenian Andrej Justin, who carried out the naval architecture. Some of the prototype RC44's first sea trials were held out of Portorož in 2006 and early production boats built by Pauger in Hungary were commissioned here. Portorož's marina was also a venue on the RC44's first year of competition in 2007, and again in 2009 – the last time the RC44s visited Slovenia.
"I have always been trying to bring the boats back here," says Mitja Margon. "This time Vladimir [Prosikhin] and Igor [Lah] made it possible. And hopefully we'll come back again in the future." 
It is not just the venue that makes Margon nostalgic. His RC44 ride, Team Nika, does too. Former Olympic 470 sailors, he and Tomaz Copi had set up a coaching company at the time the RC44 was being sea trialled in Portoroz. Their Equipa 44 team bought a boat, which they named Black Beauty and campaigned it during the first season in 2007, finishing third in Portorož. 
Circumstances forced the Slovenians to sell their boat in 2008, but when Vladimir Prosikhin contacted them as he was joining the class in 2011, they were able to buy it back, entering the 2011 RC44 Austria Cup in record time. The rechristened Team Nika has since won two World Championships and a season championship in 2015.
Prosikhin also has strong ties to Slovenia. It was when his Shipman 72 cruising yacht was being built nearby in 2009 that he first had a ride on an RC44. "I fell in love!" he recalls with a dreamy smile. Far from getting jealous about having another woman in his life, it was Prosikhin's wife Nadia who subsequently encouraged him to buy a RC44. Rapidly Prosikhin found competing up alongside with legends of the sport such as Russell Coutts and Paul Cayard. "I have been in love with the boat ever since," Prosikhin continues.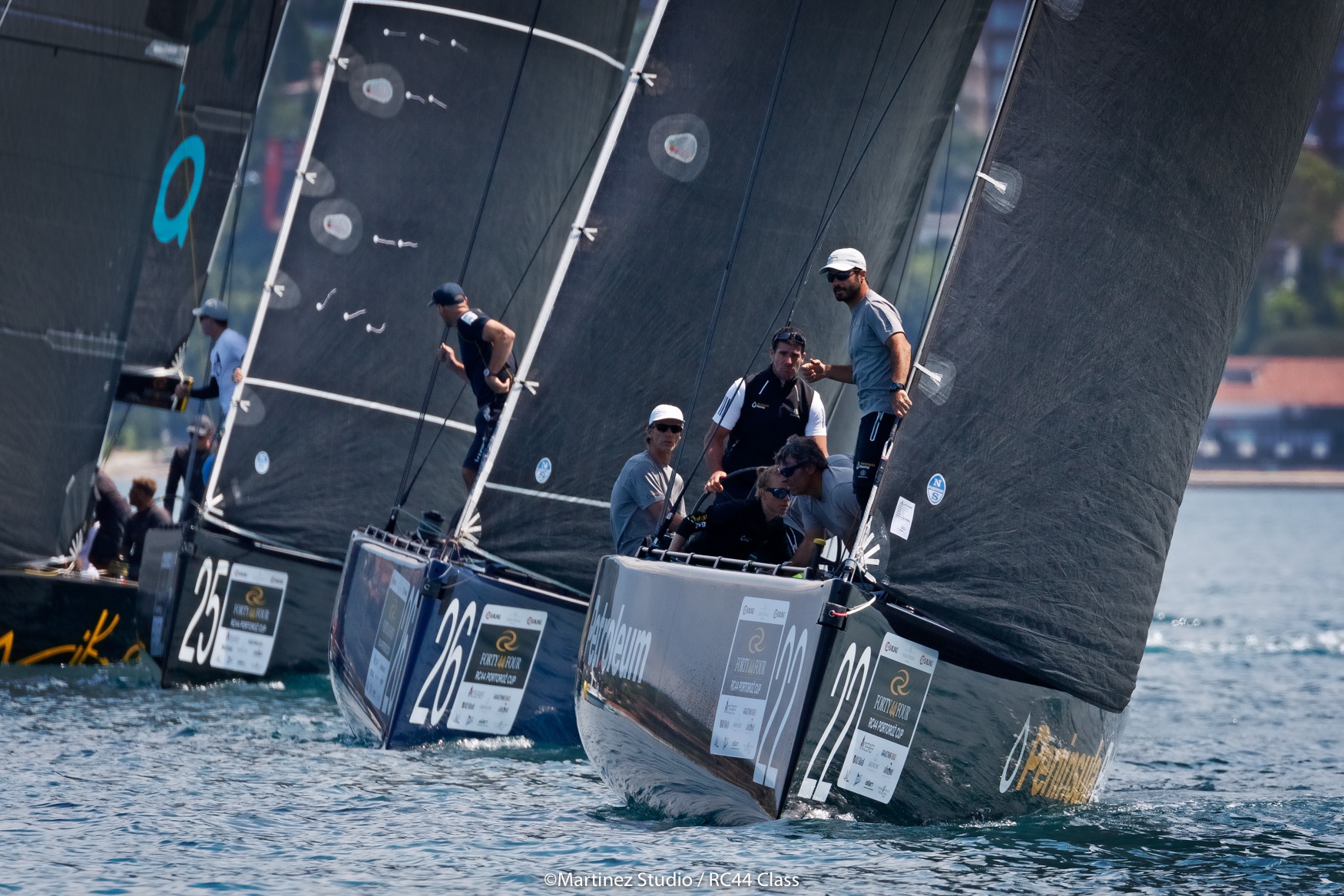 So the race will be on at the RC44 Portorož Cup with a powerful line-up, all capable of victory. But for the time being Charisma remains fitted with the famous 'golden wheels', indicating her position at the top of RC44 leaderboard. "But now we have a job to maintain our position - that is the hardest thing," muses Poons with his usual blunt realism. "I don't want to think about it. We've had the golden wheels before. The problem is that when you get them you can quickly lose them."
Poons remembers last being in Slovenia when the Berlin Wall was coming down, but admits he has never sailed here. "It is interesting. I hope we have wind and it will be okay, but the team is good and everything seems fine."
According to his tactician Ray Davies the gradient wind on Piran Bay is negligible this week, meaning that the only wind likely will be a thermally generated sea breeze. "In this area it is typically either windy or quite light. Hopefully we will get some sea breeze in the afternoons. Fortunately there is not much current. It is going to be one of those challenging 'finesse' kind of weeks." 
2018 Portoroz Cup - Crew list
Aleph Racing (FRA17)
Hugues Lepic (FRA) - Owner / Driver
Michele Ivaldi (ITA) - Tactician
Skip Baxter (NZL) - Main trimmer
Thierry Briend (FRA) - Headsail Trimmer
Ryan Godfrey (AUS) - Pit
Matthew Barber - Grinder
Umberto Molineris (ITA) - Floater
Greg Gendell (USA) - Bow
Artemis Racing (SWE44)
Torbjorn Tornqvist (SWE) - Owner / Driver
Nathan Outteridge (AUS) - Tactician
Iain Percy (GBR) - Main trimmer
Maciel Cicchetti (ITA) - Headsail Trimmer
Anders Ekstrom (SWE) - Offside Trimmer
Stu Bettany (NZL) - Pit
Julius Halstrom (SWE) - Grinder
Pieter Van Nieuwenhuijzen (NED) - Bow
Charisma (MON69)
Nico Poons (NED) - Owner / Driver
Ray Davies (NZL) - Tactician
Chris Hosking (AUS) - Main trimmer
Ross Halcrow (NZL) - Headsail Trimmer
Dimitri Simmons (NED) - Offside Trimmer
Revelin Minehane (IRL) - Pit
Jeff McCooey (USA) - Grinder
Ivan Peute (NED) - Bow
Peninsula Petroleum (GBR1)
John Bassadone (GBR) - Owner / Driver
Ed Baird (USA) - Tactician
Nano Negrin (ESP) - Main trimmer
German Panei (ESP) Robin Imaz (ESP) - Headsail Trimmer
Pablo Rosano (ESP) - Pit
Mikel Pasabant Quintian (ESP) - Grinder
Flavia Tamisell (ITA) - Floater
Gonzalo Morales (ESP) - Bow
Team Aqua (GBR2041)
Chris Bake (NZL) - Owner / Driver
Cameron Appleton (NZL) - Tactician
Andrew Estcourt (NZL) - Main trimmer
Christian Kamp (DEN) - Headsail Trimmer
Aaron Cooper (GBR) - Offside Trimmer
Simon Johnson (IRL) - Pit
Ben Graham (GBR) - Grinder
Matt Cassidy (USA) - Bow
Team CEEREF (SLO11)
Igor Lah (SLO) - Owner / Driver
Adrian Stead (GBR) - Tactician
Dirk de Ridder (NED) - Main trimmer
Javi De La Plaza (ESP) - Headsail Trimmer
Mickey Cannoni (ITA) - Offside Trimmer
Jaro Furlani (ITA) - Pit
Davide Loleo (ITA) - Grinder
Matteo Auguardo (ITA) - Bow
Team Nika (RUS10)
Vladimir Prosikhin (RUS) - Owner / Driver
Dean Barker (NZL) - Tactician
Tomaz Copi (SLO) - Main trimmer
Zachary Hurst (NZL) - Headsail Trimmer
Mitja Margon (SLO) - Offside Trimmer
Sean Clarkson (NZL) - Pit
Iztok Knafelc (SLO) - Grinder
Jeremy Lomas (NZL) - Bow