Yacht racing can be a cruel sport, especially when the competition is as close it gets in the 44Cup. This was amply demonstrated at the end of the last two seasons. 2017 ended with a three-way tie for first place (in fact four were within one point of first) in which John Bassadone's Peninsula Petroleum and Vladimir Prosikhin's Team Nika were beaten to the top spot by Igor Lah's Team CEEREF after discounts were applied. Similarly going into the final event of 2018 in Cascais just two points separated the lead trio: Team Nika on this occasion a point ahead of Team CEEREF in turn one in front of Nico Poons' Charisma. Lah's team was especially hungry to become the first RC44 team win three consecutive seasons overall. However it was not to be and ultimately both the Slovenian team and Team Nika had to bow to the dominant Charisma, which, after discards were applied across the season, beat them by a mere point.
Losing out for a second time in the season's points was a bitter pill to swallow for Vladimir Prosikhin's team, however it was sweetened by their becoming the first in class history to win three 44Cup World Championship titles. Nonetheless after Cascais, Team Nika had to relinquish her 'golden wheels' – the 44Cup equivalent of the Tour de France's yellow jersey. This was particularly painful as Team Nika had been leading the regatta going into the big wind penultimate day, when a 6th– 8thcaused them to plummet from first to fourth place. They were especially unlucky in the second race when a combination of losing their boat's removable bow, combined with being unable to close their forehatch in the big seas, caused their RC44 to fill up with water.
"The boat was knee-deep inside the hull - we were virtually sinking," Prosikhin later admitted. "The boat didn't feel that bad, but it was different. It felt…pregnant. It was like we had this cargo inside which was moving from one side to the other - a bit like swallowing something that lives its own life inside. We finished the race ,but no way could we be competitive. We got the boat back to port and then took out a few tonnes of water…"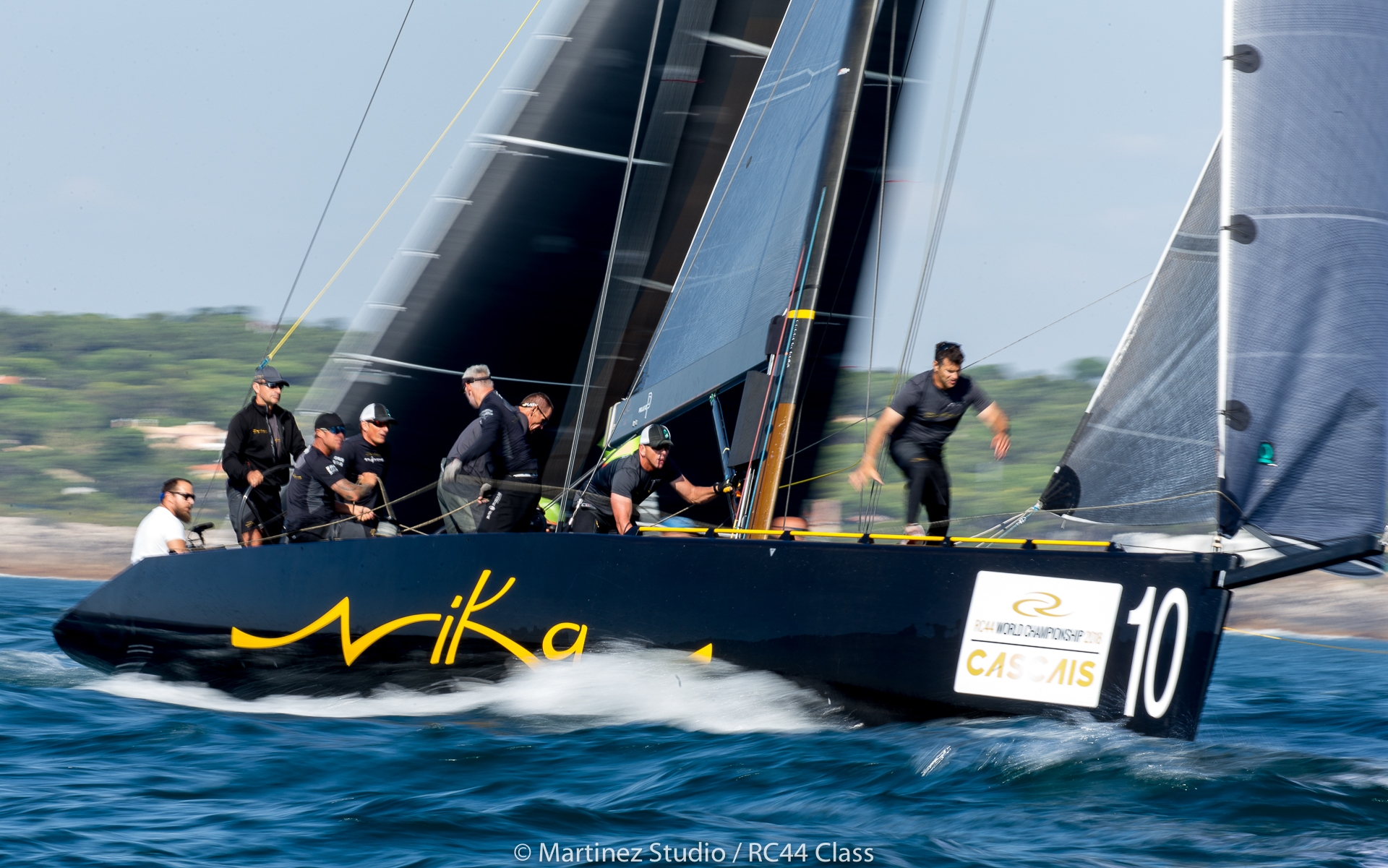 Under normal circumstances, Prosikhin, his tactician Dean Barker and the experienced Team Nika crew would have drawn breath, regrouped and fought back, but this was not possible when racing on the final day was cancelled due to excessively stormy Atlantic conditions.
"Cascais is one of the best places to race on sailboats and we always love to come here," said Prosikhin at the time. "I have won the Worlds here twice, so it is very disappointing that we didn't manage to handle it because it was 'our' weather and we had to perform well, but we didn't."
However exceeding Prosikhin's disappointment was the top-class competition, supplied in abundance in the 44Cup: "It is always a pleasure sailing in this fleet, because there is no such thing as one boat always being the best and winning and the second boat always being second. It is completely open. And it is a challenge, everyone takes risks – in the last races in Cascais, Charisma was starting centimetres from the line: They fully took on the challenge and were greatly rewarded." And this was despite Nico Poons' team having ended the first day in last place. "They looked like they were completely destroyed," observed Prosikhin. "But I am still very happy and it makes the thrill even higher for the next season."
For 2019, the majority of Team Nika crew will remain the same, but tactician Dean Barker and Sean Clarkson are departing to take up full time duties alongside another former Team Nika tactician, Terry Hutchinson, at American Magic, a challenger for the America's Cup. They will be ably replaced on board by Australian Laser Olympic gold medallist and former Oracle Racing tactician Tom Slingsby while long term RC44 crewman Nikolay Kornev will be in the pit having previously had this role for Katusha and Synergy. Kornev will also bring the tally of Russians on board to two, the crew otherwise dominated by Slovenians (Tomaz Copi, Mitja Margon and grinder Iztok Knafelc) and New Zealanders (Zach Hurst and bowman Jeremy Lomas).
"I am looking forward to the fleet growing by one or two boats," says Prosikhin of the coming season. "I'll have some new crew and hopefully we'll have time to do some training."
This season the 44Cup will kick off in Tivat, Montenegro before returning to Rovinj in Croatia. This latter venue on the Istrian peninsula holds fond memories for Prosikhin. At the time, back in 2009, he was having his Shipman 72 cruising yacht built nearby and it was the yard who got him his first fateful ride on board an RC44 as a guest. Prosikhin reminisces that the experience was 'love at first sight', although it took a full two years before that the other woman in his life - his wife Nadejda - convinced him to follow his dream and buy an RC44. "I have been in love with the boat ever since," says Prosikhin, his eyes moist. Many of Team Nika's Slovenian crew also live close to Rovinj.
Tivat, the first venue for the new season will be new to him, says Prosikhin. "It is always thrilling to go somewhere new." 2019 also will be the first occasion the 44Cup has visited Palma, were he says he has sailed before.
While he may be starting his eighth season on the 44Cup this year, Prosikhin is still by no means the longest serving owners competing on the one design RC44 circuit. So what is the attraction? "The fleet may have become a little smaller in size, but it has consolidated and all of the strongest boats are still here," he says. "So the level is pretty even and very, very high because all of the best sailors are still on the boats and most of the owners have huge experience now. The pros are still pros, but when you spend so much time on the water, you get to know the boats so well, that you steer well. It is a thrill to compete on the 44Cup."
Despite the boat now being 12 years old, Prosikhin says that the RC44 remains as exciting to race today as it was when he first stepped on board. "The RC44 is unique, a completely extreme boat - no compromise, no nothing inside, very light, very strong, very narrow but with a huge range in which it can sail, starting at 5-6 knots and going up to 27, when it is still stable and very strong." The fleet got to test this at last season's concluding event in Cascais, which started light before building to gale force. "In less than 5 knots the boat still survives and makes 6 knots, because she has a narrow and very slippery hull. When it blows she will do 22 knots and she planes so easily, although she is difficult to control - a bit like riding an Arab horse. But this is what a good rider wants: A real horse to ride."
Over the years great camaraderie has built up between the owners, not only from their friendly rivalry on the water but thanks to the post-race hospitality and the functions laid on by the class and the local organisers. "I've made some close friends," agrees Prosikhin. "It is competitive – of course I want to beat Nico Poons, but we dine together in Monaco and I know his family well and we have a good friendship." For 2019 it will be all about recovering the golden wheels from his friend. "I didn't have them for long this time - just for one regatta. They are actually quite enjoyable - I hope to get them back!"