Another adrenalin-pumping, top of the range day off Cascais at the RC44 World Championship saw Igor Lah's Team CEEREF claim two bullets from three races, enabling the Slovenian team to stay in contact with Vladimir Prosikhin's ultra-consistent leader Team Nika.
With a forecast suggesting less brutal conditions than Friday, the race committee set up further west, with less protection from the Cabos di Raso and di Roca headlands. Here they ran one race. In this Team CEEREF edged around the top mark first while Bronenosec Sailing Team got washed down onto the mark by the current, resulting in an impressive raft-up as boats luffed or tacked attempting to avoid her. The incident, that causing collisions and penalties aplenty, later saw Bronenosec Sailing Team awarded a four point penalty.

Catching up from being OCS benefitted Nico Poons' Charisma. As tactician Ray Davies said: "Normally coming into the top mark here you get lifted up and you lay. I think everyone was expecting that, but it didn't happen, so everyone just piled up and stalled out and boats were tacking and there were penalties. It was a complete horror show." Charisma avoided the chaos to round the weather mark second. "It doesn't always work out like that."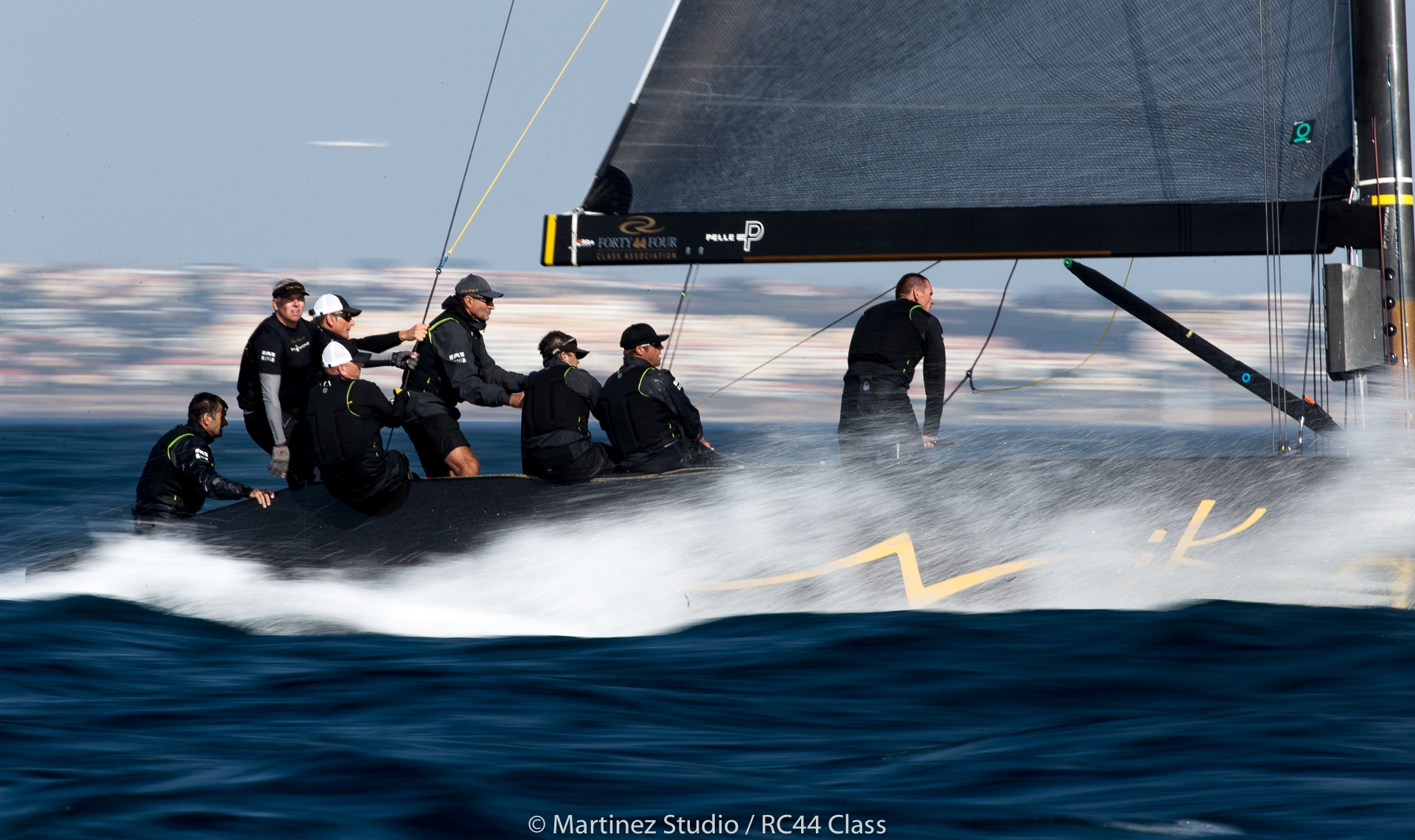 Meanwhile Team CEEREF sauntered away to an easy victory. Ironically in the second race Team CEEREF nearly found herself in the same situation as Bronenosec Sailing Team had in the first, but bailed, gybing away.
As conditions grew, the winds occasionally edging into the high 20s and the wave state increasing, the race committee was forced to move the race area back towards Cascais.
In the race two Charisma gybed earlier, rolled Team Nika and was first to the gate. She hung on for the next lap to become this World Championship's fifth winner.
Poons reckoned their day was a little too eventful: "In the first race, we had to go back because we had a false start and then had a man overboard and we had a spinnaker explode. We were in second when it all started and we finished sixth. The second race we won and in the third we were quite good but then we had to do a 360° turn because our spinnaker touched Artemis. If we had less of these incidents, it would be better..."
His Ray Davies added: "It was a massive boat handling day. You were really rewarded for sailing well. The slightest mistake was a huge lose. We didn't broach. Nico did a good job keeping the boat on its feet." After racing, Davies, whose day job is with America's Cup defender Emirates Team New Zealand, spoke to the Clube Navale de Cascais' young sailors about the 36thAmerica's Cup. Tomorrow the same kids will go sailing on the RC44s.
Race three was held in similarly brisk conditions with a well-formed sea state. In this Artemis Racing, Team CEEREF and Peninsula Petroleum were strongest up the first beat with the Swedes leading at the top mark (as in yesterday's final race). Team CEEREF pulled ahead on the first run and from there never looked back to claim her second bullet of the day and fourth of the series.
"It was a very strange run - we were going down it in 22-23 knots, but in the middle it dropped to 13-14," said Team CEEREF tactician Adrian Stead. "You could get around either way - Nika went one side of it and turned an eighth into a fourth and we took the other side and turned a second into a first."
With a 1-4-1, Team CEEREF was today's top scoring boat. "Yesterday we made some mistakes, so last night we had a good look at what we were up to and some of our manoeuvres and how we get going, and our set-up and balance. Today we sailed the best we have sailed as a team so far this year," Stead continued.
Team Aqua and John Bassadone's Peninsula Petroleum both performed better today, each managing second and third placed finishes.
"Our boat handling was good - doing the basics well paid off today," observed Team Aqua's Chris Bake. "We had quite a rough third race – we got boxed out of the start and on the downwind I broached on a gybe and that put us into a bad situation and we lost a few boats. But we are in the mix. 20+ knots is always fun in these boats. They are pretty lively at that speed and there's lots of water on board and lots going on."
Peninsula Petroleum was runner-up in the final race. John Bassadone commented: "It was a better day for sure. In terms of how we sailed, it was completely different. I am much happier, although in the second race we were in a good position but then we wiped out without that much stress and it took an age to recover.
"It was very good fun downwind today. Conditions were definitely tricky - it was more about sailing well. These boats are so cool, because they are fast, but you are in control."
Three more races are scheduled for the final day. Team Nika holds a five point lead over Team CEEREF with Charisma a further nine points behind in third.