While the sun was out and the rain held off, Porto Montenegro presented a challenging second day of 44Cup racing, starting in 10 knots and building to 20 by the close of play mid-afternoon. A light patch around the committee boat helped create nail-biting photo finishes in two of today's three races.
Igor Lah's Team CEEREF comfortably won race two and holds the lead overall by two points at this halfway stage of the 44Cup Porto Montenegro.
Kirill Frolov's Bronenosec Sailing appeared to have the first race squared away, with a massive lead on the final run, only for her gennaker to blow up. Frolov explained: "It wasn't a good hoist at the second top mark. We went higher than we should have done and we were left with some big holes in the genniker. It was fine on starboard but when we gybed it was terrible." Anticipating there might be a problem, they were all set up to peel only to discover that the spinnaker halyard was jammed at the masthead.
As Bronenosec's Kiwi tactician Cameron Dunn observed: "We got a massive header during the hoist, that caused the halyard jump the sheave. With the rips in the chute we thought we had a big enough lead to sail conservatively and do the run in one gybe. Unfortunately after we gybed it only lasted about 30 seconds…" The Russian team salvaged a fifth but then had to send a crew aloft to release the halyard and drop the head of the blown sail.
This left John Bassadone's Peninsula Petroleum to win the lunge for the line ahead of Chris Bake's Team Aqua.
"It was a little bit of the nature of here," expounded Bassadone of his welcome victory. "Conditions are very shifty, very tricky so you have you stick with it and, as Ed [Baird – Peninsula Petroleum's new tactician] keeps telling us 'be patient, be patient'. It was premeditated to delay gybing and we found more pressure but also more space to accelerate and managed to nip in ahead at the end."
While Peninsula Petroleum is the only team so far with no result deeper than a fifth, today's best score came from Chris Bake's Team Aqua on which keelboat legend Peter Morton was helming, today being only his second ever in the high performance one design class. Team Aqua's 2-4-1 made her best scoring boat, elevating her to second overall ahead of Peninsula Petroleum.
Morton, who aside from reigniting the Quarter Ton class and dominating the first two seasonsFAST 40+ class has campaigned in most of the top one design and box rule classes over the last decades, observed of the 44Cup: "The racing is amazing. I haven't steered a boat with a wheel for 12 years, apart from a couple of superyachts! The Team Aqua crew is fantastic and there lots of coaching, which is good.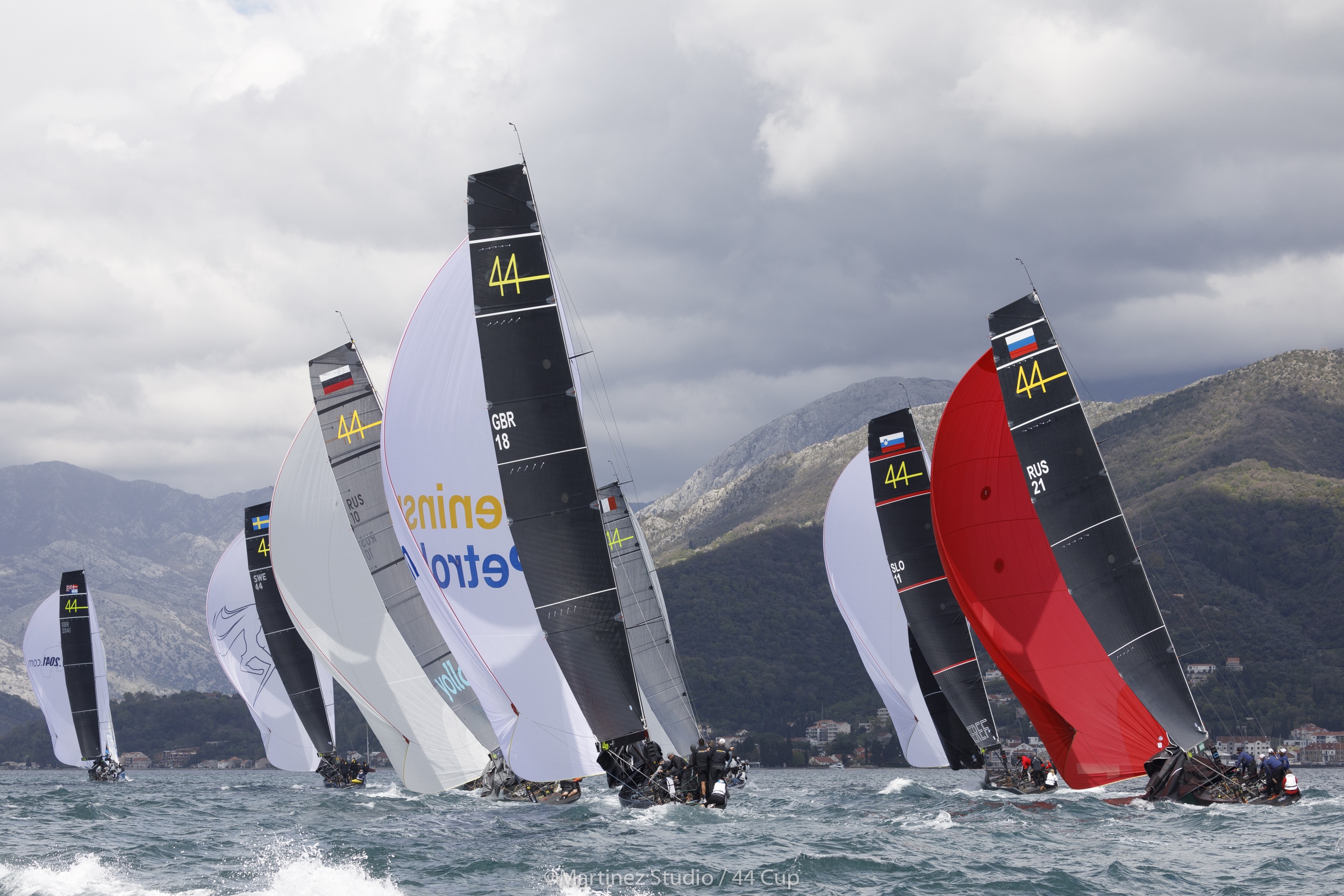 "Today it wasn't a case of anyone being particularly outstanding," he continued. "You'd get a couple of little puffs but two boat lengths here can mean four or five boats. I enjoyed it. I'd love to do some more." Tomorrow Chris Bake returns to steer.
Team Aqua tactician Cameron Appleton was also pleased with their performance. "It hasn't been easy as the fleet is so tight. You get ahead and the others come down with new pressure. And the beats weren't exactly straightforward, but we improved as the day went on. We had great starts over the last two days which has allowed us to do what we needed to do."
In race three they won by prevailing in a three way photo finish alongside Hugues Lepic's Aleph Racing and Tavatuy Sailing Team, who remain on a steep learning curve at this, their second ever 44Cup event.
"We all piled into the finish line together holding our breath to see who came out on top," recounted Appleton.
As with Bronenosec in race one, so in the third race Aleph Racing saw victory slip through their fingers. Tactician Michele Ivaldi explained: "In these conditions you need a bit of luck. We had some in the first beat when we chose the better [right] side of the course. But downwind when you sail into less wind, it is tricky. We tried to defend. At the finish we could have been fourth but we managed to sneak a second."
With two days of racing left, just three points separate the lead trio, but there is a now a significant seven point gap back to Vladimir Prosikhin's Team Nika, now holding fourth place after a disappointing day. To make matters worse Team Nika has both their two time Melges 32 World Championship winning compatriots on Tavatuy Sailing Team and Nico Poons' Charisma nipping at their heels, within two points of them.
Conditions look equally promising tomorrow when racing is due to start at 11:30.