After a marginal forecast left the nine strong 44Cup fleet parked at the dock until 1300, the Swedish wind gods came good allowing four races to be held in 8-12 knots on the penultimate day of the 44Cup Marstrand World Championship 2019. This helped the schedule recover following no races yesterday due to a lack of wind.
Stand-out performer today was Chris Bake's Team Aqua, which, much like Hugues Lepic's Aleph Racing on day one, scored no race worse than a fifth place. Her resounding 2-5-2-1 scoreline has left Bake's team with a useful eight point advantage going into the final day.
"The boat felt quick and the team was working well together," explained Bake. "I just think it was about not making mistakes. It was flat water so if you could get a clean lane and had your boat speed. All round, it just felt pretty good."
Team Aqua's tactician Cameron Appleton concurred that they were going fast which may have been due to their new sails. "We were very happy with our speed. The sails are phenomenal and that is a big part of it and having a few new gears. Then it was just a matter of high percentage plays and being steady and not trying to do much and being patient in situations."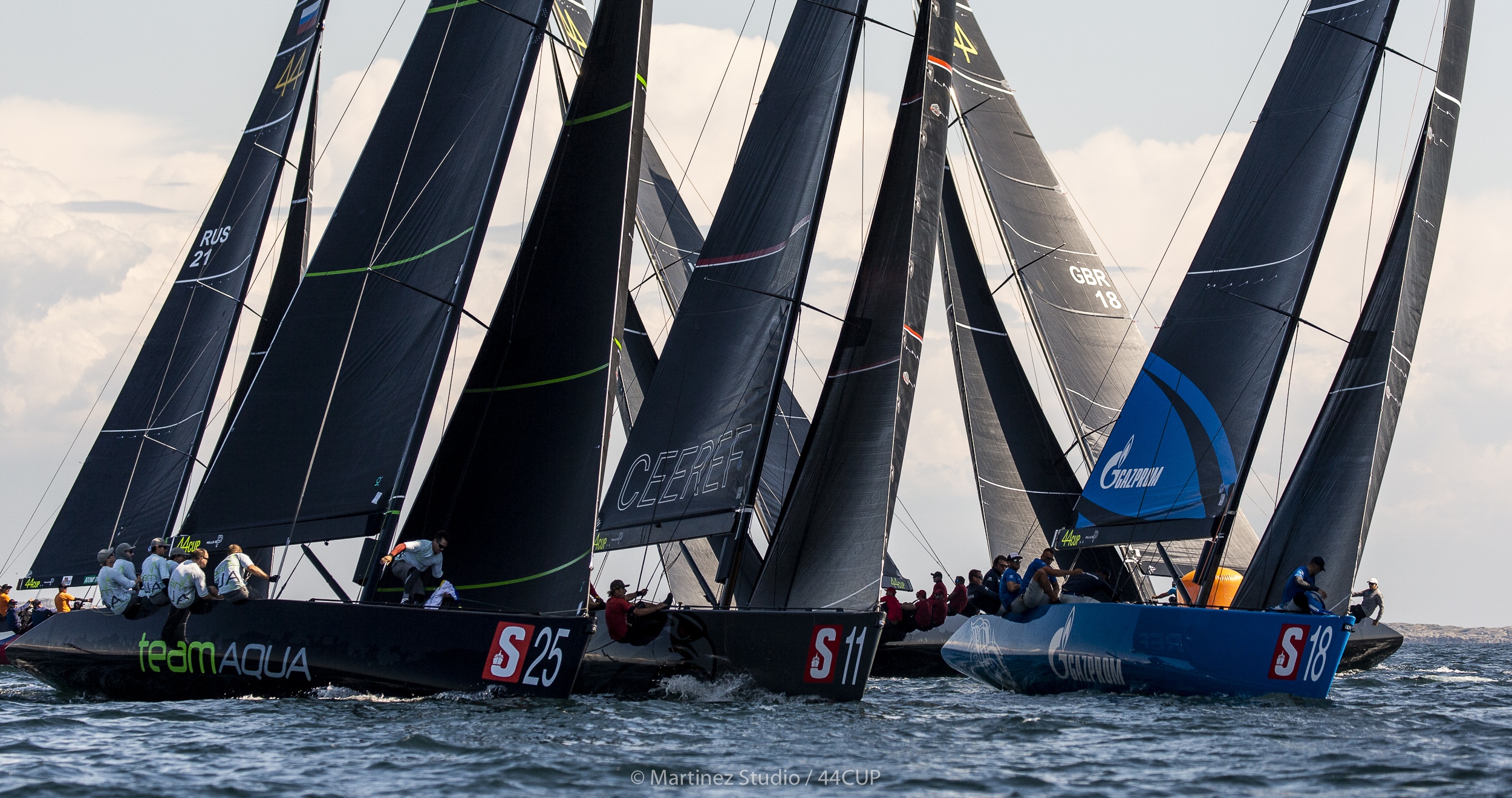 Over the course of the day the 8-10 knot westerly was clocking right and occasionally this made for a skewed race course that oddly evened itself up by the left to right-going current. "The wind was clocking right, but the left paid nearly every time due to the current," continued Appleton.
Eight points is clearly a more welcome way to start the final day than not having it, but Appleton said that they in no way feel secure. "In this fleet it never seems to be enough and everyone is moving around. We've just got to restart tomorrow and try and keep the same philosophy."
Team Aqua's closest competitor today was Igor Lah's Team CEEREF. The Slovenian team which was RC44 World Champion in 2016 and 2013 was the most improved team having started the day in lowly eighth place and ending it second. They starting the day well with a 1-2, the first race in particularly an ultra-close nip and tuck with Team Aqua in which they prevailed. "It was much better today," said Lah. "Even two days ago it was not so bad, but we had two unlucky situations. Anything can happen here. We are in the game for tomorrow. Team Aqua was impressive today. I am very happy for Chris."
Generally across the fleet there remains huge inconsistency. Impressively the seven races held so far have had seven different winners, while the last placed boat overall has only finished one race in last place. Conversely Vladimir Prosikhin's defending World Champion, Team Nika, has finished last twice and yet lies third overall. Similarly Aleph Racing, which led going into today's races by three points, trailed the fleet in in today's final two races, also picking up a penalty point after she loped off Tavatuy Sailing Team's masthead wand during one start. This has seen her plummet to seventh overall.
Torbjörn Törnqvist's Artemis Racing similarly had two bad races today and two good ones, winning today's third race. "We had a good start down by the pin and there was more pressure out on the left but with little less current on that one. We went to the left of everyone and got out and around we were able to pinch off Nika and then tacked on to port and crossed everyone and stayed ahead from there," described the Swedish team's American tactician Andy Horton of their winning race. But only two races before that they finished last when they were hooked at the start by Team Aqua.
The up and down results of the majority of the teams Horton attributes to the uniformly high calibre of the fleet: "We are going pretty well and we think we're pretty good, but everyone is at the same high level. There is no one who is not fast and everyone is capable of winning races." He cites the final race when they were third at the leeward mark, then missed a cross and got tacked on and tacked on… and ended up eighth. "But it is an awesome fight…"
Amid three deep results today for Kirill Frolov's Bronenosec Sailing Team was a gleaming bullet in the second race. "That was the one where we had a good start!" said Frolov wryly. "We only made one tack, then there was a difficult situation at the bottom mark, but the current helped us and we had a good hoist and were able to control everything. But that was only one start from four…"
So given that tomorrow forecast is similar to today's and the snakes and ladders that is going on across the majority of the fleet, Team Aqua's lead is anything but safe, while Team CEEREF'ssecond place can only be described as tenuous with seven points (or one bad race result) separating her from eighth in this ultra-competitive nine boat fleet.