While at the 44Cup Cascais there has been a light first day, a medium second day with a large swell, on day three the Portugese sailing mecca saw winds exceeding the forecast, gusting up to 25 knots, with a short wind-driven chop and a reduced swell. The wind hovering around 18-20 knots for most of the day provided hair-raising downwinds with the crew hanging on as the RC44s accelerated to 20+ knots speed, engulfed in spray. The conditions placed a premium on crew work and it was easy even for the most polished teams to come unstuck - notably three time World Champion Team Nika which broached dramatically during today's first kite hoist.
The class act was once again Team Aqua, Chris Bake's team providing a masterclass in how to sail the high performance one design RC44 in big breeze and waves. After scoring a 2-1 in the first two races, in today's third and last they demonstrated even more skill when they recovered from a late start, "We got sandwiched on the whole first upwind and never had clear air and saved ourselves on the last downwind," said Bake. They started in eight position, gybed early then, as Bake explained "we sent it!" They finished third.
With an okay day Nico Poons' Charisma looks secure in second, albeit seven points behind Team Aqua. But there was a change of occupant on the final step of the podium, with Hugues Lepic's Aleph Racing having a terrible day while Vladimir Prosikhin's Team Nika demonstrated some of her old form, winning today's final race and ultimately ending the day eight points behind Charisma but seven points ahead of Aleph.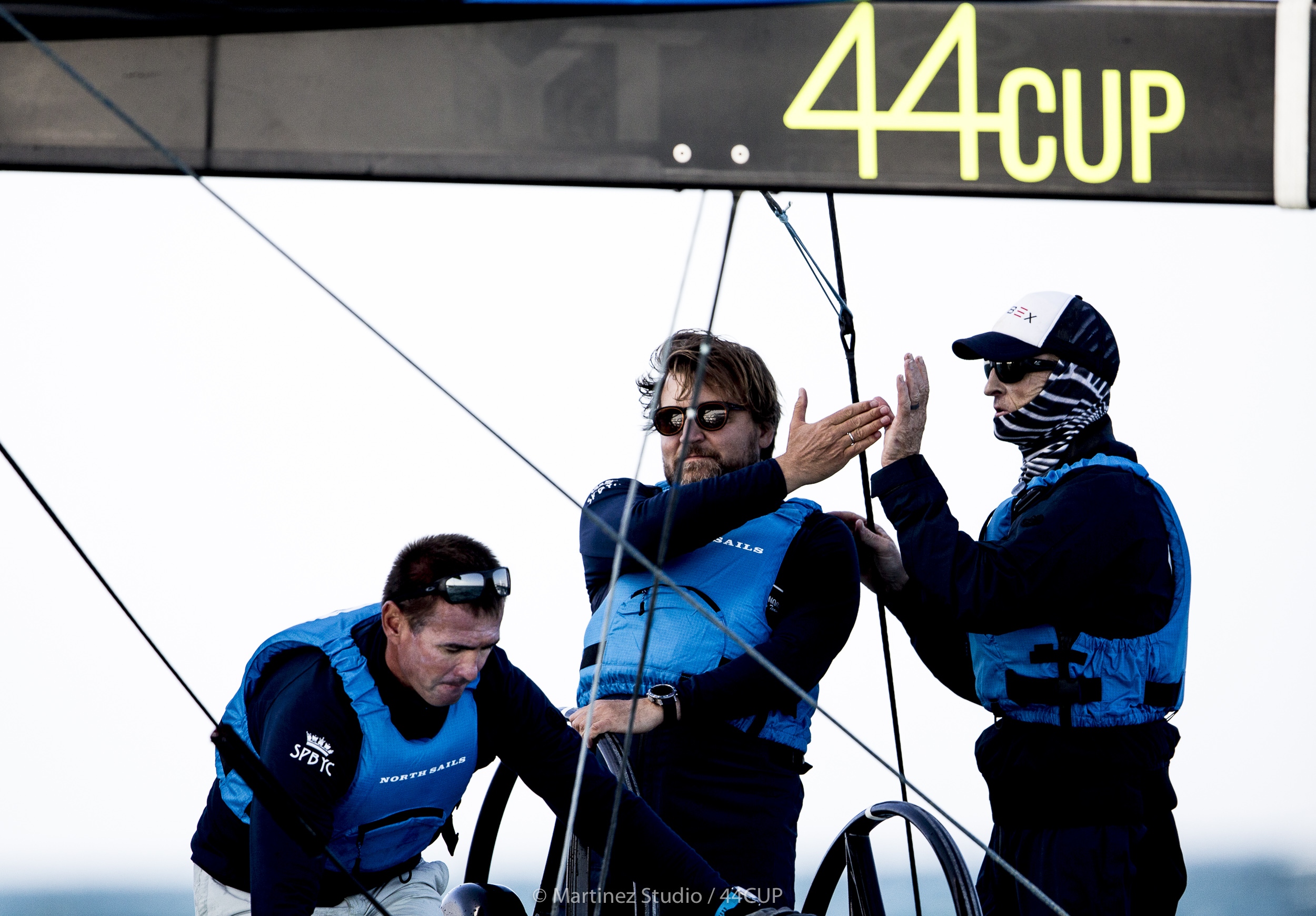 "We are getting there," said a relieved Tom Slingsby, tactician on Team Nika. "We had 15 points on day 1, 13 points on day 2 and 10 points on day 3." In the final race, they benefitted, like Team Aqua, from gybing early and finding more pressure and less traffic en route towards the shore, enabled them to overtake Tavatuy Sailing Team. "We had clear water and were able to rip along," continued Slingsby complimenting Vladimir Prosikhin doing a good job behind the wheel: "The wind shifts and the pressure going up and down so much made it really difficult to steer. We saw 25 knots at one point. The average was probably 18 and the least 10."
It was generally a good day for the Russian teams. In the final race Pavel Kuznetsov's Tavatuy Sailing Team was leading at both top mark roundings before ultimately losing to Team Nika. And if today was a return to form for Team Nika, it was too for Bronenosec Sailing Team which like Nika also scored 10 points today, including a 1-2 in the first races.
Bronenosec's helmsman Kirill Frolov loved the fresher winds. "We have been waiting all season for these conditions. Today we didn't make too many mistakes, went right and we were fast downwind. The first upwind was unusual with the swell and a very shifty wind. When you go the right side it becomes more and more shifty, but if you get into the rhythm it is okay." With the winds gusting above 20 knots, not helped by the 40-45deg shifts heading out to the right in the first race, many teams found themselves overpowered, subsequently changing down to their J3s.
Bronenosec Sailing Team tactician Cameron Dunn added: "We got pretty good starts and things fell our way a little bit and it felt we were going as quick as we have gone all season as well against the fleet in those conditions. We had some really nice smooth hoists and exited the top mark very nicely in all of the races, which allowed us to make gains on people behind us which makes my life a bit easier! Downwind we were ripping along with our hair on fire! It wasn't full extreme Cascais, but it was bloody nice sailing."
Oddly at this regatta while the podium placers have some security in their positions, one of the top fights tomorrow will be between the tailenders – Artemis Racing, John Bassadone's Peninsula Petroleum and Igor Lah's Team CEEREF, all usually very capable of winning races, Team CEEREF having been the 2016 and 2017 44Cup champion and winner of this year's first event in Montenegro.
"Clearly everyone is improving," said Artemis Racing's Torbjörn Törnqvist. "I think that our boat is quick and we have our moments, but not everything is working and perhaps we aren't at our best. It doesn't take much to slip down the leaderboard. Tomorrow is another day. We can't be on the podium but we are looking forward to the last day and hopefully we can improve on where we are."
However he very much enjoyed today's conditions: "It was fantastic sailing, good fun. In big breeze, it was challenging, so everything you could wish for. We had 21 knots [boat speed] at one point, but I'm sure others did as well."
For tomorrow, the deciding day of the 44Cup Cascais, similar conditions are forecast with the northwesterly again gusting to 20+ knots and with the swell further reduced. Cascais at its best.