John Bassadone's Peninsula Petroleum holds a slender lead after three races and considerable patience from race officials and competitors alike on the opening day of the RC44 Porto Cervo Cup, hosted by the Yacht Club Costa Smeralda. While conditions were forecast to be a brisk 15-20 knots, they were anything but this. After race one, the wind shut off for most of the afternoon before a light breeze filled in enabling two more races to sailed, finally completed at 1900 CET.
Race one kicked off at midday directly off Porto Cervo in 12-15 knots from the WNW. In this Russian Alexander Novoselov and his crew on Katusha did a good job to reach the top mark first. Maintaining control of the race from there was made easier as a rain squall passed over the course causing the race track to skew, the wind piping up to 20 knots before dropping to six for the final run.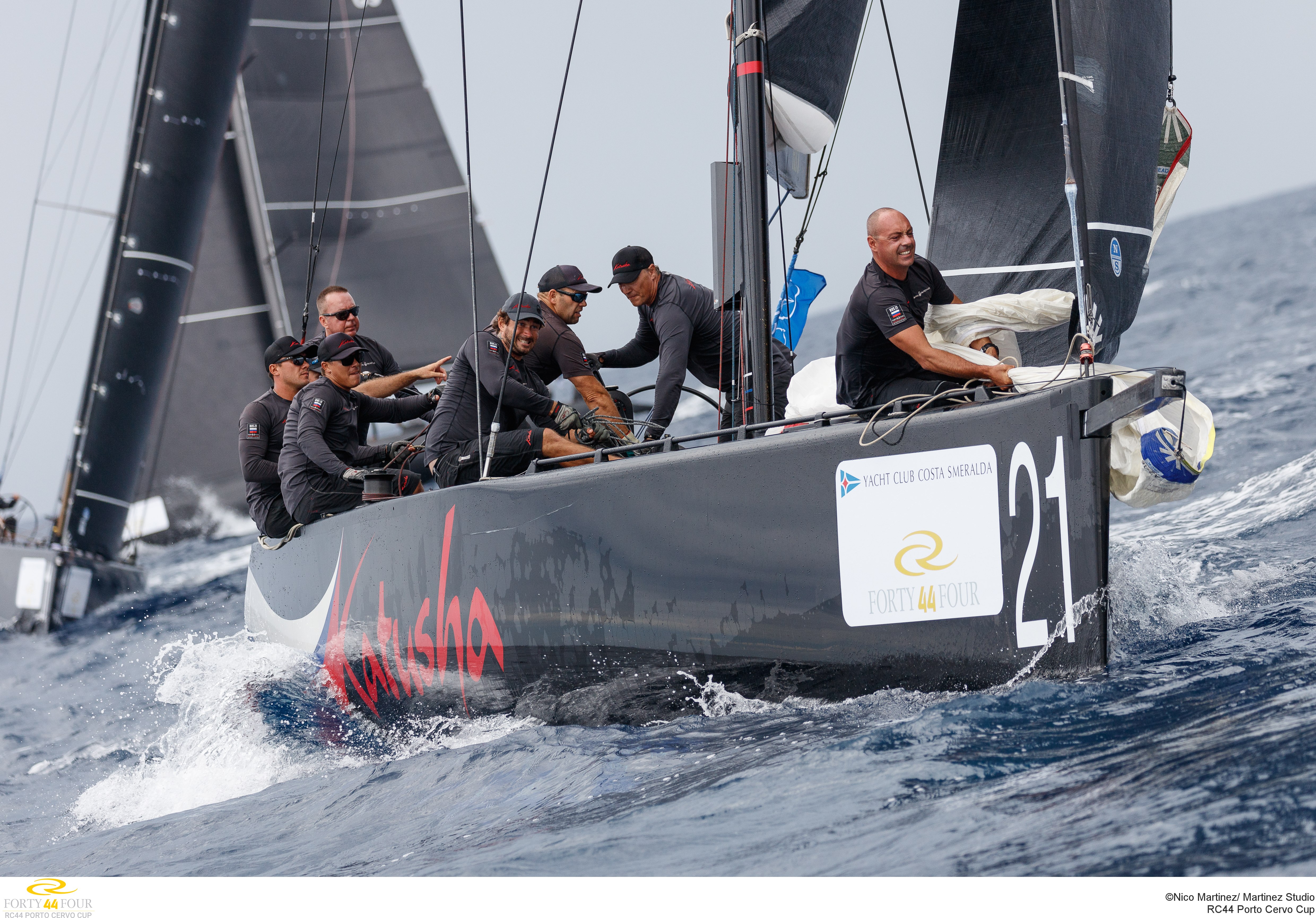 "We were downwind of this 'swirl'," explained Katusha's American tactician Andy Horton, gesturing towards inland Sardinia. "There was a big rain cloud on the left side and the question was whether it was going to come across the race course and have down drafts and wind out of the left, or not."
Unfortunately this same cloud activity then caused the wind to vanish. As a result the nine-strong RC44 fleet was sent ashore leaving the race committee to wallow, waiting for the breeze to re-establish. This it finally did as crews were contemplating their first 'refreshment' of the day. 
With the boats returned to the course, at 1700 the first of two races were held in 8-10 knots. Still very shifty, Nico Poon's Charisma led around the majority of the course only to be rolled in a photo finish by Peninsula Petroleum. 
Still with the bit between her teeth in the final race, Peninsula Petroleum led at the first top mark rounding. However she then received a dose of her own medicine, when Kirill Frolov, at the helm of Bronenosec Sailing Team, got in an early gybe to take the lead and then defending well to the finish. 
For Kirill Frolov the final race win made up for two bad results beforehand. However he is enjoying his first racing in Porto Cervo: "It's a great place - I like it. It is easier here, because it is flatter water and not so shifty."
Two points clear of Igor Lah's consistently-placed Team CEEREF with Torbjorn Tornqvist's Artemis Racing a further point astern, Peninsula Petroleum leads after day one, despite helmsman Chilean-German Dag von Appen, who standing in for John Bassadone, being completely new to the RC44. 
A life-long sailor, Von Appen is very active in the Chilean Soto 40 one design circuit but sailed an RC44 for the first time only on Tuesday. "Vasco had a very good day and we started well and we didn't make mistakes - we had a good day today," he mused.
As to how the RC44 compares with the Soto 40, going from tiller to wheel steering has been the biggest change. "It is a nice boat. It is amazing how competitive the class is. The guys on Peninsula have been sailing together for many years, which helps a lot because they are a great team and this is a team effort."
Racing continues at 1200 CET tomorrow, with a further three races scheduled.