One of the never-ending attractions of racing on the 44 Cup, be it for pro or amateur crew, but especially for the owner-drivers, is the ability to learn and improve. This is no mean feat involving teams of humans working in unison to master the seemingly black art of driving a boat to the max by harnessing a force that is both invisible and infinity fickle. Fortunately the ability for teams and owner-drivers to improve has taken a big step up thanks to some new coaching technology that makes both the analytical process and resultant learning fast and fun.
What the new software does is to bring all the data and media streams together in a way that is extremely user friendly even for the most tech-phobic coach, sailing team or owner.
At present crews have their boat's polars, effectively a spreadsheet of performance data suggesting the speed they should be going on any given point of sail for any wind strength and sail combination. Each RC44 is also fitted with a B&G electronic instrument package that constantly monitors every aspect of the boat's performance from wind speed and direction to boat speed and GPS speed over the ground, to rudder angle to pitch to data from the load cell attached to the forestay and much more. All of this data is recorded and after racing is deeply analysed by the coaches and teams to determine why some aspect of their sailing - be it trim, starting, mark roundings – were somehow brilliant or sub-standard.
Sadly in isolation this intense number crunching has been extremely dull with even the most talented of coaches struggling to dig out any secrets buried within this vast quantity of data. Until now.
However this kind of analytics has taken a significant leap forwards with Njord Player. This software was created initially between the Phoenix TP52 team, sailor Tom Burnham and the developer, but has since rapidly migrated to other classes, including the RC44, where Burnham coaches Torbjorn Tornqvist's Artemis Racing.
Essentially the step forward with this software is its ability to sync up every single byte of performance data from off the boat with all media streams, such as video and audio from on board or from on the water (eg the coach boat) or a drone.
For Burnham, the software is especially valuable due to the speed it can be used. "We are trying to get information to the guys so they can use it in a timely manner, because if you can't do that it is useless - a week after the regatta, you might as well not use it. Now we can compile all of that information and give a presentation to the team an hour after we hit the dock. I no longer have any editing to do – I just dump all the data and all of the video and audio streams into the software, make some micro adjustments to get the time stamps aligned."
Another key feature for circuits like the RC44, is that it will integrate the TracTrac tracking.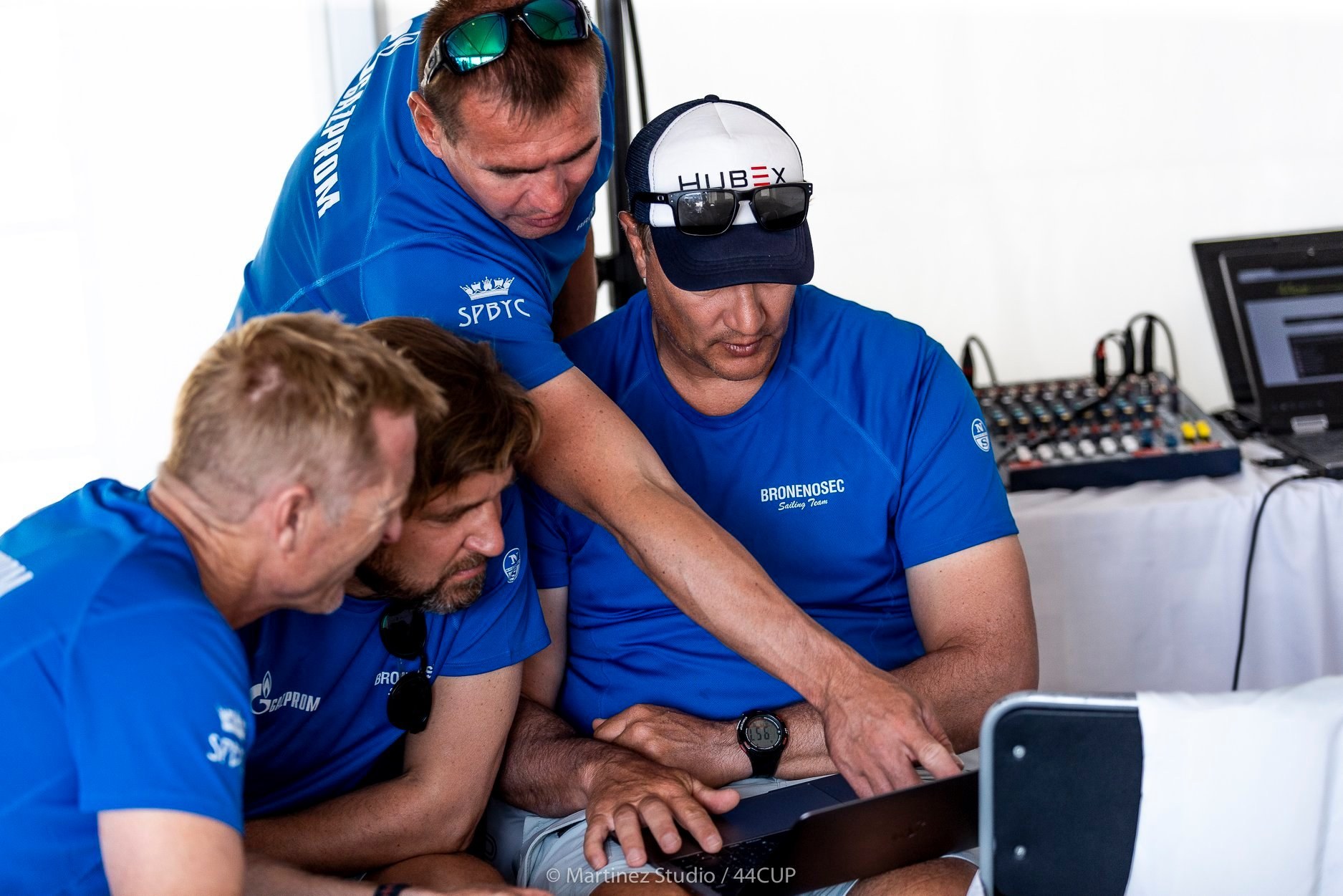 The magnificence of this software is that it time-syncs everything. So Burnham or the Artemis crew can skip to any part of any race. For example if they want to analyse a leeward mark rounding, they can fast forward to it, and then get all of the performance data plus all of the video and audio streams for this moment, and can display all or any of the data simultaneously.

The software is also intelligent and can indicate every tack or gybe, can use different colours to displayed whether a boat is sailing upwind or downwind. It also features a start timer.
"This software is very user friendly for non-technical people like myself. Even Stevie Erickson can figure it out..." says Burnham, referring to his distinguished Olympic Star gold medallist colleague who now coaches Aleph.
While it is hard to quantify exactly, the software does seem to be improving the closeness of RC44 racing. Burnham, who has a long association with the class, says that these days every team is genuinely capable of winning an event. "That might have been just lip service in the past, but not anymore. This season the bottom three teams at the first event were the top three teams at the second - that was pretty impressive. I won't say that this software is the reason, but the fact that we can analyse things a bit deeper and learn quicker definitely helps."
The software in particular represents a significant improvement in helping owner-drivers improve their skills. "It is a nice way to present," continues Burnham. "Torbjörn [Törnqvist] loves coming to debriefs and watching it and seeing the numbers and getting precise data from it. It is also nicer for us as coaches to be able to present something concrete and not what 'we think we can see' from off the boat, because honestly it is quite hard to do that. To be able to hear the audio of what the discussion is on board and to watch the data at the same time makes it a lot easier for us to give useful feedback."
In fact the audio playback has also been found to be a surprisingly vital stream as it helps refine the efficiency of communication on board, frequently difficult where multiple languages can be spoken within a crew. "The fact is that now you can't hide - recording the onboard audio, you can hear what the tactician or the trimmer is saying and brings a level of accountability, in a good way. It makes people realise how their actions affect the boat and highlights the importance of being precise in what you say and what you do and how you set the boat up," says Burnham.
Aside from massively improving the coaching experience the software is also helping teams to improve their boat set-up. "We have learned some things about rig tune and other things like that from it," says Burnham. "Boat handling and starting are big parts of it –being able to watch the drone video alongside the data and see exactly how your boat speed is at the line and how much it affects you when you do a manoeuvre too late in the start - things like that have been very valuable."
If nothing else the software has proved to be a magnificent aid to the owner-driver's learning process while bringing a new level of precision to the sailing, which in turn is raising the level and making the competition ever closer. "It makes it fun too," concludes Burnham.