In this world of professional yacht racing there are few inevitables - but it's a pretty safe bet that Tom Burnham will probably be at the next regatta you go to. The amiable New Englander has been competing at the top level in sailing for years, his career spanning four America's Cup campaigns, including two during the 2000s with Luna Rossa that left him fluent in Italian and with an Italian wife, Alessandra.
Burnham has raced on championship winning crews in match racing, TP52s, Swan 45s, as well as, of course, the RC44. He still races at the highest level in the leading grand prix classes and this year will be on SAP boss Hasso Platter and daughter Tina's Phoenix in the 52 Super Series, manning the pit on the brand new Maxi 72 Bella Mente and calling strategy for Flash Gordon at this year's Farr 40 World Championship in Chicago.
Despite his premier league sailing credentials, for the last eight years on the RC44 circuit Burnham has been coach for Torbjörn Törnqvist's Artemis Racing. At RC44 events you see him, regularly, day in, day out, come rain or shine, aboard a RIB on the race course, usually with a video camera aimed firmly at the Swedish boat's blue hull.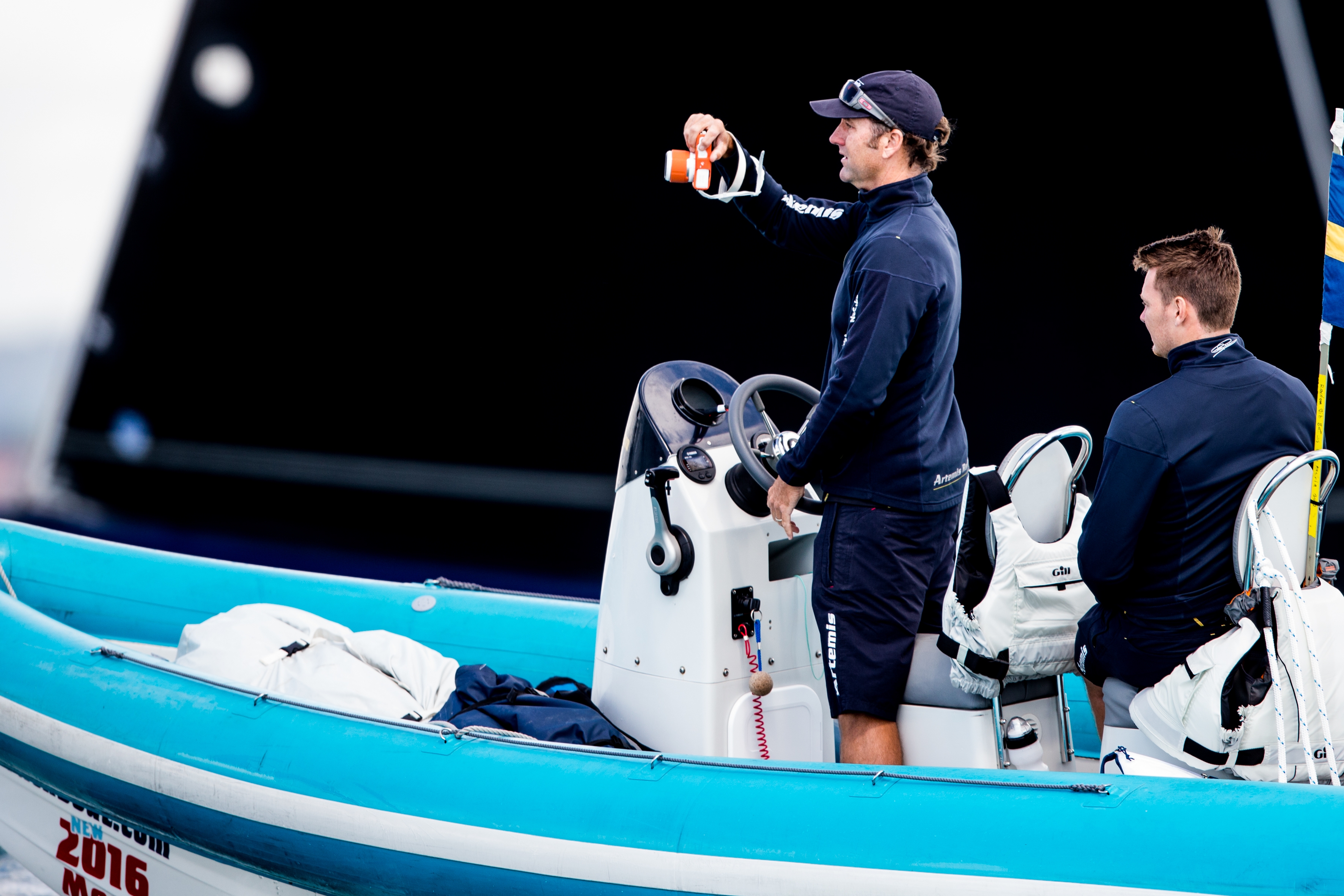 "As Artemis Racing coach, my job is to observe the racing, keep an eye on what the guys are doing and take photos and videos to help progress things along – to be a set of eyes outside the boat," Burnham says. "With this class it is difficult not have that outside opinion, to give the guys on board some vision of what's happening on the race course, the set-ups and sails and everything else. Plus… I carry the lunch box… basically the same as coaches in the Opti class do!"

There are more serious aspects too: The coach's role includes safety and support. On the rare occasions when there is a technical problem with the boat, a man overboard, a crew injury, etc – Burnham is swiftly there to assist. And this is not just for Artemis Racing, but helping others within the 'RC44 family' too. As he puts it: "We all work together to make the events good for the owners of the class and the teams."
Unlike the TP52 or Maxi 72 classes in which Burnham sails the RC44 is a strict one design. For owners this keeps the lid on escalating costs but instead forces teams to examine ever more closely their boat's set-up and crew work, if they wish to gain an advantage. Hence why coaching is so crucial: It can fast-track improvement across the board while also developing the skill and confidence of the RC44's owner-drivers. 
"In terms of coaching tools there's always the standard photos of the set-ups, video of starts and mark roundings, etc," explains Burnham. "A guy takes drone footage for the class and he sells it to all the teams: That's really fantastic - a great tool. We're also allowed to collect instrument data from on board which we analyse and use in our debriefings."
While the RC44 is a one design, limited sail development is permitted. For their RC44 Artemis Racing works with its America's Cup designer, Juan Garay from North Sails Argentina. Burnham observes: "Sails continue to evolve: We're always changing, making small adjustments and trying to move forward, because you know everybody is pushing each other in this class. Everything's changing all the time - jibs, genoas, mainsails – and that has to happen in harmony with rig set-up and with the way the team sails the boat."
As coach, Burnham's role is also as spy – keeping a keen eye on other team's set-ups, how this affects their performance on the water and whether that is applicable to Artemis Racing.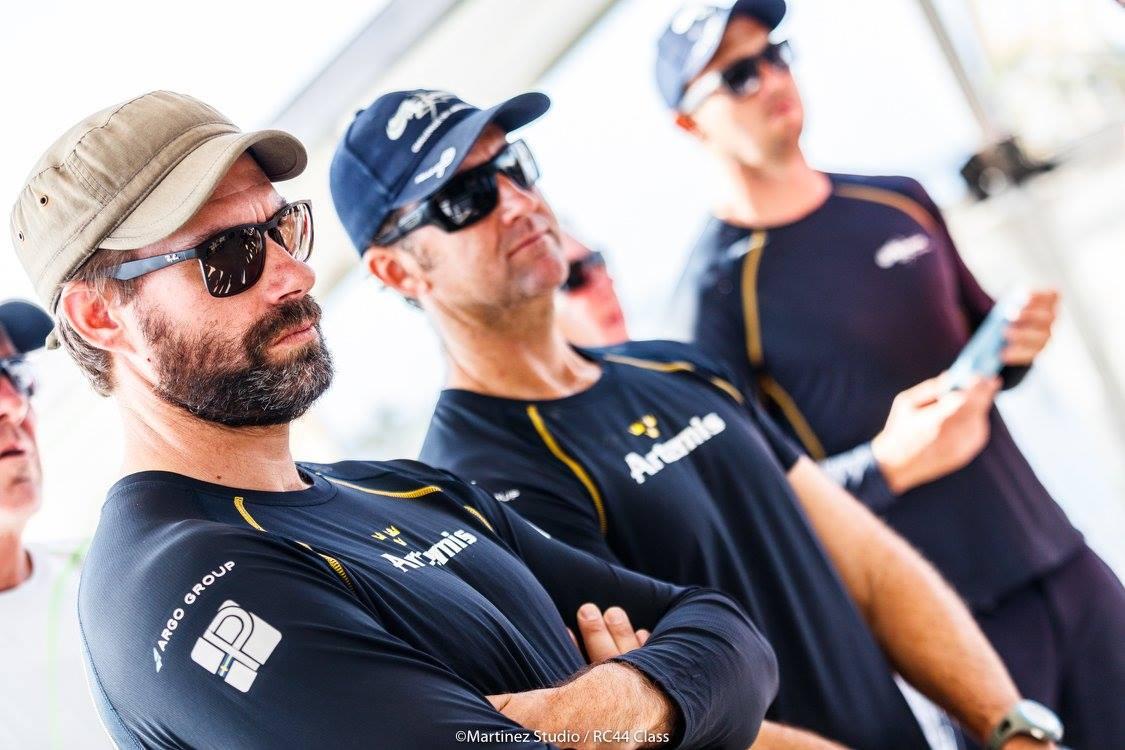 Another responsibility is in monitoring crew performance. This season his crew has changed with British Olympic legend, team boss Iain Percy, moving from tactics to main sheet trim. "It was something that the team wanted to try," acknowledges Burnham. "He's good – he always trimmed main on the Star and his technical ability is amazing. He puts a lot of effort into the set-up and getting the boat going faster around the track."
American Andy Horton moved into the tactician's role for Lanzarote, but Nathan Outteridge, the London 2012 49er Olympic gold medallist and Artemis Racing's America's Cup helmsman, is due to take. Elsewhere 20-year-old Swede Julius Hallström has joined as grinder - Torbjörn Törnqvist keen to help develop youth sailors in Sweden. 
Aside from being on the RC44 class, Artemis Racing has competed in the last two America's Cups representing the owner's native Sweden. So does being part of a big team benefit them in the RC44s? "The advantage is we do have contacts with more people who can help us," says Burnham. "The disadvantage was during the lead-up to the last America's Cup the focus was so much on that, the RC44 didn't get the attention it should have. So this season we're trying to redouble our efforts with it."
Given the extensive sailing Burnham does in other grand prix classes, how does the RC44 stack up in 2018? "It's a great boat, really fun and the racing's fantastic. The guys on board really enjoy it. The boat's fun to sail in light air, heavy air and it still has a genoa, so it goes really well in 5 knots of wind when a lot of boats struggle.
He concludes: "It is a strict one design and there are some boats that are pretty old but there's no difference in their performance– they are all still even, which is good. Compared to AC V5 boats, they might look similar but they are very different - they go downwind way better and it's a great boat around the track. The hull shape and everything really lends itself to transportability, which is a big plus for this class - two or three guys can put the boat together in a week, have it go racing and then two days after racing's done it's already in its container on a ship - that's pretty impressive."