There are few people who have sailed such a wide range of top level sailing craft as Italian former Olympian, match racing skipper, big boat tactician and America's Cup foiling catamaran helm, Francesco Bruni, also tactician on the Artemis Racing RC44. This was true even in his lengthy Olympic career when he hopped between the dramatically differing singlehanded Laser, 49er doublehanded skiff and ultimately the more ponderous Star keelboat.
Bruni, of the North Sails Scilly sailmaking dynasty, has spent the last couple of seasons juggling between helming Artemis Racing's America's Cup foiling catamarans in Bermuda with calling tactics for Team Principal Torbjörn Törnqvist on the RC44 circuit. Previously Bruni called tactics on board Luna Rossa's AC72 four years ago in San Francisco and has sailed at the very top level on Maxi 72s, TP52s, Farr 40s and on all the top one designs.

So where does the RC44 stand within this pantheon? "What is really unique about the RC44 is the performance of the boat in light wind," muses Bruni. "On the RC44 you can have some great racing in 5-6 knots which most other boats can't do. With a big genoa, big main and big kite, it has a lot of sail area and it's a skinny boat, so it heels pretty early. But in strong winds, or more than around 16 knots, the boat starts planing, which is pretty early, and this makes for great racing in stronger winds. So what makes the boat unique is its wide range - it is unusual to have a day when you can't race."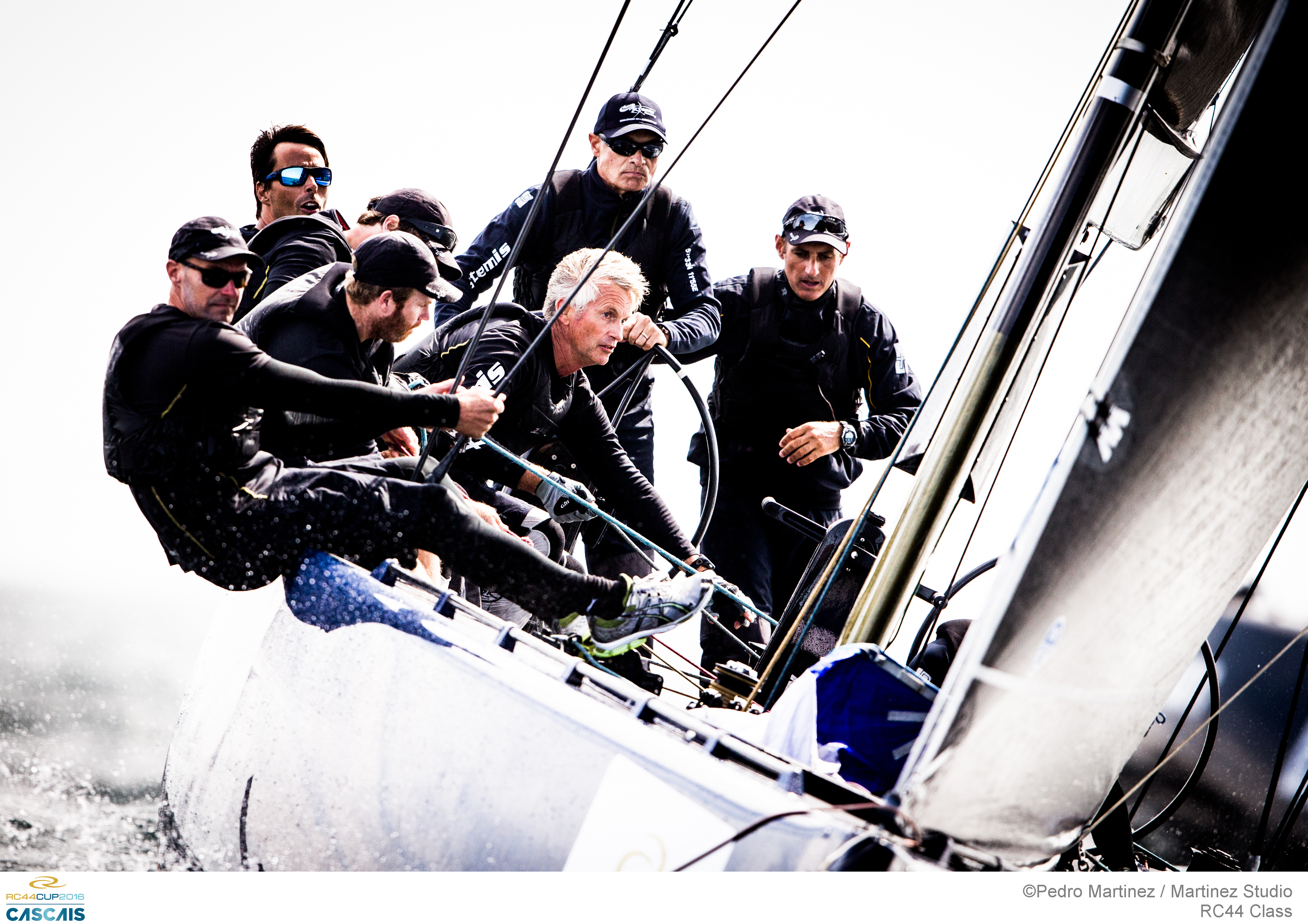 Compared to the present trend in yacht design for boats with powerful sterns and bows, the RC44 appears to have more in common with the narrow, Version 5 monohulls that raced the America's Cup in Valencia ten years ago. Both boats are exclusively windward-leeward racing machines, but there the comparison ends for in line with more contemporary designs, the RC44 is very much lighter for her size and sail plan. As Bruni observes her stability and righting moment, which provide her exceptional performance, are due to her powerful 2.9m long keel.
Having helmed a RC44 a lot, Bruni says that its steering is a good compromise for an owner-driver. The rudder on a grand prix race boat is often tiny to reduce drag, but on the RC44 "it is big enough, without making it too hard: It is not super easy otherwise it would be boring – it is not big enough to forgive mistakes from the crew! The boats still broach downwind or sometimes won't bear away at the top mark. You still have to be on your toes as a crew and the helmsman needs to give you feedback on the amount of load on the wheel."
Compared to other grand prix monohulls Bruni has sailed, the controls on the RC44s and the manoeuvres are similar with a couple of exceptions. The RC44 has a retractable, articulating bowsprit that allows the tack of the sail to be cranked up to weather so that the boat can sail deeper angles downwind. It also has a trim tab on the keel, which provides the boat with extremely tight upwind modes if required.
But these both make it slightly tougher for the already over-taxed crew, says Bruni: "Physically the RC44 is a harder boat to sail than a TP52 because it has less people for the amount of work required. The pitman, who is also doing the runners and the bowsprit, needs to be well organised - that is the busiest role on board. On the TP52 there would be one person helping." 
While the RC44's design by the Russell Coutts-Andrej Justin design may be 11 years old, it was clearly ahead of its time as an inshore race boat, aimed purely at windward-leeward racing. Apart from possibly having more grunty pit winches, Bruni says there is little on board he would change.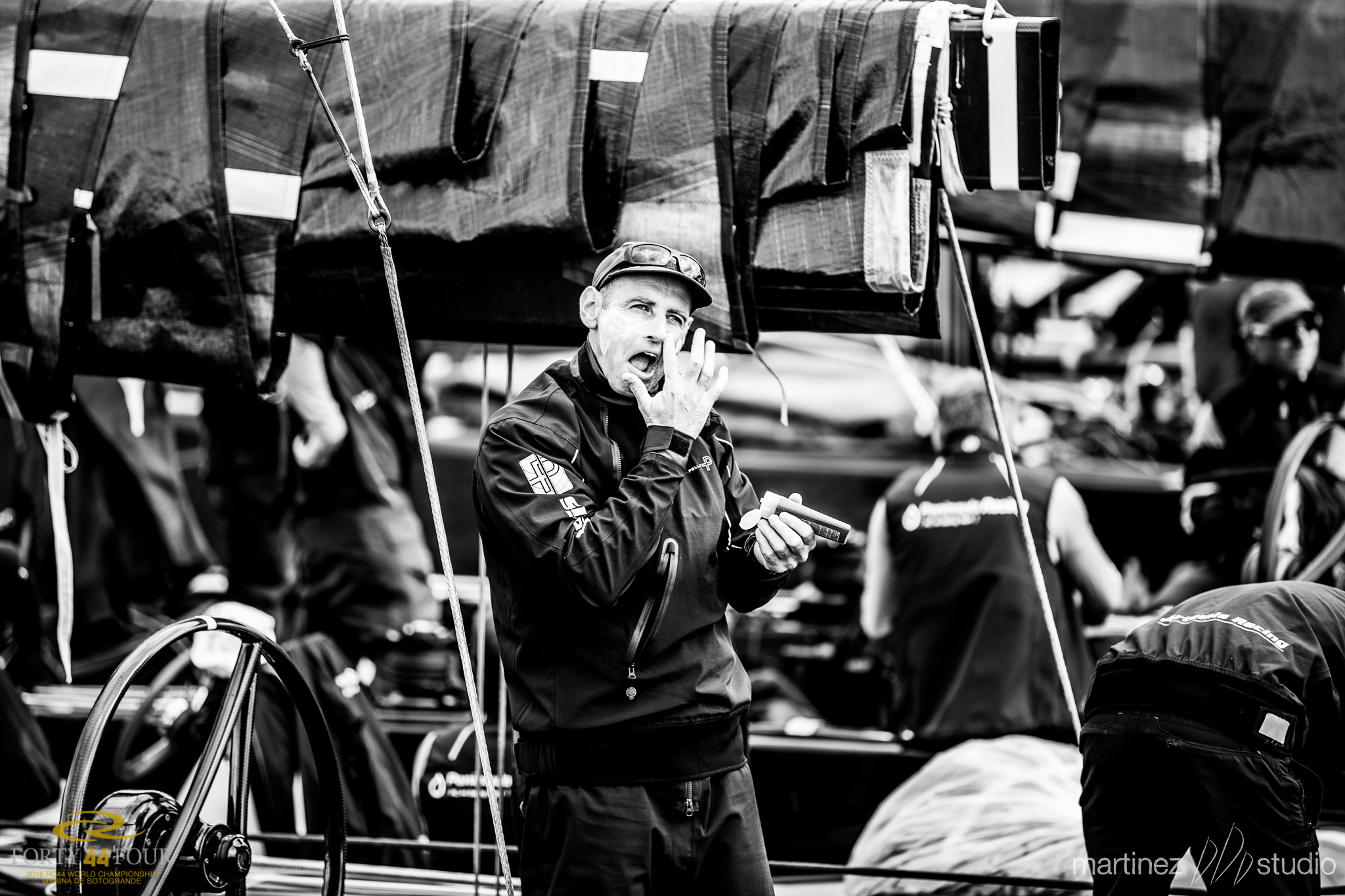 Aside from its performance the RC44 also scores highly because its design makes for easy logistics. The boat's removable bow and stern and its clever cradle arrangement makes the RC44 the biggest monohull to fit into a standard 40ft container. "Compared to a Farr 40, the RC44's logistics are so much easier," says Bruni. "So you can have races anywhere in the world - that is the smartest thing about this boat. You can take off the stern and it fits into a commercial size container. It makes the logistics so much cheaper too."
Within Artemis Racing, Bruni's other role, aside from calling tactics for Torbjörn Törnqvist on the RC44, is as reserve helmsman for Nathan Outteridge on the Swedish America's Cup challenger's AC50. He has got to helm the flying catamarans extensively during training over the last two years, especially last season when Outteridge was absent, busy winning his second 49er Olympic medal at Rio 2016.
So in a world of flying catamarans capable of reaching speeds of 40+ knots and sailing upwind at 25, what place do monohulls like the RC44 have? Essentially foiling cat racing is so different it could be another sport, says Bruni. "RC44s racing is great because it is very tactical and I really like fleet racing when it is high level."
As to making the transition between the two disciplines, Bruni admits it is not easy. There was a six month gap between last season's concluding event in Malta and April's RC44 Sotogrande Cup and during those months, when Bruni was exclusively sailing foiling cats. "Everything is different, so it is quite hard. Not only the shifts but the angles, the tactics around the course compared to the other boat, etc. On the cat, there are only two boats on the course, which makes it different. There are less decisions to make around the course, but you pay much more for those decisions. RC44 racing is much better for the tactics, because you have more decisions to make." 
Following the America's Cup conclusion, Torbjörn Törnqvist, Bruni and the Artemis Racing RC44 crew will be hightailing it from Bermuda to compete at the RC44 Porto Cervo Cup over 29 June to 2 July.