To make up for yesterday's missed race and with the prospect of a possibly 'too big' weekend ahead, four races were held on day two of the RC44 Cascais Cup, the final event of the 2018 championship for the high performance owner driver one designs.
As yesterday, conditions on the water were warm for mid-November, with the sun out and wind that started at 10-12 knots and dropped off to six, as forecast, as the afternoon wore on. Starting an hour early, the wind defied predictions, remaining just stable enough for PRO Peter Reggio to lay on one extra race to recover the schedule.
At this half way stage of the RC44 Cascais Cup, Vladimir Prosikhin's Team Nika is the stand-out leader. The 2018 World Champions, on which Dean Barker calls tactics, won the first race today, as she did yesterday, and remained star performer up until today's final race. In this she was called OCS and, unlike yesterday, was unable to recover, causing her seven point lead to dwindle to four.
Behind Team Nika the leaderboard remains impossibly close with just five points separating second from sixth in the eight boat fleet.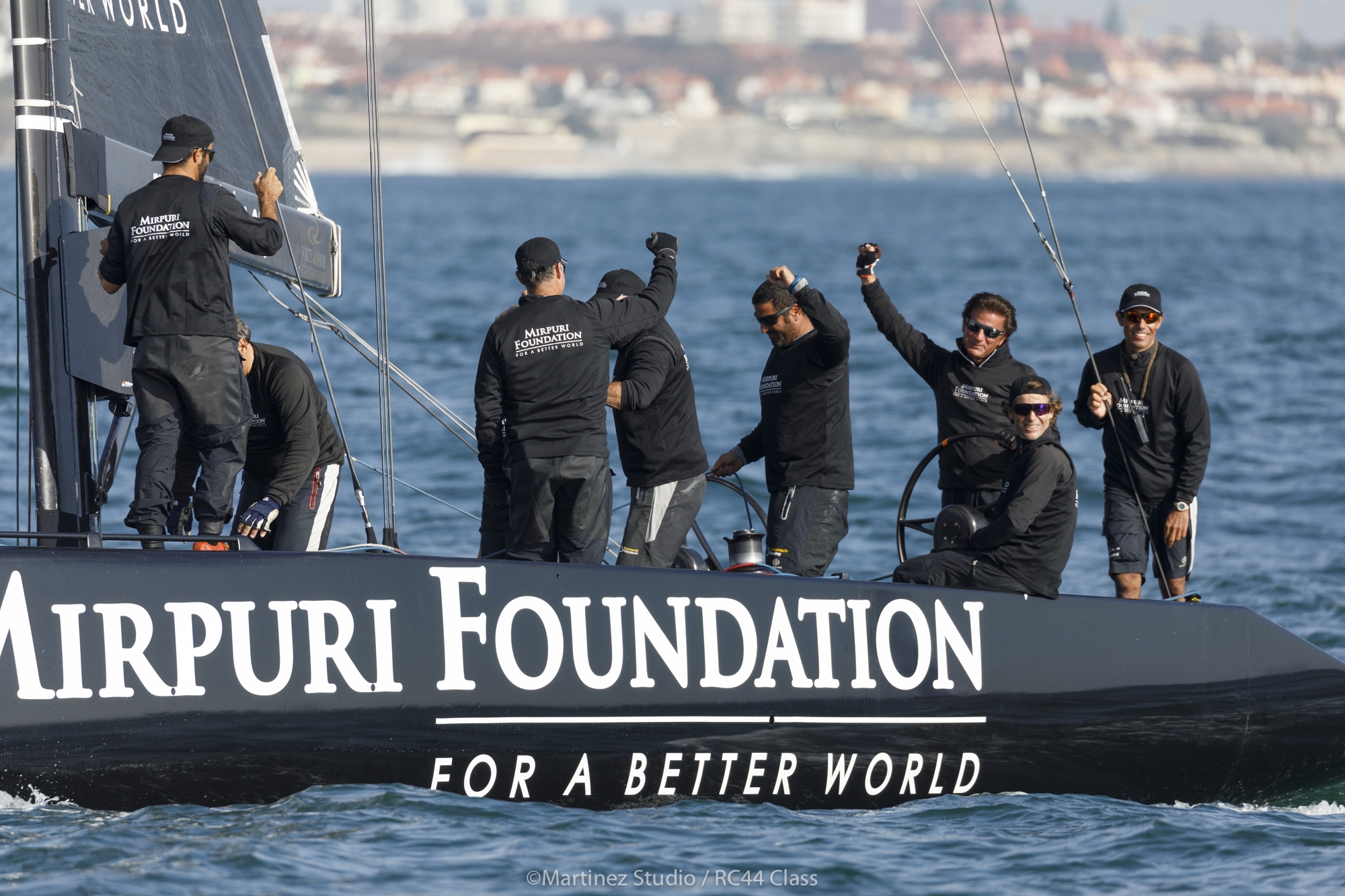 As the wind off Marina de Cascais remained just south of east and with a swell from the west rolling in from the Atlantic, it was the turn of Torbjörn Törnqvist's Artemis Racing to make the best job of the tough conditions to claim race two.
"It was very, very challenging today, because you had the swell from the back, against the wind, which made it hard to steer in - it throws the boat around and changes the heeling angle all of the time," described Törnqvist. "But it was great fun, we had good sailing."
Artemis Racing's tactician, American RC44 veteran Andy Horton agreed that today's conditions were tough: "It was crazy: Up and down, shifty, there was a big swell, etc. All day the wind kept ratcheting right. Once we'd figured out the waves upwind and downwind, the wind would shift 20° and you'd have to relearn everything. The swell was upwind on starboard and then on port!"
The race they won, Horton said was textbook stuff, getting off the line well, sailing a sound first beat, to round the top mark ahead and lead on from there.
The most dramatic race today was the third. In this, newcomers to the RC44 fleet Mirpuri Foundation took the starboard side of the second beat, tacked, and then enjoyed a monster lift that left them pointing directly at the weather mark. This elevated them from fifth to first which they held to the finish, the Portugese helm scoring his first ever RC44 race, win despite this being just his second day competing in the class.
"I've come here to learn about the boat and to be honest, I thought we would be last, because everyone is pushing to the limit this being the last event of the year. It was a great surprise to get a fifth place and then a first," said Mirpuri. "We discussed in the team what tactics we should take for that third race and it played out well. We were happy with the decisions we made beforehand. Our tactician did a very good job and it played out well."
Today's fourth race had the day's fourth winner in Nico Poons' Charisma. Like Mirpuri Foundation's victory, this also occurred in an unorthodox way. Tactician Ray Davies described it: "We were OCS and were heading downwind on port when the gun went! But that sent us out to the right hand side of the course. At that point we were coming last and we said 'we just need a 20° shift here and we'll be just fine'. And we got a 20° shift… The wind just kept going further and further right."