With its light start, brilliant sunshine and the ancient town of Piran and the still snowcapped Slovenian Alps as a backdrop, the day could not have been better for the 44Cup fleet to blow away any cobwebs after such a long absence due to the COVID-19 pandemic.
Having not lined up since November 2019, 44Cup competition resumed today for the high performance owner-driver one designs, with three races successfully held on the Bay of Piran. These started in a 6 knots and built to 12 over the afternoon.
The 44Cup Portorož is being hosted by Vladimir Prosikhin and Igor Lah, owners of Team Nika and Team CEEREF respectively. Team CEEREF is the 44Cup's Slovenian-flagged RC44 while two key crew on board Team Nika once represented Slovenia in the Olympic Games, come from Portorož and one, Mitja Margon, is this event's organiser. It was appropriate therefore that these two RC44s won the first two races. Team Nika posted by far the most consistent results today, returning ashore with a four point lead. Behind her the competition is far closer with just four points separating second from seventh places.
As someone who shows jubilation well, being back was a sheer delight for Prosikhin: "Everyone here is extremely happy, because we were missing our RC44 regattas SO much - one of the worst things about this pandemic was that we couldn't sail our beautiful boats. Coming here is like returning home to your family, the relations with everyone are so good. Some of the guys on the boat have been with me for 10 years."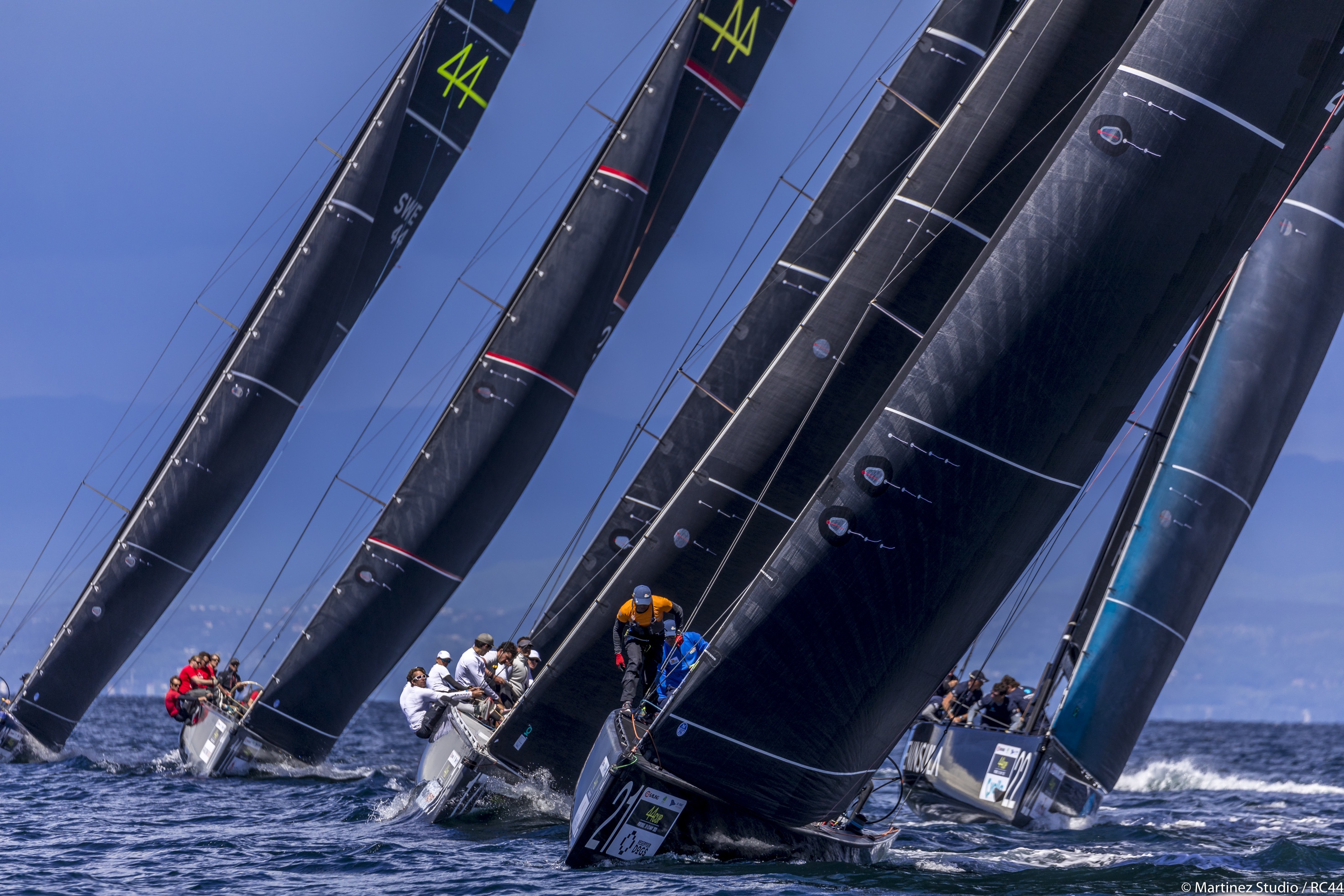 Having on board Margon and and his former 470 Olympic helm Tomaž Copi, who are both from Portoroz, also helps. "They know what to expect. It was important - in the morning it was a bit more predictable, but in the afternoon it changed and we had some random headers and lifts, when the locals helped."
In addition Team Nika is the only RC44 here with a 'new' tactician, in Spanish keelboat champion Manu Weiller, who stepped into the role, previously been filled by Russell Coutts, Dean Barker, Ed Baird and Terry Hutchinson. With everyone wanting the pin and the left due to the wind bend on the Croatian shore and the sea breeze building, Weiller said they had focussed more on getting clean, conversative, mid-line starts. "This crew is incredible. They know the boat perfectly which helps me a lot, deciding modes, etc."
Team Nika was lining up to win today's final race until on the final beat they were forced to tack away from starboard tackers on two occasions. At the top mark for the final time Pavel Kuznetsov's Atom Tavatuy led, but the Russian team was eventually pipped at the post by Hugues Lepic's Team Aleph.
"It would have been better to be first, but it was compensation from the first race," said Kuznetsov, who has raced a few times on sportsboats since the last 44Cup event in Palma in November 2019.
Team Aleph's Hugues Lepic was delighted by the results of his team, on which Italian keelboat specialist Michele Ivaldi is calling tactics. He has not sailed at all since Palma 17 months ago. "It was an amazing finish - quite unexpected. I am very very pleased that we got to first position. The start was tough for us, but in the end it worked out okay." Despite losing a crew overboard after a winch handle broke at one point, Team Aleph currently holds second overall, on the same points at Team CEEREF which bracketed their race two win with two deeper results.
John Bassadone's newly rechristened Peninsula Racing had a tough day. After a solid second in the first race, they were unable to fight back from an OCS in race two and then had the top of their rig damaged and Windex torn off after Chris Bake's Team Aqua clashed rigs with them at the start of the third race (for which Bake's team was awarded two penalty points).
Racing resumes tomorrow with stronger winds forecast.