For the first 44Cup event in 17 months, Portorož could not have offered better conditions to date; slowly ramping up the wind strength to the third and penultimate day of racing, when the wind was at times solidly into the 20s, gusting to 25 knots.
While Chris Bake's Team Aqua was the undisputed champion yesterday, first home in all three races, today reverted to familiar 44Cup form with three different winners. In the first race John Bassadone's Gibraltar team on their rebranded Peninsula Racing played the right side of the first beat masterfully to lead at the top mark, clinging on to the finish.
"We stayed out of trouble," recounted Peninsula Racing's proud owner. "We managed to get a good start, tacked out to the right, got a decent shift and, from then on, played the shifts quite well and stayed ahead. It was breezy and we sailed conservatively with smooth boat handling and a good performance from the entire team.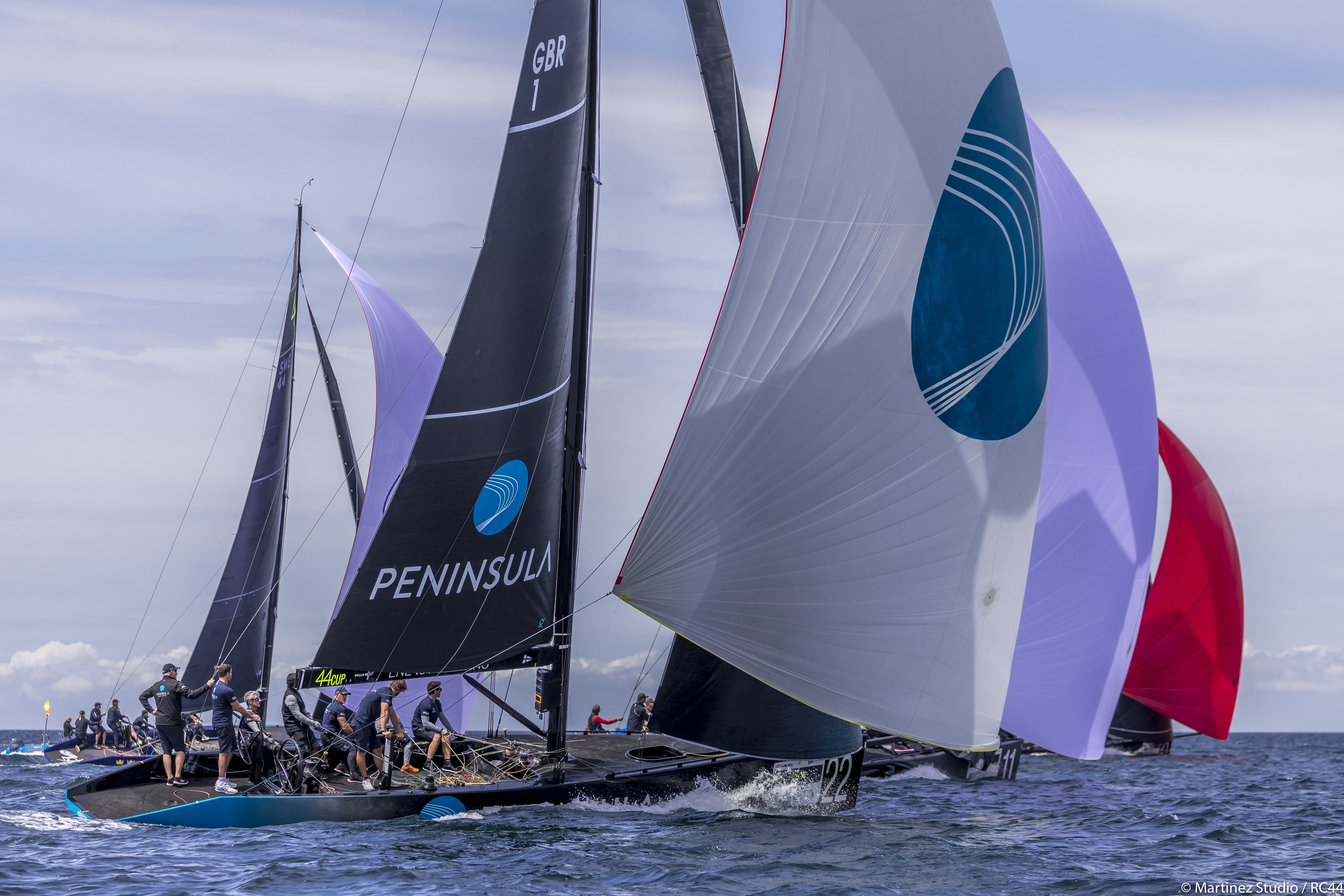 "We needed that win because our results have been pretty poor. I don't feel too bad because the bad results could have been good – it just shows how closely matched all the boats are. We just need to stick with it, but I'm sure we will improve."
Bassadone, like the other owners, was all grins when he returned ashore after the first opportunity to sail his RC44 at full tilt after so many months of abstinence. "It shows how good this boat is that even when it is gusting 25-26 knots, as long as the sea state isn't too bad she is great fun to sail downwind."
Despite the conditions, crews didn't come ashore too soaked or even too exhausted. "It is always close racing," said Peninsula Racing's tactician Ed Baird. "It is amazing how tight this fleet is - everyone is just right there all the time. The races are fairly quick and the guys are used to their positions, so it doesn't wear them out too much and the smoother water helps a lot. When it gets rough, you are hiking and smashing through waves and it starts to beat you up a bit more."
Team Aqua once again showed the fleet the way around the race track in the second race, to score, most impressively, their fourth bullet out of five races.
Finally after an outstanding opening day, followed by a dire day two, Vladimir Prosikhin's Team Nika came good in the big conditions to win today's final race. For Prosikhin this came as great relief. "Today we were at our lowest point but we nicely recovered. I found 'our reason' and even I can remember how to gybe because otherwise we did everything, EVERYTHING wrong - we were over the line, we broached the boat twice, etc. So finally it looked good but we had to keep our fingers crossed. Yesterday was even more painful..."
As to today's lively conditions, Prosikhin admitted they lacked practice. "In Russian we say 'the first pancake never comes out right'. Fortunately we have some boat speed again, because yesterday we were struggling, especially downwind and our trim was wrong, everything was wrong. Finally we got into the group here."
In fact today was less about winning races. Neither of Saturday's two top scoring teams won a race but were superbly consistent. Local Slovenian hero Igor Lah, had the best day across the eight boat fleet posting a 2-4-2 and was regularly nipping at the heels of the leaders. The same was true of Pavel Kuznetsov's Atom Tavatuy with an equally level 3-3-4. These boats have now moved up to second and third places overall respectively behind the still dominant Team Aqua.
"We are happy and it is great," said Lah. "We did what we wanted to do whereas yesterday and the day before each time we had a little bit of bad luck - something wasn't right, maybe bad shifts or not great understanding on the boat."
Team CEEREF's British tactician Adrian Stead added of their performance today: "We had three solid races. In the middle one, we were second round the top mark last time, but we ended up losing two places down the run. No lead was safe - you could come round the top mark in light pressure and suddenly everyone was back down inside you, so it was pretty tricky. But there were fantastic conditions today, once again showing how fun and competitive the 44 fleet is: Everyone is right in there and overlapped at the top mark after a 1.4 mile beat. It was a very enjoyable day of yachting in awesome sailing conditions. They are challenging boats to sail across the wind range which is what makes them so good. Roll on tomorrow, when it'll be all on!"
Tomorrow is the final day of the 44Cup Portorož and three races are scheduled in similar conditions to today. Impressively the day will kick off with the top five RC44s still within six points. As a result who will win, and who will even make the podium, remain wide open – familiar 44Cup territory.