Nico Poons' Charisma proved today that there is a new player in town, as they clung on to yesterday's lead to win the RC44 Calero Marinas Cup, the opening event of the 2018 RC44 championship. But it all came down to the last run of today's last race when a last curved ball cut the Monaco-based team's overall lead to just one point from arch-rival, Team Nika.
"You see in the last race how things can suddenly change - going in the last downwind leg we were winning comfortably by five points and then we only won by one point," noted an otherwise elated Poons. "It proves you have to concentrate right to the very end. It is great sailing in this class – it is high performance, a high quality fleet with a level playing field and great value compared to other sailing projects of this kind."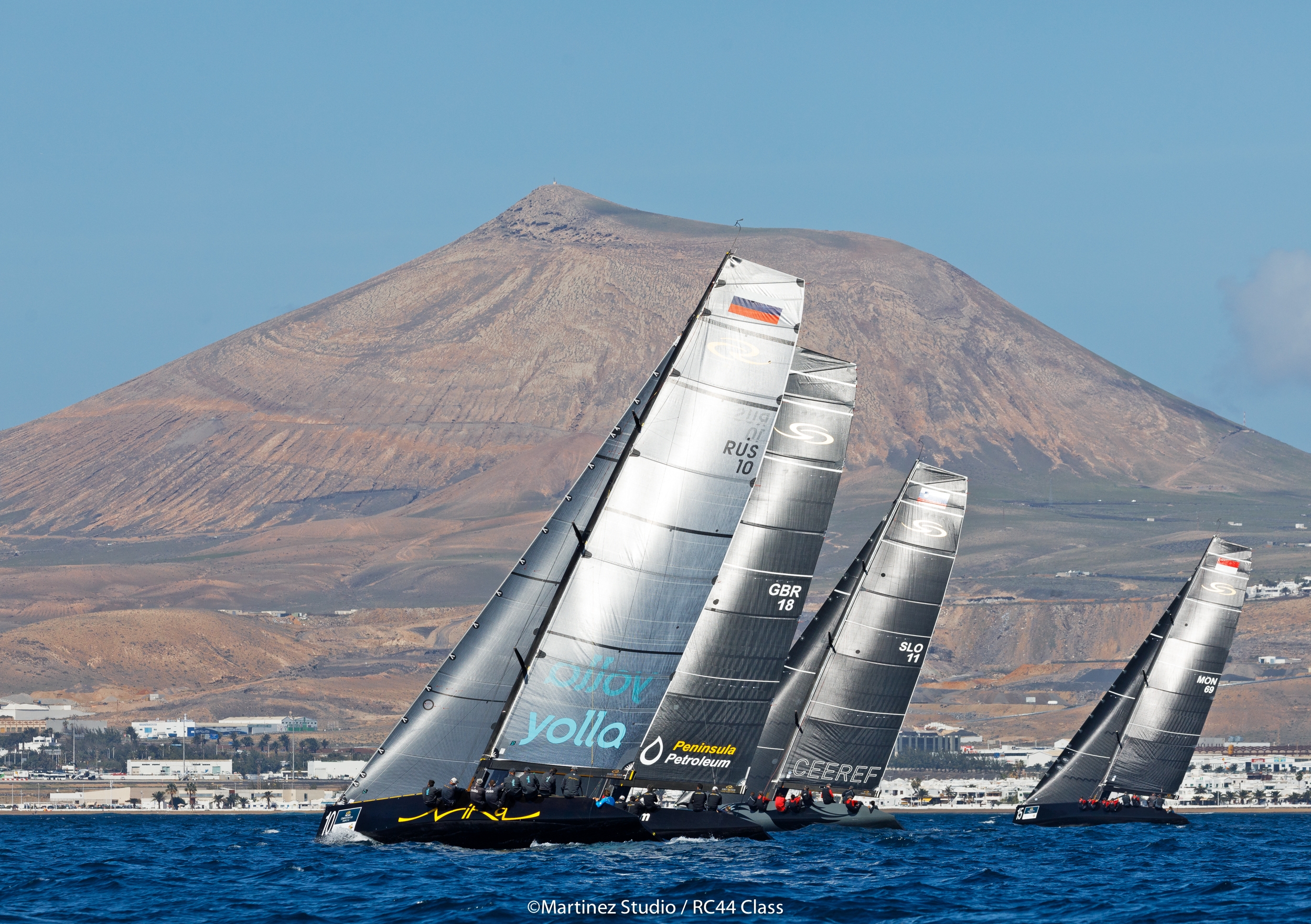 With no awkward frontal systems to complicate matters today, Lanzarote reverted to her usual summery self for the final day of competition. The 15-16 knots winds remained reliably in the southwest, which with flat water and a scorching sun that made it seem like June in the Mediterranean. Until the final run…
Charisma tactician Ray Davies explained: "It was all on - there was a big wind shift and we were on the outside of that and the wind increased to 23 knots with a pressed-up angle coming in. The boats were all surfing into the finish line. Any boat that gybed early made a huge gain but a couple of us couldn't quite lay it. But we did enough, despite finishing with a jib."
Of Charisma's performance overall Davies added: "We started really well today which was a big improvement on the beginning of the regatta. We are happy with how the boat is going and the crew work. There are things we can work on for the next event, but we are very happy for Nico to come away with a win. It is just his second in four years. It was nice being up against the likes of Dean [Barker] and Vasco [Vascotto]. All the tacticians in this fleet are of the highest level, so there is always some pride on the line." 
Inevitably the team that did best out of the giant shift was Team CEEREF. Having nailed Saturday's first race on the right of the run, so Igor Lah's team nearly performed a similar stunt on the opposite side of course. 
Tactician with the uncanny nose for these shifts is Team CEEREF's Adrian Stead, who explained:  "It had gone a little bit right just on the way into the top mark and then when we looked up we could see it all along the shore. So it was opportunist but we weren't too far off taking it all the way to the finish." From being a deep fifth at the last top mark rounding, the Slovenian RC44 managed to pull out a third.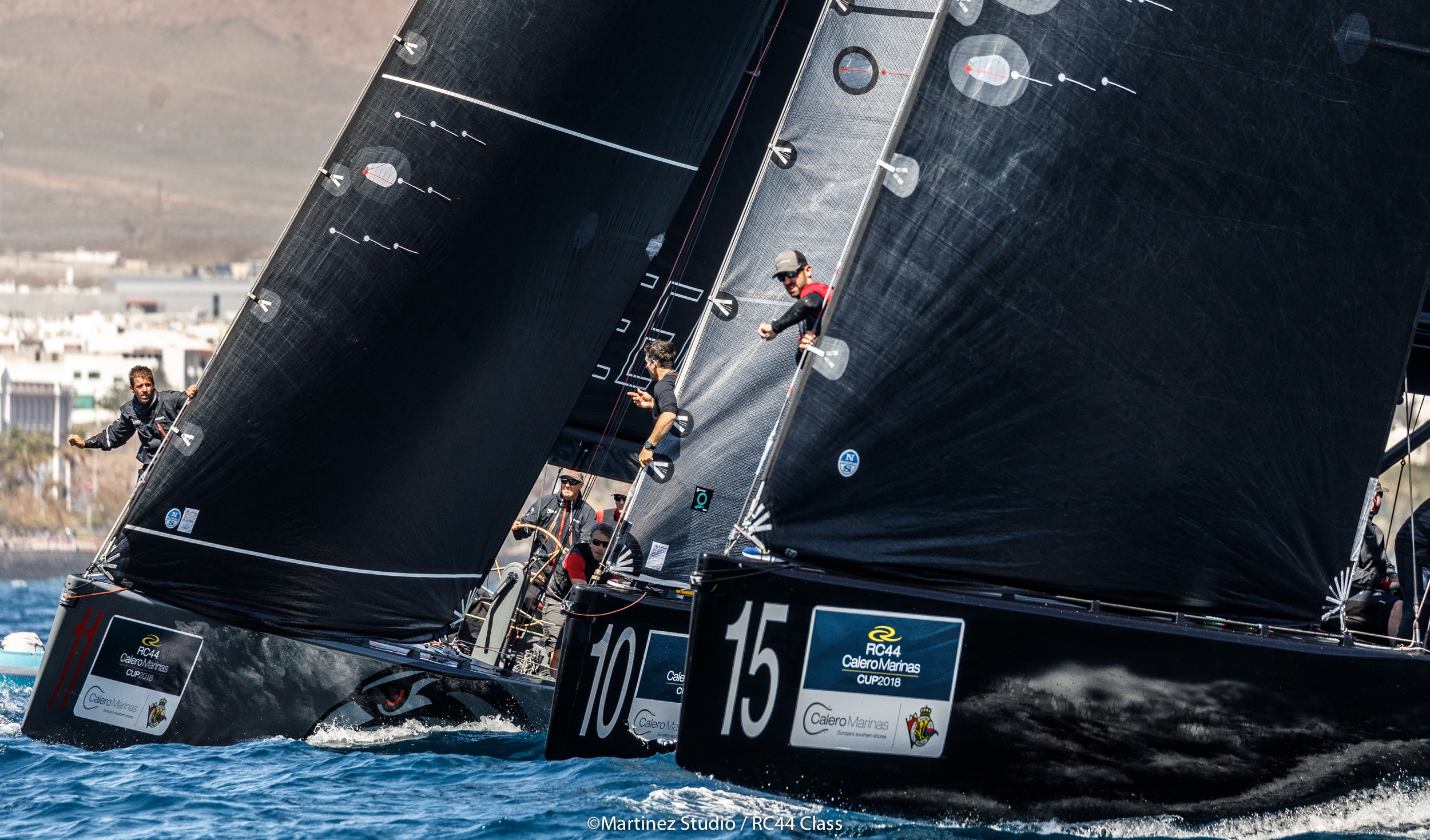 Team CEEREF also won the opening race, having led it from start to finish. "This is our best first regatta of a year for ages, so it is great," said Igor Lah. "It was a lot of fun, especially that last leg - we had nothing to lose so we went to the left immediately after the mark and there was a big wind shift and great breeze." 
After posting a couple of deep results, Vladimir Prosikhin's Team Nika was back on song for race 2. Early on the first beat they and John Bassadone's Peninsula Petroleum opted for the right where they struck gold. The two boats were respectively first and second at the top mark, positions they maintained until the finish.
However it was the final race and challenging Charisma that was on Prosikhin's mind: "We had some problems at the start - somehow we lost speed, which was a major problem. After that we were between CEEREF on one side and Charisma on the other – our two main competitors. If we tried to escape right and Charisma tacked on us and if we tried to escape left then CEEREF tacked on us! We were like a pinball – blam, blam, blam. Like Rocky! Finally we escaped and were still ahead, but unfortunately Charisma finished right after us, which was not enough."
Prosikhin also enjoyed the final downwind dash with CEEREF. "The wind came from behind and they gained a lot on us and then we picked it up too. Then we were surviving - trying to push the boat as hard as we could, in danger of broaching all the time – very enjoyable! We had good technique, we survived and we finished ahead of them and protected second place. The RC44 is great pleasure to sail and it is such a nice fleet. Today I had one of the best days in my racing career." 
Today's outcome would also have been different for Team Nika due to a top mark incident in today's first race. "We had a bow to bow with Team CEEREF and had to gybe around – which was expensive," explained tactician Dean Barker. 
While all eyes were on the outcome of the last race in terms of the overall event points, it was also notable Hugues Lepic's Aleph Racing rounding the top mark in first. However on the run Torbjörn Törnqvist's Artemis Racing had overhauled the French team and hung on lead for the remainder of the race, despite the monster final shift.
Competition now returns to Portoroz, Slovenia, birthplace of the RC44 for the second event of the 2018 championship over 9-13 May.