Cascais is a favourite venue for all sailors, but especially those in the RC44 class which has had the Portugese sailing Mecca as an annual fixture for the last seven years. However this week's event for the high performance, owner-driver one designs will be more important as it is their annual World Championship.
Defending RC44 World Champion is Vladimir Prosikhin's Team Nika, having earned the title in Marstrand last year. "It means a lot to me," says Prosikhin, his eyes turning moist. "For me, the World Championship is special, the most important event in the most prestigious class I sail in - the RC44 is my love, my heart is here…"
Victory in Sweden last year was not the first time Team Nika had claimed the RC44 World title – they also won it here in Cascais in 2015. They return this year with almost the same crew as then, including Kiwi America's Cup legends - Dean Barker on tactics, bowman Jeremy Lomas and pitman Sean Clarkson. "We will try hard, but the fleet is strong and there are many boats which can," concludes Prosikhin.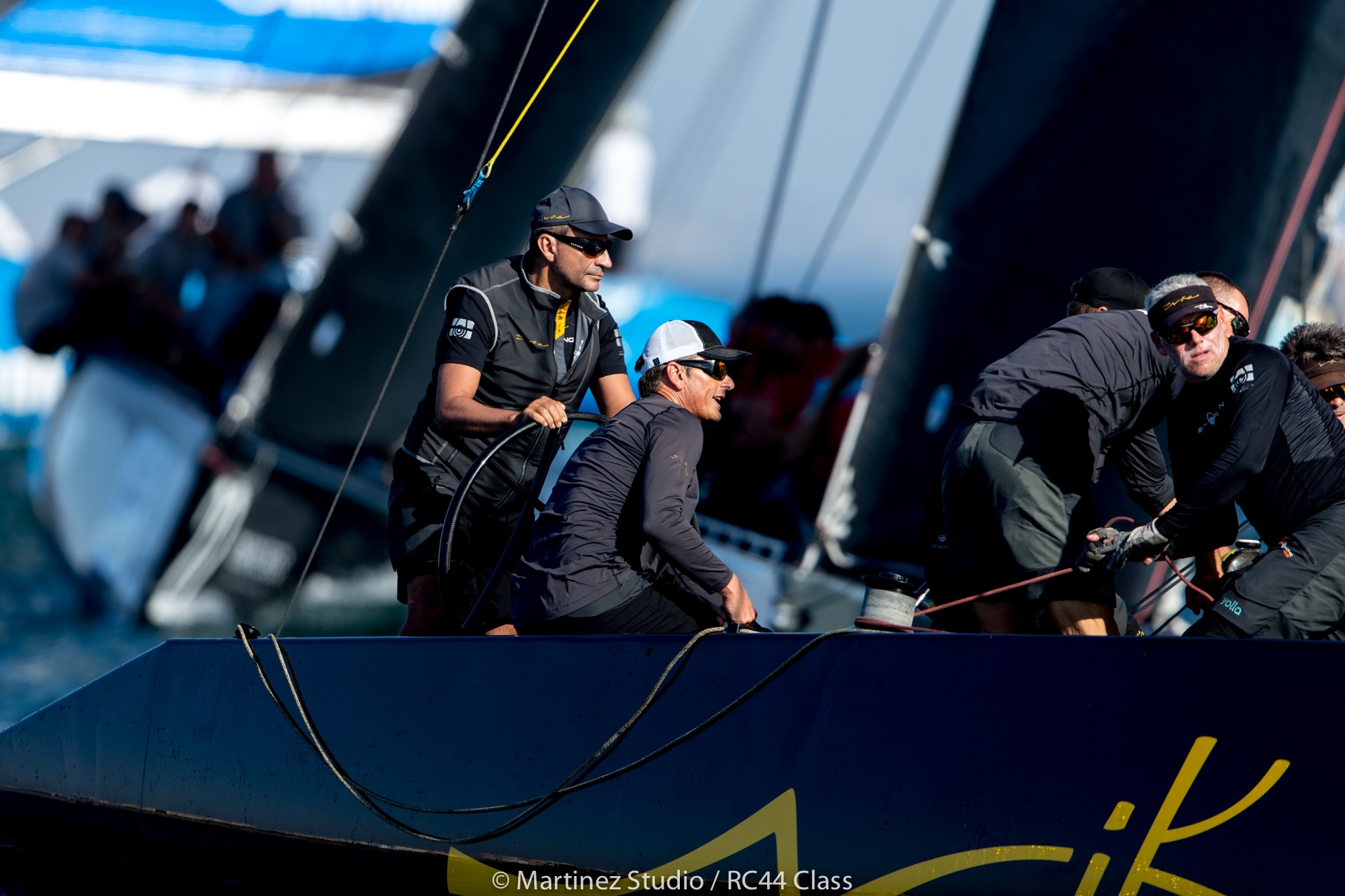 Looking at this year's form, Team Nika is not as well placed as her owner-driver might like - lying fourth on the 2018 leaderboard, albeit only four points behind the leader, Nico Poons' Charisma.
Given this position, Charisma must be considered the favourite for this year's Worlds, even though her Monaco-based Dutch owner doesn't share this view. "The differences between the competitors is so small, it is a fight every time," says Poons, adding that this being a World Championship does increase the pressure. To date Charisma's best world championship result was in their first year in the class, when they finished second. "We all like Cascais, it is very good – the facilities, the conditions, the people, the place," said Poons.
Also more than capable of lifting the title is Slovenian Igor Lah's Team CEEREF, which, like Team Nika, has also had its name on the World Championship trophy twice. "We like sailing in Cascais and we feel like we are sailing pretty well and have been all year," said Team CEEREF tactician Adrian Stead of their prospects. "In Marstrand we were one red flag away from winning it. We feel that if we sail cleverly and sail smart we are in with a chance of being on the podium, but with this class, every boat is strong, no one is clear favourite."
Team CEEREF has finished on the podium in Cascais every year since owner Igor Lah returned to the RC44 in 2015, but has yet to claim the top spot.
The track record of Torbjorn Tornqvist's Artemis Racing in Cascais is mixed having won here in 2016, but finishing seventh in the years before and after.
Chris Bake's Team Aqua, a frequent winner of past RC44 annual championships, has yet to claim the RC44 World Championship title. They have had a mixed record competing in Cascais in recent years, most frequently finishing on the cusp of the podium.
The track record of John Bassadone's Peninsula Petroleum has been similar in Cascais. However the Gibralar-based team is a past RC44 World Championship, having claimed the second ever event in Rovinj, Croatia in 2012. She was runner-up in 2016 in Sotogrande.
Hugues Lepic's Aleph Racing has upped their game this season with a top crew including tactician Michele Ivaldi. The French RC44 saw the first fruits of its efforts in Portorož, Slovenia in May where they finished third.
Also hoping to make an impression in this highly competitive fleet is Bronenosec Sailing Team, skippered here by Kirill Frolov. After some time off from the class, the Russian team returned to the RC44 in Marstrand in June, where, once again with Kiwi Cameron Dunn calling tactics, they managed fifth place.
Frolov says he has raced in Cascais six or seven times, but this will only be his second time here on an RC44. "It is a very nice place - we love it," he says. As to their approach to this World Championship, he adds: "We will try to be relaxed about it. It is only our second event, so we will try to keep calm."
While conditions at the mouth of the Tagus estuary were ultra-light for practice racing today, conditions are looking brisker for Friday and Saturday. As Team CEEREF tactician Adrian Stead summarised: "We are set to have a range of conditions. It is not a straightforward Cascais, so it will be great fun."