While Cameron Appleton holds the record for taking part in the most number of 44 Cup events, Team Aqua's main sheet trimmer, fellow US-based Kiwi Andrew Estcourt, reckons he, along with team mate Ben Graham, has missed only one event with Chris Bake's team as they start their 14th season on the high performance one design circuit.
While still in New Zealand, Estcourt carved a name for himself following the likes of Russell Coutts, Chris Dickson and Dean Barker in winning the coveted Tanner Cup youth championship in P Class dinghies. He was a keen match racer and campaigned a 49er in the early days of the Olympic skiff.
Since moving to the US sailing mecca of Hood River in Oregon in 2003 he has become a sought-after keelboat crew, winning the Melges 24 World Championship in 2007 with sailmaking legend David Ullman, the Melges 32 Worlds in 2011 and subsequently has been a regular on the Farr 40, TP52 and 44 Cup circuits.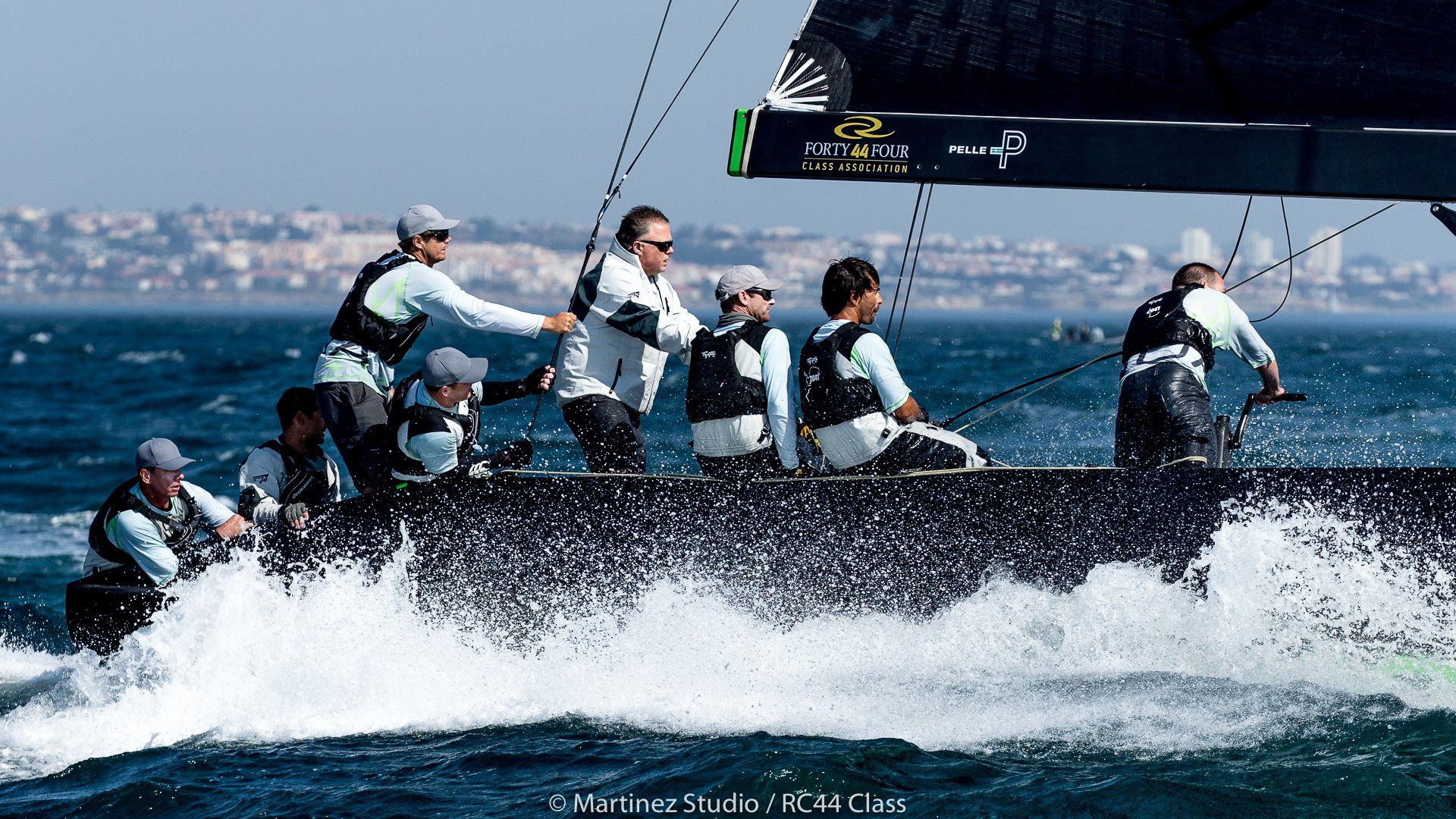 So 14 seasons on the 44Cup – doesn't the enthusiasm fade? "If you look at other options and think about what else you could be doing, we keep coming back to the fact that the RC44 class offers great racing," says Estcourt. "It is a smaller fleet than it has been in the past, but it is still tight with very good sailors. The size of the team also works well for us, with just the eight sailors and two or three shore crew. We are a tight unit and get on really well together. We enjoy every regatta."
Typically Estcourt divides his time between the 44 and the 52 Super Series, most recently with Quantum Racing. In comparison between the two boats, the 44 is a one design, whereas the TP52 is a substantially more costly box rule class. "They are pretty hard to beat as far as the competitive level," says Estcourt of the two classes. "The 44 is not as technically advanced as the 52, but it requires more seat of the pants-style sailing which is good and we are all out there sailing identical boats and it is enjoyable no matter what we have got going on, without costs escalating. The RC44 is a great all-rounder - they go very well in the light and in the breeze. For this style of racing there are not too many other boats at this size that would give us much competition."
Despite the 44 being a one design and Team Aqua's duration in the class, they still find ways to improve performance. "We keep moving forwards because we know everyone else is too. We are always looking for improvements. Even though the class has been going for a while now, it seems like we are going faster all the time and that's what keeps us motivated. They are hard boats to sail which keeps us coming back to challenge ourselves."
Until a disappointing result at the last event in Palma, which cost them the 2019 44 Cup title, Team Aqua seemed to be showing their old invincible form, winning events in Cascais and the RC44 World Championship in Marstrand and finishing the season second overall to Team CEEREF. Of their success Estcourt believes: "I think it is down to our being such regular competitors, not changing too many people and having a solid crew and always looking to improve. It comes down to the finest little details out there. It is tight - we are all pretty close and we know the other guys are all really good too."
Central to proceedings on board Team Aqua is owner Chris Bake, who for every regatta must make the Superman-style quick transition from high flying businessman and commodities trading executive to RC44 helmsman. "For him it is a case of coming in and trying to switch off from what he's been doing beforehand and focus on the sailing. I don't think it is too different to the other guys here." However, surrounded by the same crew he has had for years, each 44 Cup event is a homecoming, returning to his surrogate family, and this familiarity makes for easy communication between the crew. "Between Chris, Cam and the rest of the guys, we are constantly talking about modes and what is working and how we can improve during real time scenarios."
Because he is trimming the mainsail, Estcourt holds much control over how the helm is behaving, which means a specific line of communication with Chris Bake. "I try and understand what he's feeling and how he is going and if he needs any changes to be more comfortable on the helm. Chris has got a good feel for when things feel good or bad."
Obviously thanks to the global pandemic and its devastating impact on our sport, 2020 has been anything but an ordinary year for the 44Cup with the season now shrunk to two events in Portorož, Slovenia in September and November.
Personally Estcourt returned from this season's first 52 Super Series event in early March and as he puts it "the next week it was all shut. I haven't gone anywhere since." But despite the downturn in employment, there have been added benefits: "I have been gone too long for a while now, so this has provided a chance to catch up on things around the house. And I have been busy with the kids who are 3 and 7. There's no school, so we've been home schooling."
To keep fit, he has been bike riding a lot, aided by a routine provided by Team Aqua grinder Ben Graham, who is now a personal trainer. The Estcourts as a family have also been able to do some sailing locally on the Gorge. "You can do it with people in your own household, so that's been nice and pretty casual - you start and finish off the harbour."
As to the future this year, grand prix yachting is resuming locally in the US and Escourt says he is set to join the 52 fleet racing in Michigan later this month. But when he will be free to travel to Europe remains an unknown. "At this point we don't know if we can get there. Given the way things are going in the US, it is going to be worse for the US-based guys like me."
While some of the 44 teams have been taking part in regular virtual sailing games, Estcourt hasn't been part of this, however throughout the pandemic he has been in regular comms with Chris Bake and the rest of Team Aqua. "Chris gives updates. He's busier than ever. And the coaches always come up with something to think about – we have Doggie (Andrew Palfrey) and Rod Davis, the coach-philosopher, who has always got something to keep us on our toes and ready to go racing again."