The annual 44Cup pilgrimage to the Portugese sailing mecca of Cascais is being held this week with racing for the high performance one design monohulls taking place over Thursday to Sunday, 3-6 October off the northern shore of the Tagus estuary.
Hoping to rediscover some of last year's form here is Monaco-based Dutchman Nico Poons who, with his Charisma team won the final event of the season on these waters, in the process securing them the 2018 44Cup title overall, albeit by a single point ahead of Team Nika and Team CEEREF.
"Last year here it was great, but this year is tough," admitted Poons. In 2019, Charisma was second in Rovinj, Croatia but this is sandwiched between two ninth place finishes. "I don't see us winning this year, but we have two events to go, so we'll do our best," says Poons.
Nonetheless sailing in what is effectively the Atlantic Ocean is always enjoyable, the crews able to surf the RC44s at 20+ knot speeds down the large oceanic swells. "It is one of the best sailing areas you can think of and the club is nice. What is not to like?" concludes Poons. "And the racing is very, very close. There are very small differences between us."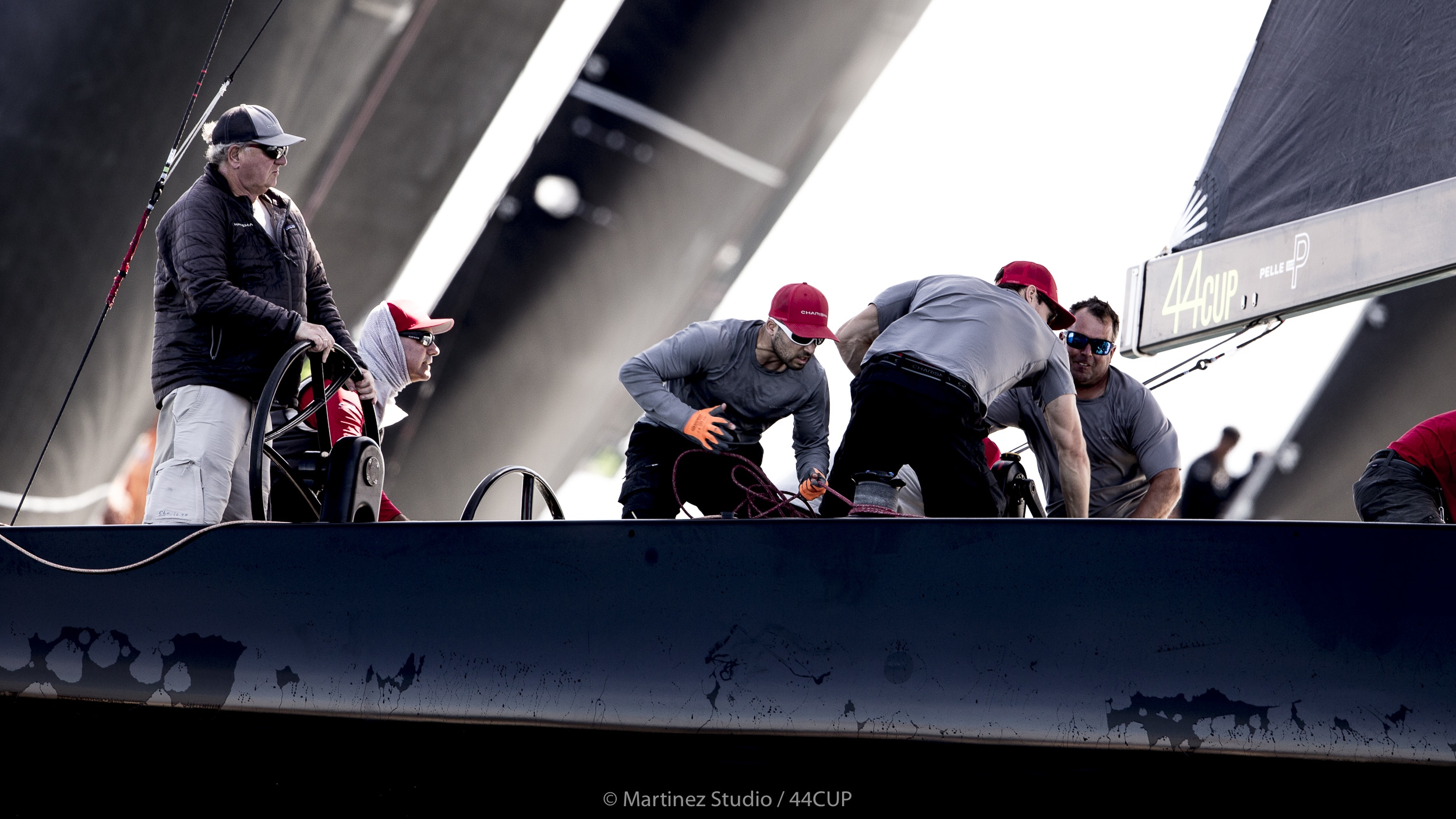 For this event there is one crew change on Charisma with American bow legend Sean 'Doogie' Couvreau standing in for an injured Ivan Peute.
Last year the 44Cup visited Cascais twice, for the two final events of the season. The first of these was won by Vladimir Prosikhin's Team Nika, which is currently tied on points for the lead of the 2019 44Cup with Chris Bake's Team Aqua. Team Nika received an indirect shot in the arm when their tactician Tom Slingsby recently skippered the Australian team to victory in the opening season of SailGP for which he received a US$ 1 million prize. However the London 2012 Laser gold medallist isn't as rich as he sounds: "It was a nice little bonus! But as soon as that hits my account it will get divided up." However the momentum from this continues with Slingsby returning to single-hulled water-borne yachts for the final two events of the 44Cup.
In this another substantial victory is very possible and for Slingsby this is now personal. Last year Team Nika was crowned RC44 World Champion under her previous tactician and, for Slingsby, a past America's Cup rival, Dean Barker. This year they narrowly missed defending their title, so winning the season overall is now the overwhelming goal. "I really want to get the season championship for Vladimir and the team," says Slingsby. "I don't want them to think Dean was a better tactician than me, so I want to do my best job. Fortunately we are in a good position, equal first."
Just one point off the lead overall after three events (and with one discard) after winning the first event of the 2019 44Cup in Montenegro, is Slovenian Igor Lah's Team CEEREF. While they didn't win either of the Cascais events in 2018, their team was the most consistent scoring a 2-3.
"I like it – Cascais is a great place and I have been here many, many times," says Lah, whose son Tine is the offside trimmer on board Team CEEREF. "It is a nice setting and the sailing and weather are great and it is brilliant to be racing on the ocean in the big waves."
There is some prospect for big waves this week with post-tropical cyclone Lorenzo blasting a path northeast from the Azores towards the British Isles. While this has brought hurricane force winds to the Azores, such winds won't be felt in Cascais, but the residual wave train may.
Andy Horton, tactician on Torbjörn Törnqvist's Artemis Racing, reckons this could get interesting towards the end of the week. "There is a ridge in between us and Lorenzo and we have some pressure down the coast today and tomorrow, but then it gets a little funkier because we have some waves coming. Last year in November we didn't sail because the waves got too big - I don't think it will be like that, but they are saying 3m waves on Friday-Saturday and they will be from the west with the breeze from the north. So on starboard we'll be banging into them but the fun thing will be on port downwind, they'll be right behind us and we'll be just ripping." Surfing as Cascais does best.
Racing at the 44Cup Cascais starts tomorrow at 1300 local time.