They may be up against seasoned owners and crews who have been on the circuit for years, but BlackWater, the latest team to join the RC44 Championship Tour is already making an impression, despite the recent RC44 Cascais Cup being just the third regatta for this fledgling crew.
Russian teams have competed on the RC44 Championship Tour since 2009 when Katusha was the first to sign up. With this seven year legacy, experience of elite level keelboat racing both in the RC44, TP52 and other keelboat classes, plus the opportunity to learn from the very best foreign sailors, Russia is now very much a force to be reckoned with. This was best demonstrated last season when the top two Russian teams – Team Nika and Bronenosec – topped the fleet racing rankings, with the latter claiming the match racing title too.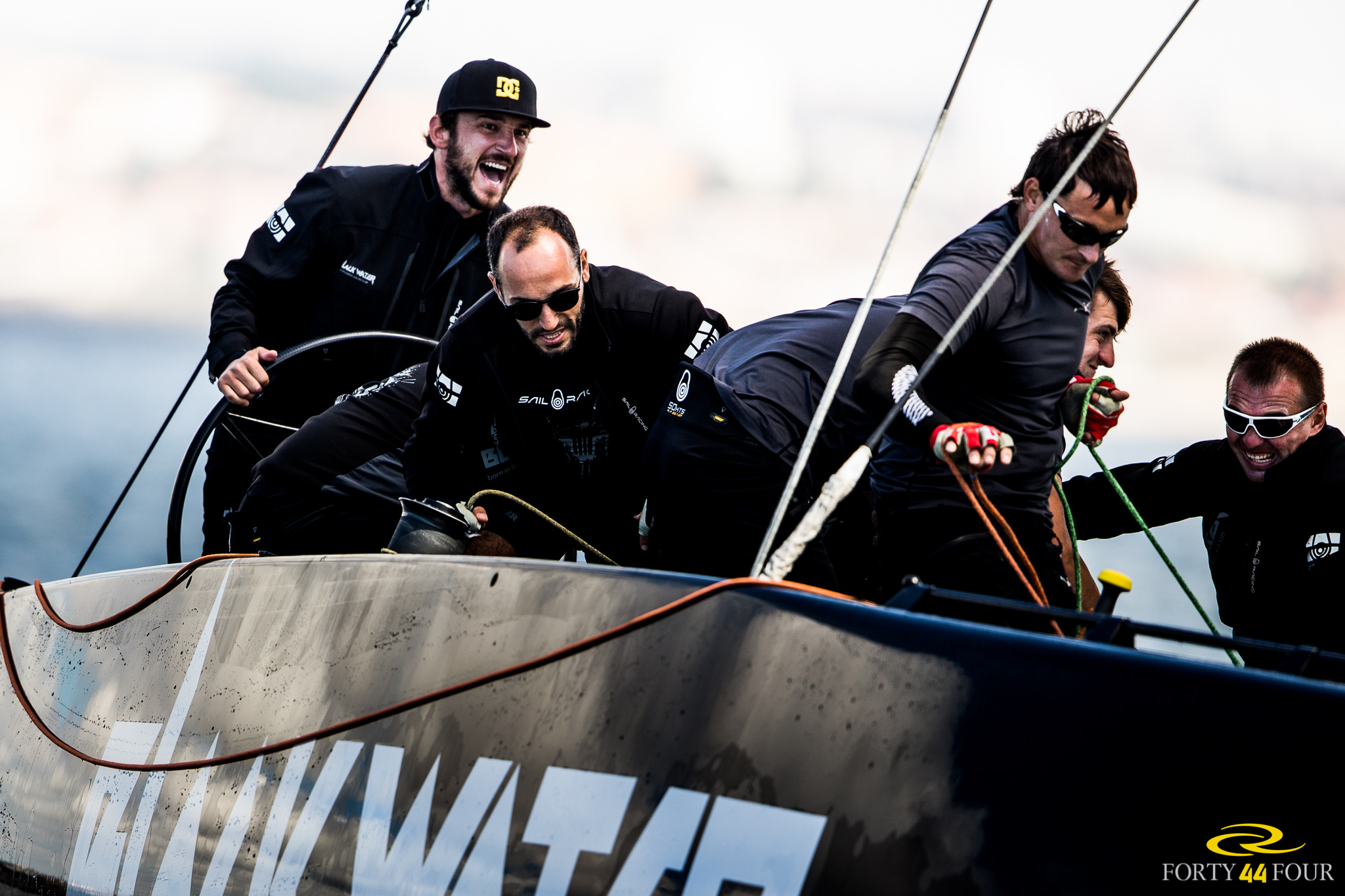 Given this, perhaps it is not surprising that a new Russian team should progress so quickly. Despite the maturity of the competition in the RC44 class, BlackWater Team was posting third place finishes during the RC44 Cascais Cup and going into the final day was lying in fifth place, just five points off the lead. Considering the little sailing experience of BlackWater's trio of owners and the formidable competition they face, their progress has been astonishing.
Alexander Zaytsev, Andreas Savvidis and Maxim Merzlikin attended the elite Skolkovo School of Management on the outskirts of Moscow. Here, just two years ago, they were introduced to sailing on a nearby lake and, enjoying it considerably, there they set up Skolkovo Sailing Club.
As Savvidis explains: "We hired a coach to show us what sailing was all about, because none of us had had any previous experience of it and we needed to learn. Slowly we got more and more involved and invested more in our hobby until we decided to go one step further: participating in MBA regattas." Achieving considerable success while representing Skolkovo in these inter-business school regattas around Europe, further helped fuel their enthusiasm.
The leap to the RC44 came through chance. Some friends invited Savvidis and Zaytsev to come to the RC44 Malta Cup last year where they had the opportunity to sail on board as guests during the match racing.
"From that moment, we understood 'this is our target'," says Savvidis. "But we didn't know how long it would take us to get there…perhaps five years?" In fact over the winter, their coach in Moscow contacted them to let them know that Kirill Podolsky, owner of RUS7 anywayanyday, was looking to move on and 'would they be interested in taking over a turn-key RC44 campaign?' After a week of contemplation the trio of friends agreed they would…
With the help of their coach, who was already involved in the RC44 class, they not only acquired the boat, but recruited top crew previously with the RUS7, Synergy and other campaigns. Unlike the other Russian RC44s, BlackWater Team's crew is 100% Russian. The Russian expertise also included technical assistance, ensuring the former RUS7 – one of the oldest boats in the RC44 fleet – could be made competitive.
Quite early on they decided how they would split the sailing: Alexander Zaytsev and Maxim Merzlikin alternate days on the helm while Savvidis prefers trimming, as he explains: "If we split the helming between the three of us, then it would difficult for each of us to focus fully on that. As it was, they had to train on the helm a lot. I have been sailing longer than them and I enjoy trimming the jib. And while they swap each day, I am on the boat all the time!"
The three owners and their new crew spent two weeks training in Valencia before launching into their first regatta - the RC44 World Championship in Sotogrande, Spain in mid-May. "It was very scary," admits Savvidis. "We were afraid that people would laugh at us because we'd be too far behind. We'd seen the level of sailing in the RC44 class and it was amazing. We had just been doing local regattas in Moscow. But step-by-step our dream has come true."
In Sotogrande BlackWater finished 11th. They followed this up with a 10th in Portsmouth and ended the RC44 Cascais Cup in seventh including a second place finish during one race on the Friday.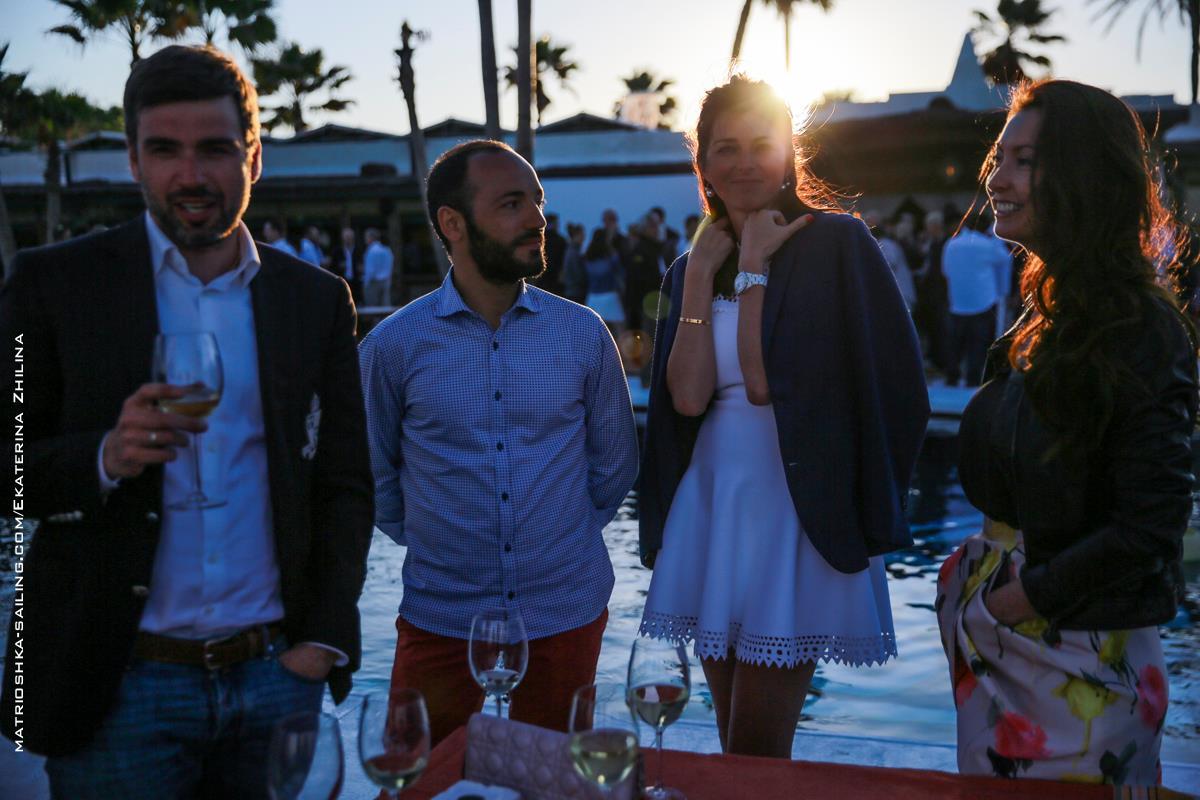 "I am genuinely surprised about how well we've been doing," says Savvidis. "We were saying 'this is luck' and then 'this is luck'. Maybe now it is not so much luck. The team is so great together. We are very open as a crew. Everyone wants to get results. We don't have the biggest budget nor the newest equipment, but it is all at a decent level and it is still enough to have lots of fun which is important for us."
Perhaps it is too early, but BlackWater Team has a distinct logo while their team emblem is that of the Marvel character, the Punisher. "That was down to Alexander," says Savvidis with a grin. "He is a biker and is into tattoos as well. His tattooist suggested that direction… Anyway we didn't want to do anything boring!" 
Today all three friends live and work in Moscow. They like the RC44 because it allows them to bring wives, girlfriends and children to regattas where many friends come to visit them too. "The RC44 events have a format which actually can involve your family, which is very important, because it takes so much time out of your life. And the places you visit are very beautiful," says Savvidis.
As to why they like the RC44 rather than any other race boat, Savvidis says they considered others, but the RC44 was the right size. "We wanted to have as many friends on the boat as possible and the RC44 meets our target for that."
Having three owners, also means they are able to split the cost of buying the boat and campaigning it. "Smaller boats are cheaper, but there is not as much excitement and you can't give so many people the opportunity to sail," says Savvidis. "And it would have been too much to do on our own, individually."
The trio have been to business school and as a result have a structured long term 'plan' for their sailing, but in the meantime they are still getting to grips with the RC44 and are trying to keep their learning curve steep. While they have previously sailed the Platu 25 and J/70, the RC44 is the first boat any of them has ever owned, but Savvidis is happy with this: "The RC44 is the greatest boat you can have. We have been lucky."