Taking place over the second week of April, 10 to 14 April, the 44Cup Porto Montenegro will be hosted by the world-renowned superyacht marina. Porto Montenegro is situated in Tivat on the Bay of Kotor, virtually landlocked from the sea. Its setting is spectacular, nestled between mountains and vast fjords to Venetian hamlets and untouched parks. Home to two UNESCO World Heritage Sites, Montenegro is firmly on the ascent as a tourist destination.
"We are excited to host the RC44 fleet for the first time in Porto Montenegro and Montenegro in general. Over the course of the years, we've been working hard on improving sailing in the Boka Bay bringing numerous international regattas and professional sailors to home waters. RC44 marks another level of events here at Porto Montenegro – we look forward to the races." David Margason, Managing Director.
A tiny Balkan nation perched on the eastern Adriatic yet heavily influenced by its Mediterranean neighbours, Montenegro boasts unspoiled beauty, an abundance of nature and clean, clear waters. Still a relatively undiscovered gem where eastern Europe meets west, the country's 295km coastline has countless uninhabited islands, secret coves and charming harbours alongside unique historical sites – reminders of the country's grand past. Equally magnificent is Montenegro's mountainous interior with its monasteries, river canyons, wildlife reserves, glacial lakes and one of the world's most important national parks, Durmitor.
Previously a historic naval base, Porto Montenegro's reincarnation as the Mediterranean's leading luxury yacht homeport and marina village has made it the fastest selling development in the region. With 450 berths, the marina is complemented by 7 luxury, private residences, the five-star Regent Hotel & Residences, and numerous sports and leisure facilities.
The village attracts a vibrant year-round international crowd, with an events scene that extends to exclusive parties, cocktail evenings, leisure activities and social siorées, iconic shows and concerts in the Synchro events and performance space, along with conferences, exhibitions and cultural events.
Accompanied by a busy retail village hosting designer boutiques and global fashion brands, there's also a waterfront promenade of restaurants, cafés and bars. Not forgetting the Porto Montenegro Yacht Club, which features an iconic 64m infinity pool, and offers a generous selection of sporting and sailing facilities alongside an innovative Beach and adjacent Beach Gym.
"Montenegro looks like a beautiful venue, none of us have had the luxury of going there so sailing knowledge or an understanding of the area and what to expect is zero. The racing area is in a beautiful bay surrounded by massive mountains so we are expecting flat water and lighter shifty winds. This becomes tricky one as no one will have a clear advantage!" Cameron Appleton, tactician Team Aqua.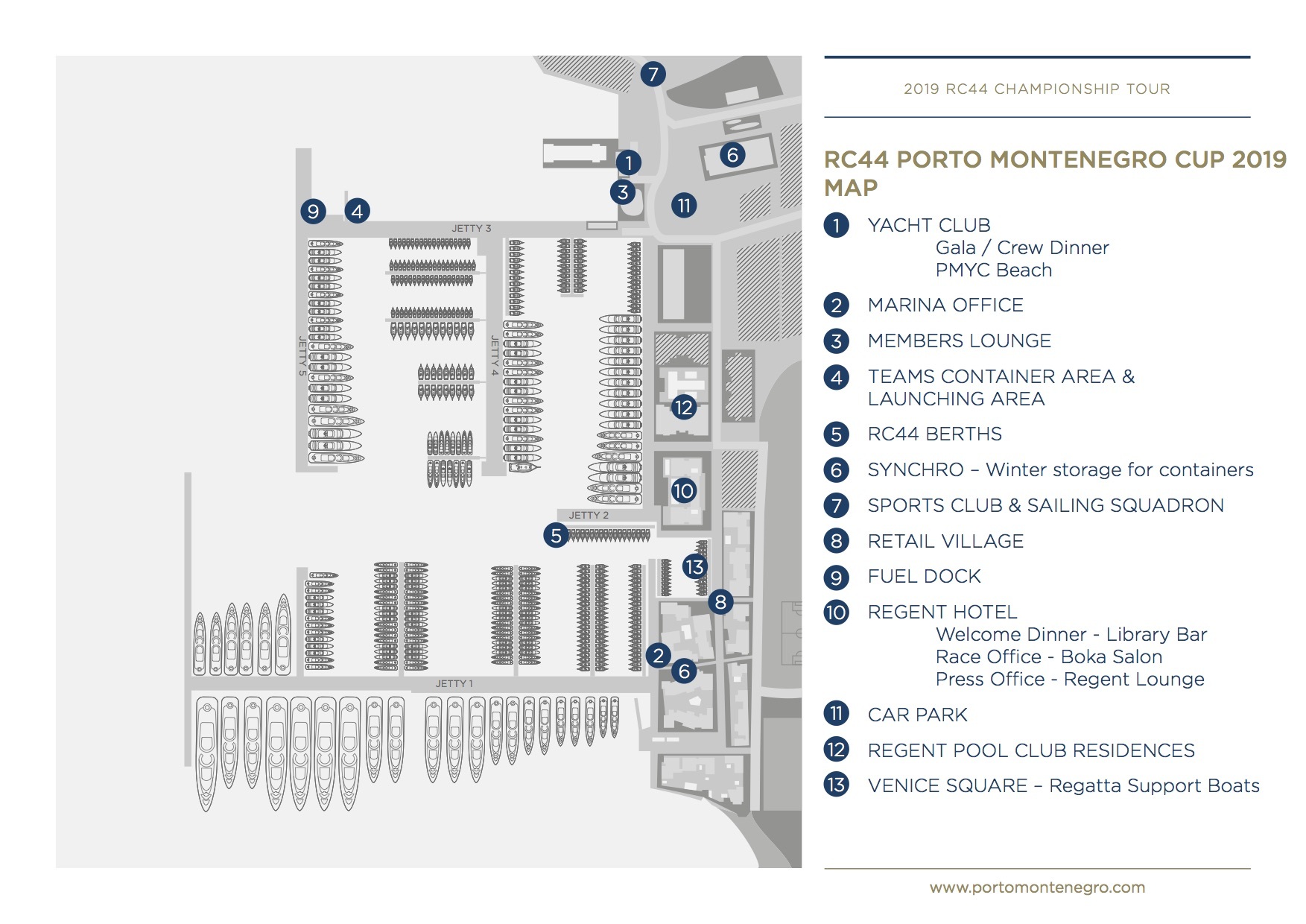 HOW TO FOLLOW THE RACING
Make sure you don't miss a moment of the 44Cup Porto Montenegro with our how to watch the racing guide:
ON THE DOCK
The boats will be moored on Jetty 2 Porto Montenegro from Monday 8 April. Take a seat close to the shore and listen to the shouts from on board the boats as the fleet fight-it-out just metres in front of you.Practice racing will take place on Tuesday 9 April in preparation for the five days of ultra-competitive racing.
PROVISIONAL EVENT SCHEDULE
Tuesday, 9 April
09:30 - 18:00 Registration & weigh-in, Boka Salon, Regent Hotel 11:30 1st warning signal for practice race 18:00 All boats moored in event location
Wednesday, 10 April
09.15 Official press conference, Regent Hotel 10:00 Fleet race briefing 11:30 1st warning signal for fleet race After sailing Welcome drinks, Library Bar, Regent Hotel
Thursday, 11 April
10:00 Fleet race briefing, Boka Salon, Regent Hotel 11:30 1st warning signal for fleet race After sailing After sail buffet 18:00 Boat captain meeting
Friday, 12 April
10:00 Fleet race briefing, Boka Salon, Regent Hotel 11:30 1st warning signal for fleet race After sailing After sail buffet 20.00 Owner dinner - TBC
Saturday, 13 April
10:00 Fleet race briefing, Boka Salon, Regent Hotel 11:30 1st warning signal for fleet race 15:00 Last warning signal 20:00 Official Crew Party and Prize-giving ceremony, PMYC Beach
Sunday, 14 April
10:00 Fleet race briefing, Boka Salon, Regent Hotel 11:30 1st warning signal for Navigational & ProAm race After sailing Prize giving for navigational race, cocktail & buffet
GUEST EXPERIENCE
The 44Cup Tour was an early adopter of the innovative VIP experience and offers guests the unique opportunity to experience the thrill of high-performance yacht racing from right in the middle of the action.
For selected guests, the opportunity to be onboard during racing is a once in a lifetime experience. Guests are transferred by RIB onto the RC44 boats where they will meet the team and take their place at the back of the boat. They then sit back and enjoy the ride as the best sailors in the world battle for their position on the race course.
Register your interest to spectate via events@portomontenegro.com. Limited VIP spaces available now via Regent Hotel.
The 44Cup ask all guests wishing to go out on the water to bring practical shoes and a waterproof coat.
WHAT TO EXPECT FROM PORTO MONTENEGRO
Born out of the vision of its chief investor, Canadian businessman Peter Munk, Porto Montenegro's marina utilises the existing infrastructure of the former Yugoslav naval facility upon which it is built. It features 450 berths (850 berths planned in total), which will be able to accommodate the largest superyachts in the world, alongside providing the highest level of service and amenities – including a nearby shipyard with dry-dock and repair facilities. In addition, the development has created a vibrant coastal community of waterfront residences, a hotel, restaurants, shops, amenities and leisure facilities.

FOLLOW THE RACING ONLINE
If you can't make it down to the water's edge but want to follow, there are plenty of ways to stay up to date...
DOWNLOAD THE TRAC TRAC APP
Follow the racing live via GPS tracking here.
FOLLOW OUR LIVE BLOG
Bring your online racing experience to life with our on the water live blog, updating you on all the action blow-by-blow and the conditions as it happens.
The blog will be active on the 44Cup homepage as soon as the event starts.
JOIN THE CHAT ON SOCIAL MEDIA
Follow us on Facebook for instant news, photos and videos, join the chat on Twitter and let us know who you are supporting or follow us on Instagram @44Cup for the very best images from the race course.
#ThisIsWhyWeRace #44Cup
IN THE KNOW
Sign up to our newsletter to stay up to date with all of the latest news across the 44Cup.