The picturesque island of Marstrand, with its New England-style architecture, has been a regular host of the RC44s which have visited annually since 2011, with the exception of 2016.
2019 saw Marstrand host the 44Cup World Championship. Holding an eight point advantage going into the final day Chris Bake's Team Aqua finally achieved the trophy which had alluded them for the last 13 years - the 44Cup World Championship Crown.
When the fleet returned in 2021 after a year-long break due to the Covid-19 pandemic, the Marstrand 44Cup went to the wire in an extreme way. Going into the tenth and final race of the circuit's Swedish stopover, five of the eight strong fleet was still capable of winning the event but it was Bake's Team Aqua who once again mastered Marstrand to take their fifth win in Sweden.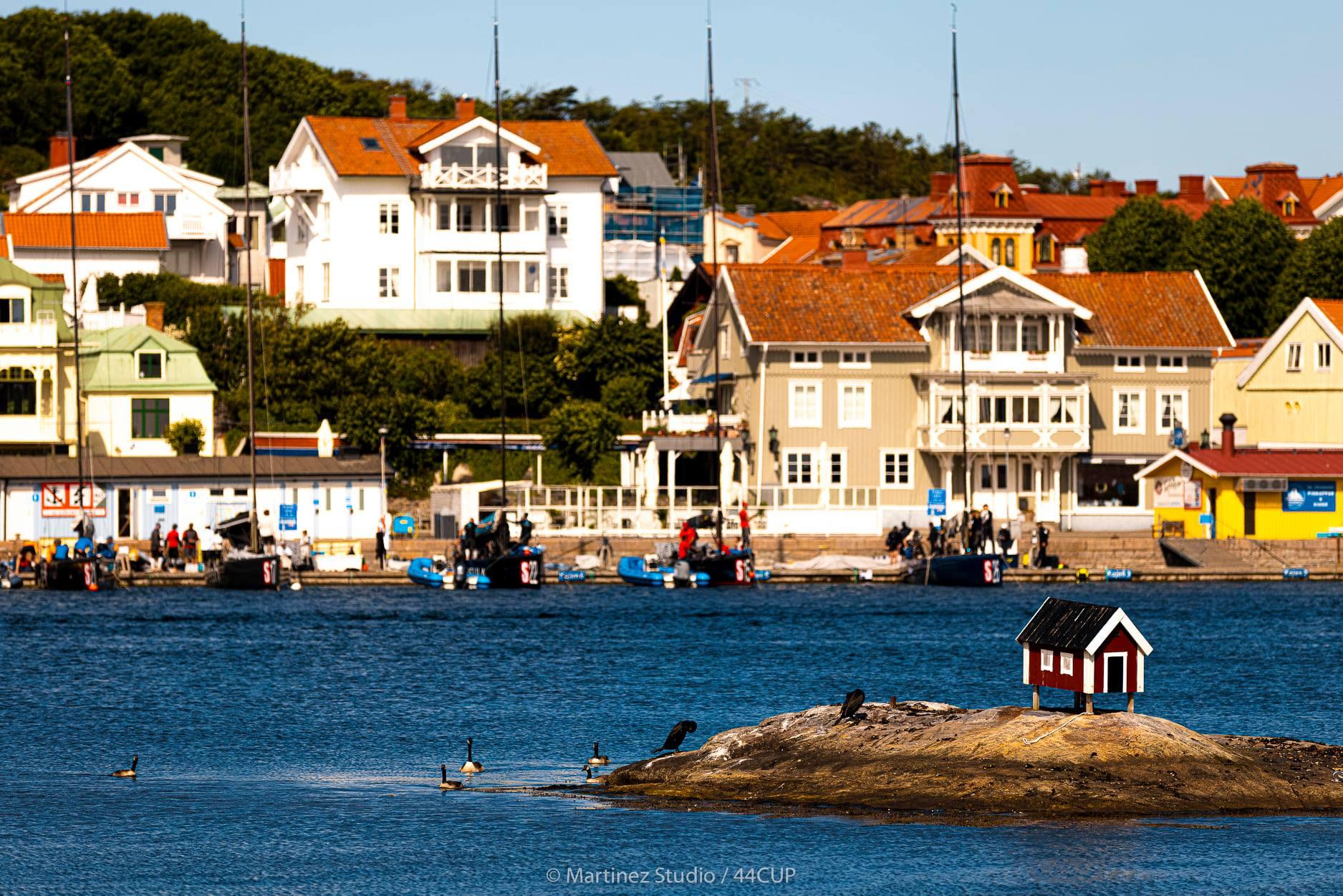 What to expect from Marstrand
In the far west, where the archipelago ends and the open sea begins, you find the island of Marstrand with Carlsten Fortress at the top. The sailing town and seaside resort Marstrand is a favourite with visitors. It is home to a harbour filled with all kinds of boats, cosy homes along car-free streets, top restaurants, sun and salty swims, music and spectacle.
A short ferry ride across the strait brings you to the island. On Marstrand, visitors can find both nightlife and quiet tranquillity depending on when they choose to go. Its cosy block, tiny alleys and nooks, the dominating fortress and ocean views at every turn, stir strong emotions. The jetties of Sweden's largest guest marina are filled to the brim with boats of all sizes and Match Cup makes Marstrand the sailing capital of Sweden.
Whether you're in Marstrand or following from the comfort of your own home, here is your guide to how to watch the racing.
ON THE DOCK
The boats will be moored in Marstrand, from Monday 27th June. Practice racing will take place on Wednesday 29th June in preparation for the weeks racing.
DOWNLOAD THE TRAC TRAC APP
Follow the racing live via GPS tracking here.
FOLLOW OUR LIVE BLOG
Bring your online racing experience to life with our on the water live blog, updating you on all the action blow-by-blow and the conditions as it happens.
JOIN THE CHAT ON SOCIAL MEDIA
Follow us on Facebook for instant news, photos and videos, join the chat on Twitter and let us know who you are supporting or follow us on instagram @the44cup for the very best images from the are course.
DON'T MISS OUR DAILY VIDEO WRAP-UP
Highlights from each day including interviews with the sailors will keep you up to date with everything you need to know. WATCH HERE.