Over the 11 - 15 May the fleet moves on to a favorite venue for the sailors – Cascais, Portugal – where the boats will once again get to race in the big waves of the Atlantic Ocean.
Located on the mouth of the River Tagus leading up to Lisbon, Cascais is open to the Atlantic and comes with all the potential for big winds and large oceanic swell. It is for this reason, combined with excellent hospitality provided by the Clube Naval de Cascais, that the Portugese stopover is another regular on the 44Cup circuit, having featured every year from 2012 - 2019. It hosted the World Championship in 2015 and 2017, both of which were won by Team Nika.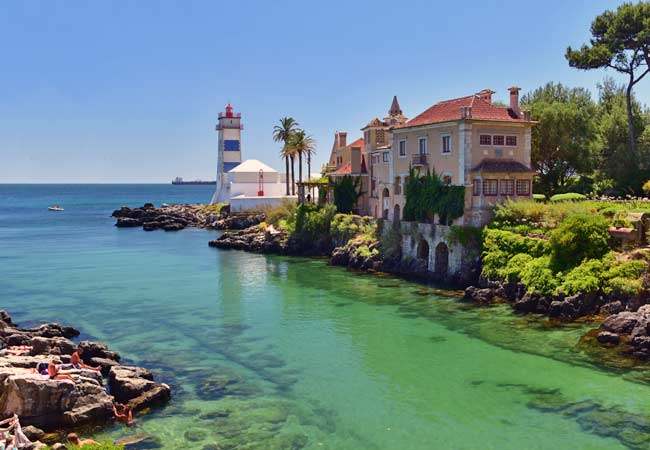 WHAT TO EXPECT FROM CASCAIS
Located just 40 minutes from Lisbon, Cascais provides the perfect antidote to the capital's frenetic energy and the ideal base for exploring the region's gems. The area is renowned for its many charming beaches scattered along the Estoril coastline and the array of water sports on offer.
The Clube Naval de Cascais was first founded in 1938 by sailing enthusiasts and has long been dedicated to promoting sailing in Portugal. Frequented by global yachting events, including the America's Cup World Series in August 2011, the Med-Cup, the Dragon Gold Cup, the TRANSAT Classic and many more, due to the reliable nature of the wind conditions and challenging race area.
The Clube Naval de Cascais offers stunning berthing conditions, as well as an outdoor shopping centre, the Club House has a private entrance, varied social calendar and the vibrant nightlife in the picturesque and sophisticated village of Cascais.
Whether you're in Cascais or following from the comfort of your own home, here is your guide to how to watch the racing.
ON THE DOCK
The boats will be moored in Cascais Marina, from Monday 9th May. Practice racing will take place on Wednesday 11th May in preparation for the weeks racing.
DOWNLOAD THE TRAC TRAC APP
Follow the racing live via GPS tracking here.
FOLLOW OUR LIVE BLOG
Bring your online racing experience to life with our on the water live blog, updating you on all the action blow-by-blow and the conditions as it happens.
JOIN THE CHAT ON SOCIAL MEDIA
Follow us on Facebook for instant news, photos and videos, join the chat on Twitter and let us know who you are supporting or follow us on instagram @the44cup for the very best images from the are course.
DON'T MISS OUR DAILY VIDEO WRAP-UP
Highlights from each day including interviews with the sailors will keep you up to date with everything you need to know. WATCH HERE.